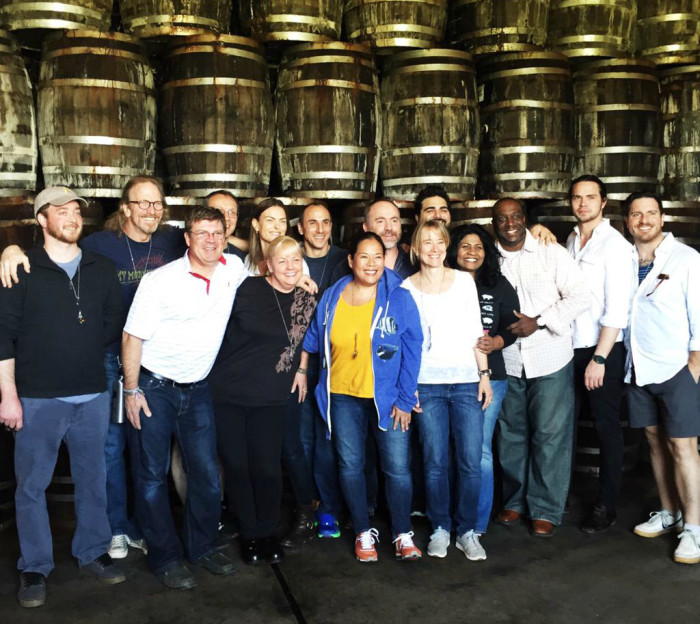 John Besh. Bill Telepan. Seamus Mullen. What do these three chefs have in common? Well, apart from the national name recognition, they are all currently touring the Tabasco hot-sauce factory on Avery Island, Louisiana. That's right — the trio is part of a group of 15 chefs from around the country who are participating in the James Beard Foundation's Chefs Boot Camp program. As part of the three-day trip, the chefs are learning the policy and advocacy skills they will need to be effective champions for their chosen food-system causes. And, of course, about the process of making Tabasco. Chef Lee Anne Wong of Top Chef fame remarked yesterday that her mouth was "still on fire 20 minutes later" after tasting the famous hot sauce's mash.
Conducted in partnership with the Chef Action Network, the biannual Chefs Boot Camp gathers a geographically, culturally and demographically diverse group of 15 chefs at destinations chosen to facilitate group cohesion. The trip is part of the Foundation's broader Impact Programs, which are designed to encourage dialogue between diverse stakeholders in the food system while providing an opportunity for chefs to help influence food decisions for the larger American population.
This Avery Island edition of the series — lasting through the end of today — has focused on an introduction to the public-policy landscape, chefs in the policy marketplace and the importance of advocacy. More than 60 chefs have taken part in the program, which launched at Blackberry Farm in Walland, Tennessee, in 2012 (and has received more than 550 applications). Alums include Hugh Acheson, Ashley Christensen, Dan Kluger, Jonathon Sawyer, Andrea Reusing, Michael Cimarusti, Craig Deihl, Chris Hastings, Michael Anthony, Mike Isabella and Sean Brock.
Read about more worthy causes on Food Republic: