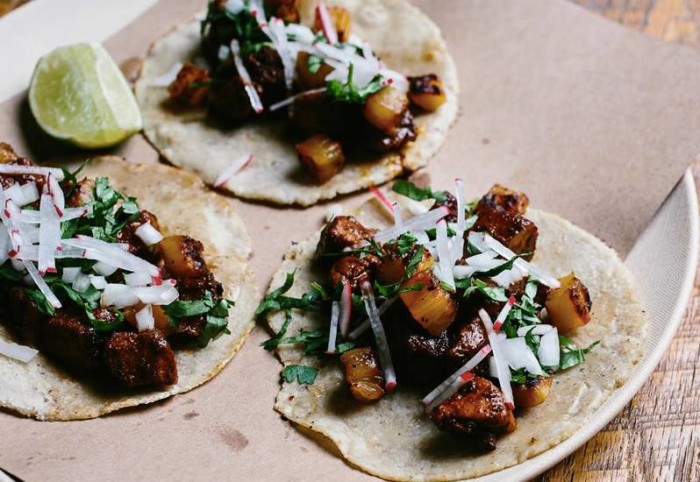 Restaurant expansion in the South continues to be hotter than a skillet full of popping bacon grease. Restaurateurs both new and old are rushing forward with plans for new eateries, expansions of existing restaurant empires and even some high-tone food-court stalls that could raise the level of fast-casual fare to new heights. Here are some of the most anticipated upcoming culinary developments from below the Mason-Dixon Line:
Atlanta, Georgia
Chef/restaurateur Ford Fry continues to open new establishments like a New Orleans master shucker opens oysters. His local empire has grown from one to seven Atlanta restaurants in the past few years, ranging from Southern classic fare at JCT Kitchen to Tex/Mex at his latest venture, Superica, in the Krog Street Market. Fry also announced that he would be backing like a hermit crab into the recently shuttered Abbatoir restaurant space, just around the corner from JCT Kitchen in Westside. Rumors point to a steakhouse concept to accompany a sister restaurant of his popular seafood spot, the Optimist. Wow, take five, Chef!
Meanwhile, Sean Brock has announced that he will be bringing his Mexican street-food concept, Minero, to Atlanta's new Ponce City Market. Expect a tight menu of tacos and tortas made with authentic Mexican ingredients and prepared using some of the Southern techniques developed by Brock at his flagship McCrady's and Husk restaurants in Charleston, South Carolina. Minero's new home in Atlanta will be as an anchor tenant in the Central Food Hall of a retail/residential hub going into the historic former Sears Roebuck east of downtown.
Brock will have company in Ponce City, though. In fact, it would be easy to hold a James Beard reunion there, with award-winning chefs Anne Quatrano and Linton Hopkins having announced plans to open Dub's Fish Camp and H&F Burger, respectively. Hugh Acheson is also rumored to be planning some sort of involvement in the Central Food Hall, but we'll all have to wait until it opens later this spring to see exactly what Acheson has up the sleeve of his chef's coat.
Texas
Speaking of Ford Fry, Atlanta's busiest chef is also opening in the Lone Star State in the form of State of Grace, a Hill Country and Gulf of Mexico-inspired restaurant coming early this summer to Houston. Elsewhere in Texas, Dallas residents are looking forward to Town Hearth, an open-flame and meat concept from chef/restaurateur Nick Balvodinus, and to Mudhen, a veggie-centric concept slated to open soon in the Dallas Farmers Market. Meanwhile, in Austin, locals have been sampling the modern Chinese cuisine expected from Wu Chow at various pop-up previews around town. From the team behind Swift's Attic, Wu Chow promises some sort of dim sum experience at their downtown location, which is due to open soon.
Charleston, South Carolina
Chucktown continues to be a hotbed of restaurant news, challenging New Orleans for the title of culinary capital of the region. Along the main drag of King Street, you'll find a massive building that's been abandoned since Hurricane Hugo knocked it to its knees in 1989. Fortunately, Relish Restaurant Group purchased the property and has been busy converting it into what will become one of the largest restaurants in the Upper King district. The kitchen at 492 will be helmed by Nate Whiting, the former executive chef at Tristan. Although that restaurant closed last year, Whiting will continue his dedication to progressive American fare, featuring seasonal Lowcountry ingredients at 492, whose opening is imminent.
Another Charleston chef, Robert Stehling, is looking to expand his empire, although not nearly as grandly as at 492. Stehling came to national prominence for his down-home cooking at Hominy Grill, and the Beard winner for Best Chef-Southeast in 2008 received another nom this year for Best Restaurant. His next venture will be a combination drive-through/sit-down chicken shack built on the site of a former car wash way up King Street, far from the trendy eateries patronized by the tourist set.
The fried chicken at Hominy Grill became so popular that Stehling had to develop a speedier way to produce all that yardbird instead of the traditional skillet frying he had traditionally employed. For his new poultry-centric eatery, he will use pressure fryers to pump out golden crispy pullet parts in a technique that sounds similar to how a certain Kentucky Colonel fries his chicken. (Only certainly awesomer!) The only bummer about this situation is that a trademark dispute forced Stehling to abandon his first choice for a name, Chickenland. Whatever it says on the sign when the chicken shack opens soon, it'll be worth a visit.
Oxford, Mississippi
Sometimes food calls you home, and Kelly English of Restaurant Iris in Memphis is being drawn back to his alma mater at Ole Miss to open a new location of his casual New Orleans-inspired po' boy shop the Second Line in Oxford. Expect the same emphasis on Gulf seafood and messy po' boys with jus running down your forearms that English has popularized in Memphis. You can also expect a bar focused on strong brown-liquor cocktails and for it to open in plenty of time for college football season so that the nation's premier tailgaters will have yet another option in Oxford. There's no word whether or not the Second Line will serve corn dogs when LSU comes to town.
Nashville, Tennessee
In addition to plenty of local talent opening new spots, Nashville is gaining a reputation as a place for out-of-towners to put down roots in new places. A second outpost of Donald Link's Cochon Butcher from New Orleans is going into a renovated former theater in Nashville's Germantown neighborhood. The Cochon crew lured Levon Wallace away from Proof on Main at the 21C Hotel in Louisville to become the head chef and sausage stuffer at the casual spin-off of Link's Cochon. Wallace is already working hard on his boudin chops and developing a new menu of sandwiches in anticipation of a June opening.
Max and Ben Goldberg, the recently Beard-nominated restaurateurs behind Nashville favorites like the Catbird Seat, the Patterson House and Pinewood Social, have recruited Rene De Leon to oversee their latest concept, Le Sel. Promising "new-world French fare," Le Sel will offer casual takes on classic French dishes under the eye of De Leon, who previously served as sous chef at Next in Chicago. In classic Goldberg style, the restaurant will also feature a large bar with an expansive wine list and specialty cocktails developed by the team behind Pinewood Social and the Patterson House. Nashvillagers will have to wait until June to get their drink on there, though.
Finally, the next big deal in advancing Nashville's "It City" status could be the opening of Chattanooga chef Daniel Lindley's New American eatery that he is developing at 5th and Taylor Streets north of downtown. The restaurant is creatively named 5th and Taylor. (But hey, cut him some slack! Lindley has been busy practically putting Chattanooga on the culinary map with his work at St. John's and Alleia.) 5th and Taylor is due to open in the next couple of months and will be divided into two separate spaces to feature casual American and French cuisines. Lindley has hired Andy Hayes away from Nashville's popular modern Italian destination Moto to serve as chef de cuisine at his new spot, and together they should prove to be a pretty powerful combination in the kitchen.
Read more reports from down South on Food Republic: