What's In Season In March: Flex Those Mussels And Get Down With Blood Orange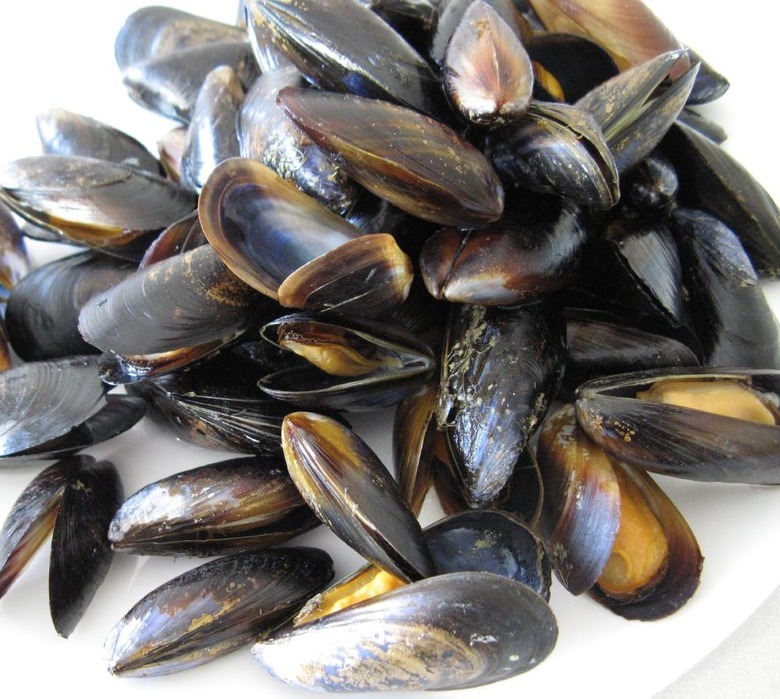 At long last, the winter is ebbing and signs of spring are popping up, especially at the farmers' markets. As little bits of fresh greens start popping up in stalls, you can still find the tail end of winter citrus as well as an array of tasty shellfish. Of course, if you are lucky enough to live in a neutral-climate area like Oakland, as chef Preeti Mistry of Juhu Beach Club does, you have a few more options. Still, the chef appreciates the change of seasons and growth of produce she can now incorporate into her modern takes on classic Indian dishes — gems like short ribs braised in cardamom and served with local root veggies, a salsa verde made with fenugreek leaves, and housemade pickles and chutneys that use the bounty of the season.
"It's kind of a fun time because we are in this transition, the new spring vegetables are starting, but at the same time we still have a certain amount of hard squash and some nice winter greens," says Mistry. "I feel like for a while in the farmers' market it's been the usual suspects, but now it's kind of exciting to see what might be there that weren't a week ago."
Fenugreek
When most people think of fenugreek, they imagine the dried brown seeds that add a depth of sweet, sultry richness to Indian curries, but it turns out the bright green leaves of this annual plant are more versatile. "When I think of the flavor of the fenugreek leaves, I figured, why not treat them like oregano?" says Mistry, who uses them in a salsa verde (recipe below). "It's awesome. It tastes like a salsa verde, but the fenugreek really comes through."
The chef then uses the salsa atop another fun spring ingredient, asparagus, and makes a little "nest" out of it, perfect for housing a fresh duck egg and the preserved Meyer lemons she picked this past winter. Unfortunately, given that 80 percent of the plant is grown in India, most markets won't be carrying this delightful green, but that doesn't mean you shouldn't seek it out. After all, if Mistry can get her farmers at Feral Heart Farm to grow it for Juhu Beach Club, other people are growing it, too.
Mussels
Before the warm weather hits, you should fill up on shellfish, especially mussels. Most fishmongers will be peddling these inky bivalves at the farmers' market, so get there early and keep an eye out. The ones you want will be tightly closed and smell like the sea. Forgo any samples that give off a fishy odor; that's a sign they're past their prime. Keep in mind that mussels are alive when you take them home, so remove them from the bag immediately since they can suffocate if left in too long. From there, transfer them to a bowl, cover with a damp towel and store in the refrigerator for up to two days.
As for cooking, try simmering in a classic French broth of white wine, garlic, shallots and cream, or do something new, like baking, roasting, steaming and even grilling. You will know they are done when the shells pop open to reveal the tasty morsel within. If they don't loosen up on their own, the meat is bad and you should promptly throw them away.
Blood Oranges
While winter citrus has started to dwindle, blood oranges are still in season right now. Lucky us: These beautiful fruits not only look good on the plate but have a sweet, almost raspberry-like flavor and less acidity than most oranges. But what about that color? The hue of the blood orange is due to the cool nights where they grow, so they are only cultivated in places that are warm enough during the day and get frigid at night, like California and Texas. To store, keep either in the fridge or in a cool, dry place out of the sun.
Also, make sure to leave them out of a bag to avoid mold. They will last about two weeks, as long as you make sure to choose orbs that are firm, with taut skin and no lesions. Eat them raw, toss juicy segments into a fresh kale salad, decorate an elaborate cheese plate or even juice them and make a ruby-red sorbet, the perfect palate cleanser or late-night treat. You can also use the juice to create a fun and flavorful cocktail, like blood orange mimosas or festive margaritas.
Asparagus Nest With Fenugreek Salsa Verde RecipeCourtesy of Preeti Mistry of Juhu Beach Club in Oakland, California
Servings: 4
Ingredients
2 stalks green garlic
2 bunches fenugreek leaves (fresh if you can find, or dried is fine)
1 cup white wine vinegar
1 cup rice oil (or other neutral oil)
1 tablespoon fresh ground pepper
4 duck eggs
1 bunch asparagus, cut into 2-inch pieces
2 tablespoons butter
1 teaspoon ginger, finely minced
1/2 cup pistachios, toasted and roughly chopped
2 sprigs mint, finely chopped
Directions:For the fenugreek salsa verde:
Remove outer leaves of green garlic, and finely mince white part of the bulb.
Pick fenugreek leaves off of stem and finely mince leaves.
Whisk garlic and fenugreek with remaining ingredients and add salt to taste.
For the soft-cooked duck egg:
Bring saucepan of water large enough to hold duck eggs to boil.
Lower duck eggs into boiling water for 6 minutes.
Remove and plunge eggs into ice-cold water immediately.
Peel and set aside.
You can use fresh chicken eggs if you prefer, just cook 3 to 4 minutes instead.
For assembly:
Heat butter in sauté pan until starting to brown, then add ginger and let soften for about 1 minute.
Add asparagus and sauté until asparagus is cooked through but still firm. Season with salt to taste.
Place asparagus on plate in a circle, creating a "nest."
Place soft-cooked duck egg in the center. Drizzle with salsa verde and garnish with pistachios and mint.
Check out what else is in season on Food Republic: