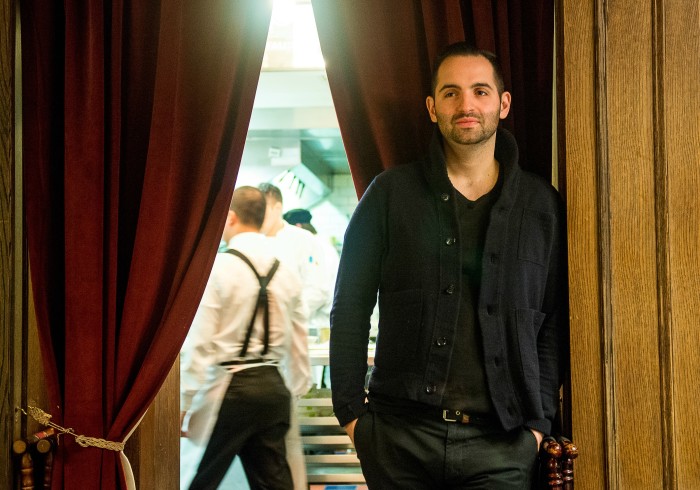 Welcome to Italian-American Week, when we're taking a bit of a break from our usual stories to focus on the important stuff: red sauce, stuffed pasta, porchetta and the chefs and home cooks making it all happen.
Mario Carbone's first restaurant gig was on Northern Boulevard in Queens, shucking clams and oysters at a place called the Crab Shack. "It was a frustrating first job because I had no idea what the hell I was doing," says a guy approaching culinary Prince-like status, on par with fellow Italian-Americans chefs Batali and Giada. Years and "several thousand" oysters shucked later, we're sitting in the cozy rear dining room of his eponymous New York City restaurant, surrounded by young staff members busy punching out meat deliveries and responding to reservation requests on glowing iMacs, and it's clear the 34-year-old has figured some things out. The red-sauce-with-benefits mecca Carbone is yet another hit with his partners, Rich Torrisi and Jeffrey Zalaznick (also see Dirty French, ZZ's Clam Bar and the newly opened Santina). But he only got on the path to a career in restaurants after the urban seafood shack flopped.
"My restaurant closed and there was this crappy Italian restaurant next door," he recalls with a laugh. "Since I still needed a job, this thing was after school and on weekends, I went there and ended up being their fry guy." More specifically, the calamari guy. Lots and lots of calamari.
As the baby-faced chef describes it, this was a time when cooking for a living was hardly cool. "You didn't really want to tell your friends," he says of the days when cooking meant extra pocket change for the movies or scoring something cool from the latest Crutchfield catalog. But all along working that terrible fry station, he knew he was interested in the business; he just didn't want to tell anybody. "I didn't come out until like '97."
Flash-forward nearly two decades — after time at the Culinary Institute of America, Carbone landed an internship with Mario Batali, followed by shifts under Daniel Boulud and Wylie Dufresne, before a final job opening Del Posto with the pasta/Zen master Mark Ladner. It's an impressive and diverse list of mentors, bosses and, later, drinking buddies, all of whom inspired the chef to open New York City restaurants rooted in France and Italy that recall the past and tap the very present, with cooking from the city, countryside and along the coast.
But there was one teacher who inspired most of all. "He was from Italy and always in the kitchen," says Carbone of his grandfather Vito Sanno, whose ever-present apron was a symbol of the importance of cooking in a tightly knit Italian-American family. Vito was born in the Istrian part of northeastern Italy, on the border shared with the former Yugoslavia. In Queens, he worked as a repairman for the local bread bakeries — not a chef by trade, but a close associate of food professionals. Carbone describes cooking as his grandfather's passion, one that has obviously rubbed off.
"He made unbelievable gnocchi; he made his own pizza; he would make Istrian dishes like pork chops topped with a ton of sauerkraut." But Vito would also cook a form of hybridized cuisine, Italian-American, in which spinach croquettes were prepared with cream cheese instead of Parmesan. "He would remember these hometown dishes and make them however he could."
Which brings us to the topic of meatballs. As the man behind a trio of Parms — a casual restaurant that celebrates Italian-American classics, including the iconic rolled orbs of meat and bread — Carbone has got his opinions. "A meatball in Italy was smaller, but what the United States had cheaply here was protein, so they started feeding their families on way more protein than they would ever eat in Italy," he says with John T. Edge-like authority. "And you're not going to find the big ones in Italy unless you're in a shitty restaurant in Florence that's catering to Americans."
We ask Carbone if he considers himself a culinary historian, like a cultural anthropologist with a crazy-good zuppa di pesce recipe in his back pocket. "No, I try to learn, and I think I'm knowledgeable about it, but no, I don't think I am. I just cook."
Check out more Italian-American Week coverage on Food Republic: