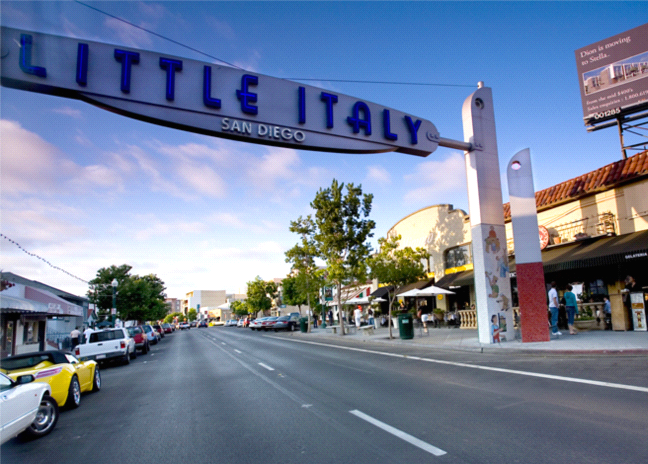 Welcome to Italian-American Week, when we're taking a bit of a break from our usual stories to focus on the important stuff: red sauce, stuffed pasta, porchetta and the chefs and home cooks making it all happen.
The term "Little Italy" can evoke images of busy streets lined with gimmicky, tourist-filled restaurants, complete with menu-pushing waiters outside the front door and Italian flags waving wherever possible. Throw in a paper placemat that doubles as a map of the boot-shaped country (featuring multiple comical misspellings) and you know the types of places that we're talking about. The fact is, however, that there are still plenty of neighborhoods in the country that have stood the test of time — and often gentrification — and stayed true to their Italian heritage. And nowhere is this more evident than in their longstanding restaurants, cafés, delis and bakeries. Here is a guide to seven such neighborhoods.
1. Philadelphia: Bella Vista
The City of Brotherly Love is often associated with Italian cuisine as a result of Marc Vetri's cooking (and world-class eponymous restaurant), but it's Bella Vista in South Philly that's most identifiable with the city's Italian-American heritage. The neighborhood includes the expansive 9th Street Italian Market, which is home to establishments selling some of the country's best cheeses (75-year-old Di Bruno Bros.), sandwiches (Paesano's) and meats (85-year-old Cappuccio's). After browsing all it has to offer — and stopping by for chestnuts roasted street-side in the winter — head to celebrity hangout Ralph's, officially recognized as the oldest Italian restaurant in the country.
2. San Diego: Little Italy
The Little Italy Association of San Diego is the only district-management corporation of its kind in any such neighborhood in the U.S. Yes, the city takes its Little Italy seriously. Originally a major hub of the tuna-fishing industry, the scenic region now has an active downtown presence, thanks in large part to the countless Italian restaurants, retail shops and art galleries that line its streets. There are frequent festivals — October's Fiesta is the largest Italian festival outside of New York City — and a weekly Italian farmers' market on Saturdays, Little Italy Mercato, that highlights fresh fish, vegetables, fruit and pastries. Go for shared plates at the contemporary Bencotto or for a more intimate experience at pasta specialists Buon Appetito, and be sure to end the evening with superb gelato at Pappalecco.
3. Boston: North End
Boston's oldest residential neighborhood has been known as the city's Little Italy for more than a century. Around 100 restaurants and bakeries are packed into the relatively small waterfront community, where both tourists and locals flock to Hanover Street and to establishments like La Famiglia Giorgio's for family-style portions and Giacomo's Ristorante (prepare to wait) for authentic classics. Pizza aficionados take solace in the brick-oven pies served at the original location of Regina Pizzeria, which opened in 1926, while coffee geeks must hit up Caffé Vittoria. Of course, no trip to North End is complete without braving the lines at Mike's Pastry or Modern Pastry for cannoli, biscotti, cookies and cheesecake. This August's 96th annual Feast of All Feasts, celebrating Saint Anthony, will feature parades, live entertainment and no fewer than 100 pushcarts serving Italian street foods.
4. Providence: Federal Hill
A copper sculpture of La Pigna (pinecone) — an Italian symbol of abundance and quality — hanging from the center of a gateway arch welcomes visitors to Federal Hill, the centrally located neighborhood that houses a variety of Italian restaurants, bakeries and cafés. Famous for its family-style presentations and communal tables (and for its homemade meatballs and gravy), Angelo's Civita Farnese Restaurant on Atwells Avenue may be among the most well-known spots in town, but upscale Tuscan restaurant Siena and old-school Camille's, which just celebrated its 100-year anniversary, are also home to top-notch cuisine. Sit outside on the Roman patio at the latter during a summer weekend for live music, then check out Venda Ravioli, an Italian grocery that hawks an impressive selection of fine Italian meats, cheeses and prepared foods, as well as fresh pasta.
5. Chicago: Little Italy
There are multiple areas in the Windy City with sizable Italian populations, but it's University Village on the Near West Side that's become known as Little Italy. The National Italian-American Sports Hall of Fame and three historic Roman Catholic churches are worthwhile destinations, as are a number of Italian-American restaurants on Taylor Street. Grab a sub and antipasti at Fontano Foods and sit at longstanding fixture the Rosebud for a white-tablecloth-style dinner before queuing up at Italian-ice specialists Mario's Italian Lemonade or popping into Original Ferrara, a bakery that's been open since 1908. The eighth annual Festa Italiana in August will celebrate the community's culture through food and entertainment.
6. St. Louis: The Hill
Named for its proximity to the highest point of the city, this historic St. Louis region has housed Italian immigrants since the late 19th century. Yogi Berra's birthplace continues to teem with Italian-American restaurants, bakeries, groceries, salons and even two bocce gardens. Still under the same family ownership since opening in 1957, Rigazzi's holds the distinction of being the neighborhood's oldest restaurant still in operation today (and of creating the frozen fishbowl), dishing out its famous pizza and homemade toasted ravioli to loyal clientele. Third-generation family-owned Volpi Foods — more than a century old — remains the neighborhood's anchor as a premier Italian deli and salumeria, while the Missouri Baking Company is the place to go for cannoli and various Italian cookies.
7. Bronx, New York: Arthur Avenue
Manhattan's Mulberry Street may be most synonymous with Little Italy in New York, but it's this small section of the Bronx (East 187th Street, from Arthur Avenue to Prospect Avenue) that's managed to steer clear of the gimmicks while remaining more under the radar. The main restaurant debate centers around Mario's and Dominick's — both have been open for over half a century — but there's an equally impressive selection of specialty markets. After stopping at jack-of-all-trades Italian bazaar Arthur Avenue Retail Market, pay a visit to Randazzo's for fresh seafood, Calabria Pork Store for cured meats, De Lillo's Pastry Shop for baked goods and Calandra for cheese (the ricotta and burrino can't be beat).
This post is brought to you by our friends at MasterCard Priceless Cities.
Read more Italian-American Week coverage on Food Republic: