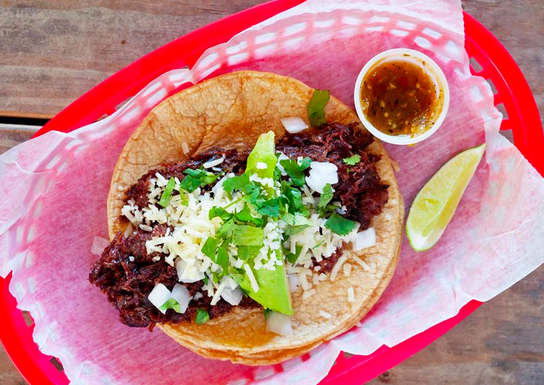 The annual South by Southwest music and interactive festival is packed with activities — concerts, panels, parties, more parties, afterparties. There are so many events, in fact, that food can quickly become an afterthought. We'll be the first to say: This would be a crime. Austin's food and drink scene is on fire, and it would be a shame to miss out on some of the city's best bites while in town. If you're visiting primarily for the festival, leaving the central core can be a headache, so most of these picks are close to downtown and easy to get to between shows. A few are a short cab ride, but we've specified where that's applicable. 
Breakfast (Tacos)
Torchy's
Cue up the great taco debate, because everyone has their favorite place for breakfast tacos in ATX. Truth is, there is no best vendor for the satisfying savory treats because every truck or restaurant approaches the meal with a different attitude. So while Veracruz All Natural and Mi Madre's celebrate traditional ingredients, and Tacodeli offerings please most commuters with simple combinations, you can't come to Austin without checking out Torchy's. Fluffy flour tortillas stuffed to the brim with at times unorthodox ingredients and spread with big, aggressive salsas make the classic taco truck (and now chain of locations around the state) an undeniable staple. Breakfast gems include the Wrangler with smoked brisket, egg and potato and the Ranch Hand with juicy fajita beef and scrambled eggs. Pro tip: Don't skip the green chile queso. It's delightfully creamy with a scoop of fatty avocado, sprinkles of queso fresco and a swath of fiery Diablo sauce as the proverbial cherry on top. Multiple locations, torchystacos.com
Lunch
Salt & Time
This minimalist but masculine full-service butcher shop and restaurant always bustles during happy hour and dinner, but the loaded, decadent meaty sandwiches make lunchtime prime time. Take, for example, the Grinder, a lovely mess of mortadella, cotto salame, peperone, provolone, olive oil and vinegar; the slow-cooked pork and spicy ham combo on the Cubano is also a popular standout. Bonus: They also serve an excellent array of local beers on tap. 1912 East 7th St., saltandtime.com
Micklethwait Craft Meats
Die-hard BBQ fans willing to blow half a day waiting in line for Franklin Barbecue, we salute your commitment. For everyone else, Austin happens to have other great places for mouthwatering smoked meats (shocker, we know). Micklethwait Craft Meats particularly excels in this area, with marbled brisket that drips with fatty juices and cole slaw providing crisp, creamy refreshment between bites. The food truck will set up at this year's official SXSW SouthBites food park, making the whole package too convenient to pass up. 604 Driskill Street, craftmeats.com
Ramen Tatsu-Ya
Two words: hangover ramen. If the piping-hot bowls of pork-laden tonkotsu don't cure what ails you, there's not much hope for making it through another long day of programming. With the new location recently opened on South Lamar, you don't have to trek all the way to the outskirts of the city to get the indulgent fix, either. 1234 South Lamar Boulevard, ramen-tatsuya.com
Happy Hour
La Condesa
Located in the trendy Second Street District, La Condesa serves interior Mexican food in a space that caters to the most elite restaurant-design nerds. Happy hour takes place in the bar area, where you can buy exceptional craft cocktails, tacos, ceviches and tostadas for a fraction of the normal cost every weekday from 5 to 7 p.m. Make sure you order El Cubico, a tantalizing mix of tobacco-infused tequila, smoked pineapple juice, lemon juice, and vanilla-laced brandy. 400 West 2nd Street, lacondesa.com
Uchi
Sushi fiends, look no further to quench your raw-fish needs. The incredible fresh fish, elegant ambience and exquisitely artistic plating techniques at Austin's premiere sushi house (uchi means "house" in Japanese) make every bite memorable. Trust the staff and indulge in one of the chef's tasting menus, or visit the North Lamar outpost Uchiko for a reprieve from the crowds and an agenda that leans toward more creative fusion cuisine. 801 South Lamar Boulevard, uchiaustin.com
Parkside
It's been around for what feels like forever, but there are still few places in the downtown corridor that do happy hour as well as Parkside does. The urban warehouse-like atmosphere is one of the most upscale on the Sixth Street strip, and with 50 percent off all beer, liquor and bar food on weekdays from 5 to 6:30 p.m., you simply can't beat the ease of access and value for money during the hectic fest. 301 East 6th Street, parkside-austin.com
Dinner
Qui
Austin's most innovative Asian fusion restaurant comes from Top Chef winner Paul Qui. Doors will be closed for a super-high-profile dinner on March 15, but swing by for happy hour or dinner when you have the chance otherwise for a truly creative, top-notch dining experience. Come thirsty, because the talent behind the bar consistently put out innovative, surprising cocktails. The wine list is quite thoughtful as well. 1600 East 6th Street, quiaustin.com
Olamaie
Chefs Michael Fojtasek and Grae Nonas bring the heart and soul of the South to the table at this James Beard Award-nominated restaurant with a deep respect for local food heritage. We've heard the biscuits are to die for, too. 1610 San Antonio Street, olamaieaustin.com
Gardner
Chef Andrew Wisehart from the stellar Contigo team (definitely worth a visit, if you're willing to grab a cab) opened this culinary ode to his father in East Austin with partner Ben Edgerton last fall and has earned glowing reviews. It's hard to find restaurants that champion the vegetable over more carnivorous cooking, meaning the quiet and beautifully modern restaurant is the best contender for a place to take vegetarians. 1914 East 6th Street, Suite C, gardner-austin.com
If you're looking to escape the swarming masses of downtown for a more relaxed dining experience and are willing to hail a cab to the North Loop neighborhood, check out the smart cuisine at Foreign & Domestic, with drinks at hip neighborhood bar Drink.Well and the cozy cocktail den Tigress Pub.
Other
Wright Bros. Brew & Brew
This low-key coffee and craft-beer spot is ideal for grabbing an early espresso before hitting those East Side day parties (open at 7 a.m.) or winding down with a cold brew after pounding the pavement all day (it closes at midnight). Thirty-eight taps of craft-beer options line the bar, while skilled baristas pour coffee from a variety of quality roasters. The snacks are tasty treats as well. 500 San Marcos Street, thebrewandbrew.com
Jackelope
A grungy rockabilly-esque dive located on Sixth Street, Jackelope is unkempt in a comfortably laid-back kind of way. The menu plays host to a surprising number of quality (and affordable) beer options, simple but delicious mixed drinks, and a food menu that plows through the night until closing time. The unfussy but fresh pizza hits the spot after a long day. 404 East 6th Street, jackelopebar.com
Daily Juice
One can live on free Lone Stars for so only long before the body starts to crave something natural. Hit up this classic juice and smoothie joint for bursts of fresh vitamins and nutrients, or stock up on a cleanse regimen to help get back in shape after the festivities finally end. 205 West 3rd Street; dailyjuicecafe.com