It's Coconut Water. And Coffee. Mixed Together In One Bottle. Brace.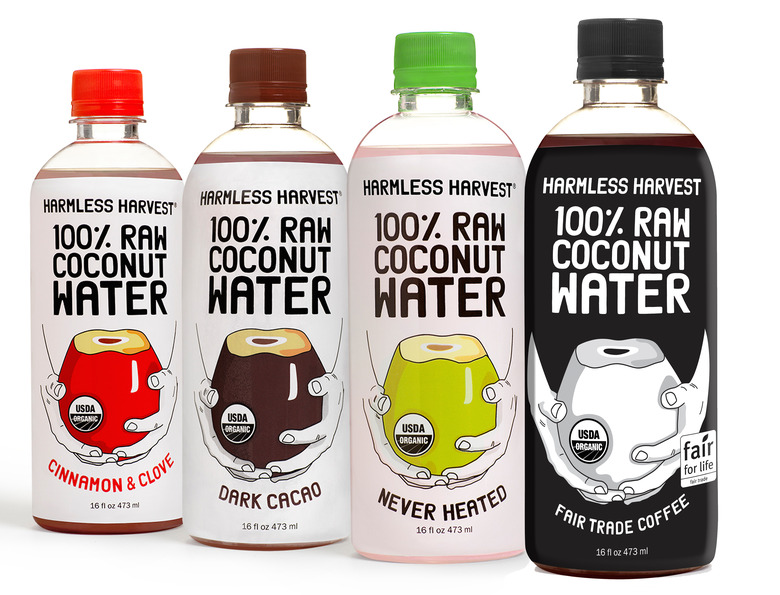 Gone are the days when people added just a teaspoon of sugar or a drop of milk to their coffee. People have most certainly started taking their morning routine to pretty crazy lengths. Case in point: Bulletproof Coffee, a current craze that consists of mixing coffee with unsalted butter made from grass-fed cows and coconut oil. And while we're on the topic of crazes, how many different brands of coconut water did you see on the shelf during your latest trip to the grocery store? Yes, it seems like it really was only a matter of time before coffee and coconut water were mixed together in one bottle.
Harmless Harvest — the company we profiled late last year that makes team Food Republic's favorite coconut water — has created just that: a coconut-water coffee. Before you roll your eyes at the thought of yet another hybrid item hitting the market, you should know this: It tastes good. Really good. Made with the same raw coconut water from Thailand as its trademark product and fair-trade, organic coffee beans harvested by a co-op nestled high in the Peruvian Andes, the new product combines the sweet and the bold, the hydrating and the energizing. Think of it as a morning or workout beverage. Cofounder Justin Guilbert puts it best: "It just makes sense to start the day with a cup of coffee and some hydrating coconut water."
Just to clarify, Harmless Harvest is not the first coconut-water brand to launch a coffee-flavored variety. As anyone who has tasted a bottle of the company's coconut water can attest, however, novelty doesn't matter nearly as much as quality. And these guys don't miss a beat with the third release in their line of naturally flavored coconut waters (dark cacao and cinnamon and clove were the first two). The lightly sweet, slightly nutty coconut flavor blends perfectly with a hint of smooth, subtle bitterness from the fresh coffee.
So what exactly is in each bottle of this coconut-water coffee? Besides the 100 percent raw coconut water, there is coffee made from beans sourced from the San Ignacio province in Cajamarca, Peru — determined to be the ideal blend by Guilbert and his partner, Douglas Riboud, after visits to producers and roasters around the world. Over half of the harvesting cooperative's members are located in areas of extreme poverty, and Riboud notes that the association is focused on empowering local women by creating opportunities for leadership positions.
Equally as important, perhaps, is what is not found in each bottle. There is no added sugar, dairy, or preservatives in the drink, which comes in 8- and 16-ounce sizes. The latter contains around 50 milligrams of naturally occurring caffeine (around the same amount as one shot of espresso). The boost is definitely there, but it's not overwhelming in any way.
The 100% Raw & Organic Coconut Water with Fair Trade Coffee (yes, that's the full name) is now available at Whole Foods Markets nationwide, where it will be sold exclusively for three months before being distributed to retailers nationally.
Read these Coffee Culture stories on Food Republic: