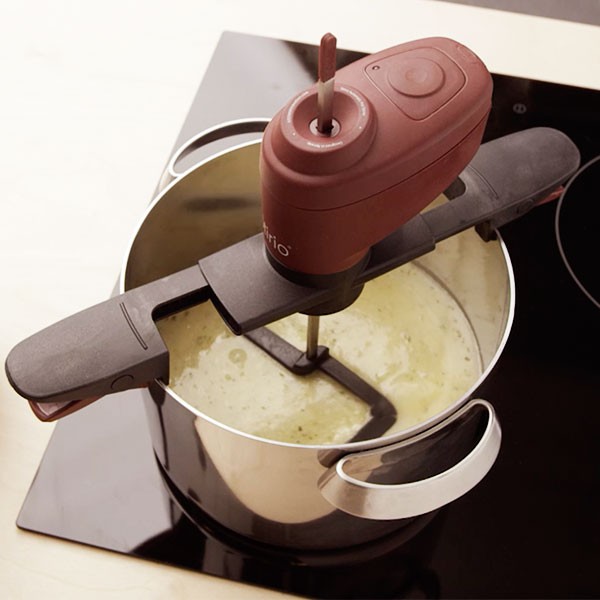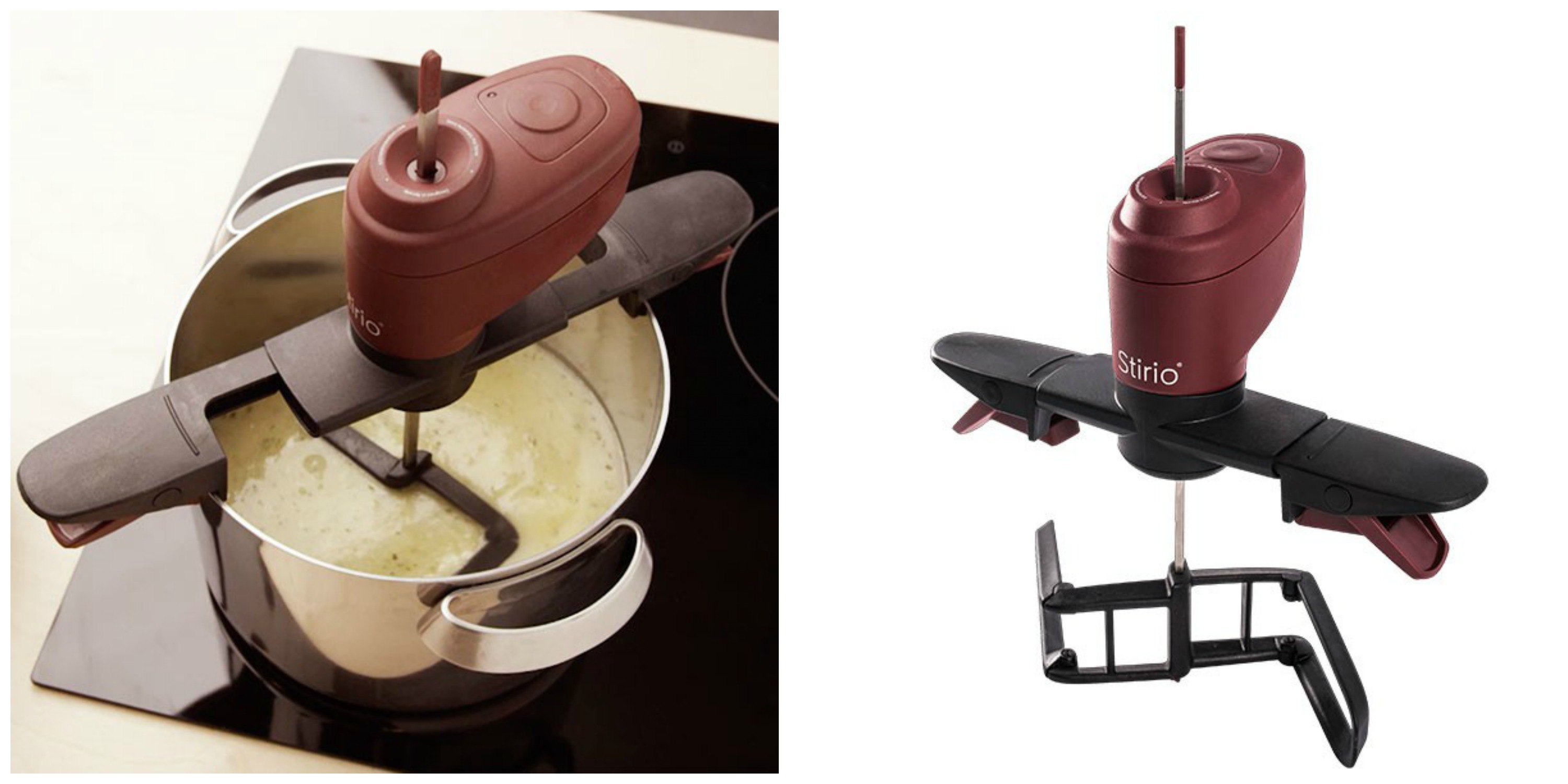 I've stirred sauces and soups with the same tool for years: a thick, long-handled wooden spoon that I inherited from my grandmother. She must've used it since the '70s. Its sides are covered in chips and dents from decades spent banging against the side of stockpots and swatting away my grandfather, who used to playfully steal tastes of her Sunday marinara sauce while her back was turned.
It's all I need and all she needed — all anyone needs, really, to tend to their stovetop meals. Which is why the Stirio is such a strange piece of culinary tech. The device, which looks like a small off-board motor, clamps to the edges of pots and stirs the contents for you. It fits cookware between 6.9 and 9.8 inches wide and has a nonstick mixing blade that extends between three and seven inches. It runs on a rechargeable battery. It's meant to be attached and left alone so you can attend to other things and not worry about burning the bouillabaisse or ruining the consistency of your New England clam chowder. Char and lumps, after all, are the marks of a careless cook.
Positive
Extending the Stirio and clamping it onto my stockpot makes me feel like a '90s-era yuppie attaching the Club to the wheel of my Porsche 911. But it fits easily and securely. A push of its single button starts the engine, and its mixing blade spins slowly and consistently. The engine makes little noise, and the blade powered through both a thick porridge and Bolognese sauce with no struggle. One nice touch: The blade can be extended outward to fit small or large pots, so there's no need for additional attachments. It's also safe to use on nonstick coatings.
Negative
The battery lasts roughly an hour per charge, which isn't long enough when you're cooking low and slow. Clumsy cooks, beware: Detaching the Stirio from a hot pot could lead to scalded appendages if you're not careful.
Conclusion
Far from a necessity, the Stirio does its job and does it well. Does anyone really require an automatic stirrer? Maybe if you're preparing big meals and have no extra help, or you're looking for a fuss-free way to stir pots from the comfort of your couch. The Stirio won't replace my wooden spoon, but it could certainly replace yours, if that's what you desire. $60; unikia.com
Read more product tests on Food Republic: