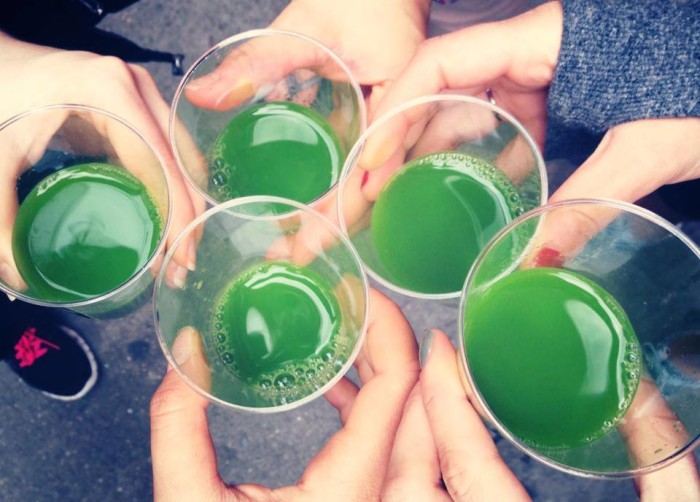 Welcome to the afternoon roundup! If it happened in food today, it's news to us. Here are a few stories that have caught our attention.
Potent Potables: How "natural" is your French wine? The New York Times reports on the growing controversy over pesticides at vineyards across France. Even some so-called organic wines have been found to be tainted with residue. "We're caught in a paradox," says one winemaker, referring to the industry's conflicting interests of promoting a bountiful harvest and keeping the terroir pristine.
Food Costs: That sticker shock you're feeling at the supermarket today? That's nothing compared to how your grandparents felt. Spending on food — proportional to income — has dropped dramatically since the 1960s, according to U.S. government figures. Keep this stat handy for the next time you need to justify that $10 artisanal-chocolate bar.
Farmer Warbucks: A study of farmers' markets in the Bronx, New York, offers some interesting findings, including the fact that compared with traditional supermarkets, farmers' markets have fewer varieties of fresh produce and higher prices, "even for more commonplace and 'conventional' produce."
Chef Moves: If you like L.A. Chapter at the Ace Downtown Los Angeles, check out the revamped King's Highway (restaurant) and Amigo Room (bar) at the Ace Hotel & Swim Club in Palm Springs, which is now run by the same people. Chef Ken Addington and partner Jud Mongell, also the duo behind Brooklyn's Five Leaves, are bringing the same regional-Mexican-meets-Caribbean-inspired flavors of their popular Williamsburg, Brooklyn, bar Nights and Weekends (think chicken tinga tacos and mezcal-cured salmon) to the reimagined desert resort setting. And yes, room service is available.
Juicy Events: Celebrate St. Patrick's Day a wee bit early with an entirely different kind of green-colored beverage: green juice. Yes, New York City's second-ever "juice crawl" (think pub crawl for the fitness set) is scheduled for Saturday, March 14. A $45 ticket gets you a T-shirt, a mini mason jar and a whole lot of juice from local vendors, including Liquiteria and Juice Press. Get yours here.