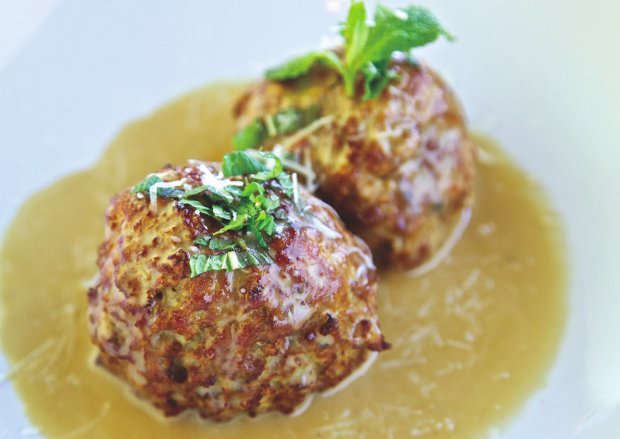 Welcome to the afternoon roundup! If it happened in food today, it's news to us. Here are a few stories that have caught our attention.
Baller Events: Competitive home cooks, prepare your meat grinders! The 2015 Meatball Takedown is coming up on March 1 at Brooklyn's Royal Palms. Last year's contest attracted some 50 cooks rolling out around 7,500 of the savory orbs. For those of you interested in simply tasting the various rounds, a $20 ticket gets you all you can eat.
Tipping Point: New York just raised the minimum wage for tipped workers statewide from $5 to $7.50, much to the dismay of the restaurant lobby. How will operators respond? You've got to wonder whether the latest hike might finally convince restaurateurs to abolish tipping altogether and implement service fees instead, as a few notable operators have already done.
Food Porn: People used to rave about the fancy cafeteria at publisher Condé Nast's old NYC headquarters in Times Square. Now that the company has moved to downtown's One World Trade Center, the dining hall no longer bears the imprint of famous architect Frank Gehry. But at least it has Instagram. Employees are reportedly getting nudged to post about the new food options on social media using the hashtag #condecafeteria. Check out what they're eating for lunch today on the café's own Instagram feed here.
Street Meat: One of New York City's favorite food-cart vendors, the Halal Guys, are expanding to California, with plans to open an honest-to-goodness brick-and-mortar location in Berkeley sometime in 2016.
Allergy Relief: Researchers at Stanford University are testing out a radical new treatment for food allergies, called oral immunotherapy. Basically, you're given tiny doses of whatever you're sensitive to — peanuts, gluten — until your body builds up a tolerance. Over time, you're exposed to bigger amounts as you become desensitized. Sounds easy enough, and the results so far have been "overwhelmingly successful." Still, doctors advise that hospital supervision is required. In other words: Do not try this at home.