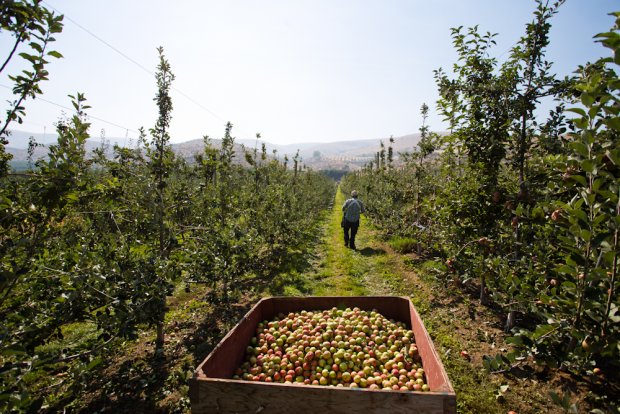 To say American hard cider is making a comeback would be an understatement.
At this year's annual meeting of industry minds known as CiderCON, experts were quick to point out that the category is growing exponentially. In fact, some stats have sales exploding by 75.4 percent from November 2013 to 2014, bringing in a cool $366.4 million.
While the category as a whole still captures only about 1 percent of the total beverage market share, it's nevertheless an exciting time, with small producers creating ciders that are a far cry from the sweet, largely one-dimensional mainstream stuff that usually dominates the taps. There's a mind-boggling range in this new school of cider, from hyperdry to semisweet expressions, and boundary-pushing experimentation is encouraged. Gin botanicals, cinnamon-roasted pecans and blueberries: It's all fair game in the new world of American cider. 
Why the rapid growth and sudden surge in interest? Cider fills a unique niche in the beverage world, straddling the line between a light, refreshing beer and a robust white wine. It's gluten-free and usually relatively low in alcohol, but many varieties still boast enough rich complexities and nuances to spark interest among even the most serious beer drinkers. Here are five cider companies poised to make a big impact in the coming years, listed by production capacity (from largest to smallest). 
1. Vander Mill Ciders
Michigan is a hotbed of cider production, and things will only get better when Vander Mill Ciders completes its second location in Grand Rapids later this year. The $4 million redevelopment of an existing industrial site (in a city that's well-known for its craft-beer scene) will position the company to boost production from the 225,000 gallons it produced in 2014 to over a million gallons. The original Spring Lake location will remain open to make limited-edition single-varietal and small-batch releases. Vander Mill currently offers four staple ciders in cans, including a ginger peach and blueberry, but if you haven't tasted the Totally Roasted — a mesmerizing combination of cinnamon-roasted pecans and semisweet cider — you have yet to experience the apex of cider perfection.  
2. Austin Eastciders
When British entrepreneur Ed Gibson moved to Texas five years ago, no one was talking about cider in the Lone Star State. Times have changed. When Austin Eastciders officially opened last fall, the Texas state capital went wild for the array of fun but complex ciders. So much so that the company estimates it could make up to 400,000 gallons this year and will likely need to double the size of its current tanks in the near future just to meet demand. The brand-new Texas Honey and Small Batch No. 2 styles were just released this month, joining the flagship Original and Gold Top. Right now they're only available in Texas, but Gibson says there are plans to distribute to up to four other states by the end of the year. 
3. Seattle Cider Company
Currently available in Washington, Oregon, Idaho, Alaska, Texas, California and Illinois, Seattle Cider Company's delicious balanced ciders come in delightfully well-designed (and straightforward) cans. The two year-round releases, the dry and the semisweet, are subtle cornerstones, but the cider makers go a bit wild with seasonal flavors, featuring wacky compositions like oaked maple, basil mint and the unusual-sounding gin botanical. The current expansion will triple production, so the company will likely produce over a million gallons of cider by the end of 2015. Wisconsin and Minnesota will be lucky recipients of shipments this year as well. 
4. Citizen Cider 
With a hard-core following on the East Coast, Vermont's Citizen Cider has made quite the splash in Woodchuck territory (the mainstream brand made by Vermont Cider) with an eclectic mix of experimental yet approachable ciders. At least 250,000 gallons will likely flow this year, now that production has been moved to a new 18,000-square-foot facility in downtown Burlington that opened in November. Citizen rotates through about 10 ciders on draft at the on-site taproom; the four flagship releases, the Unified Press off-dry cider, the dry-hopped Full Nelson, the ginger- and lemon-fueled Dirty Mayor and the Wit's Up, spiked with a Belgian Saison yeast, are shipped out to Massachusetts, Illinois and North Carolina. 
5. Tieton Cider Works
Another pick from Washington's finest crop of cider producers, Tieton Cider Works is one of the smaller operations on this list, with a projected 150,000 gallons in 2015, but that's a leap from the 13,000 cases it produced in 2013, and with its recently opened facility in Yakima there's room to eventually create 500,000 cases annually. Seven different styles cover a spectrum of American heritage, English and French varieties, all made with apples from the Pacific Northwest. Seventeen states currently receive the goods, and another three will join the distribution area before the end of 2015. 
Read more about craft beer and cider on Food Republic: