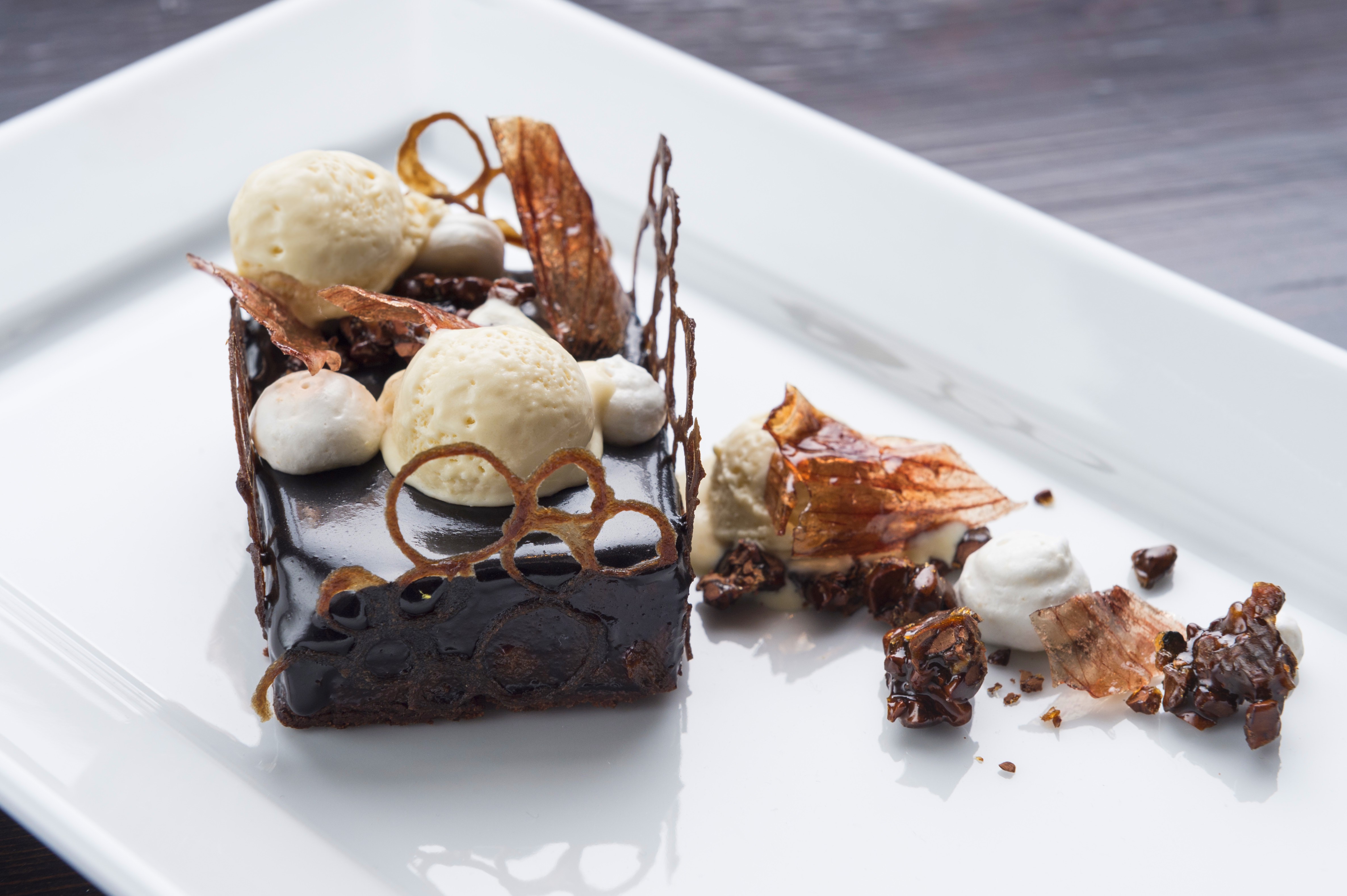 Forget worrying about a side of vegetables with your meaty main course. Today's chefs are taking great strides to ensure these nutrient-rich ingredients are no longer just an afterthought at dinner — they are dinner. From vegetable-inspired meat dishes to meat-inspired vegetable dishes, menus across the country are showcasing fresh produce like never before.
Consider the advertised offerings at Topping Rose House in Bridgehampton, New York, which flips the usual menu script. Quite literally, in fact. Vegetables like celery root, oyster mushrooms and glazed chestnuts are elevated to top billing, appearing in big, bold capital letters, while meats such as the spice-crusted venison loin are relegated to the subheading below. Observing this unusual juxtaposition for the first time, stunned omnivores may think they've been handed the wrong menu.
Further inland, New York City's Dovetail takes a similar tack. In addition to its daily vegetable tasting menu, the team dedicates Monday nights to four-course vegetable and vegetable-inspired menus, where dishes like cured carrots with shaved duck breast or Japanese white sweet potato with pork belly are proof that vegetables can be the main draw on the plate — even for the most serious meat eater.
"Meat is widely taking a backseat, and I think people are much more focused on ingredient-driven cuisine," says Dovetail chef de cuisine Nicholas Pfannerstill. For a chef, it's humbling news. "Sure, technique is where we chefs all grew up, but the ingredient focus is how the industry is maturing because produce isn't like it was 50 years ago," he says.
Still, even the strictest vegetarian can applaud the inspiration that animal protein and its required techniques can lend to chefs — right down to ceviche (Dovetail does a version with turnips) or tartare. "If we look at a piece of compressed watermelon and we think it looks like a piece of beef, we'll say, 'Let's mince it and make tartare,'" explains The French Laundry chef de cuisine David Breeden, who works with gardener Aaron Keefer to create the restaurant's daily-changing nine courses — a menu that has grown five courses since its 1994 inception.
At Crossroads in Los Angeles, executive chef Scot Jones employs a like-minded approach for his stuffed hearts of palm, a dish that evolved from the stuffed calamari he honed in Midwest kitchens. The term "plant-based" purposefully replaces the word "vegan" in the team's vocabulary at Crossroads, representing a unanimous effort toward one goal: to make dishes — such as artichoke "oysters" and hearts of palm "crab cakes" — recognizable. "A lot of people hear 'vegan' and think 'hippies, tofu, bamboo, tempeh,' and we don't do any of that," explains Jones. "When you walk in, you think you're in a Manhattan steakhouse with sexy red booths and craft cocktails, and oh, it just happens to be plant-based."
Perhaps the most universally enjoyed perk of rallying diners of all diets to these spots? More sharing opportunities. Crossroads has been on the case with the Mediterranean-style small-plate angle, but Dirt Candy chef Amanda Cohen wanted something bigger. For the menu at her recently reopened digs on Manhattan's Lower East Side, Cohen added two large-format dishes: Brussels-sprout tacos with salsa verde and jalapeños, and a cabbage hot pot with kimchi, lotus root and cabbage noodles. "With these bigger plates, it's all about how you keep someone's attention on this one vegetable and keep them coming back to it for 10 or 20 bites," she says. "We like that challenge."
It's not the only recent challenge taken on by Cohen. Thanks to her personal growth and to patrons' increasingly bold palates, the chef has admitted to a more adventurous approach with the new menu, mentioning one item in particular: the chocolate onion tart. "Six years ago, I wouldn't have believed anyone would've ordered this," she says. "Now it's our most popular dessert."
Vegan chef Chloe Coscarelli concurs that the vegan- and vegetarian-restaurant experience has changed drastically over the past decade. "Most of my life growing up, I just learned to say I was allergic to dairy and eggs," she notes. "Saying that I was vegan wasn't something that was understood." Come spring, Coscarelli will only further obliterate the need to lie to your server with By CHLOE., a fast-casual vegan concept spinning out nut-milk-based ice creams and from-scratch burgers built from spices, vegetables, beans, and grains — a far cry from any meat lover's Boca Burger nightmare.
And while meat mastery still confers bragging rights, Coscarelli says vegetables are a worthy test of a chef's true talents. "Previously, it might've been considered easier to cook vegetarian and deemed that meat was the harder of the two to cook," she says. "But now chefs are starting to see vegetarian and vegan cooking as a badge on their skill set and are getting praise for doing creative things with vegetables."
Breeden, an omnivore through and through, agrees. "A beautiful halibut from Maine, as exceptional as it is, is always a halibut," he says. "But there are 45 different kinds of carrots, and there are so many ways we'll cook them — whether it's a stew in the winter or with lime juice and salt in the spring. The carrot is always changing."
Topping Rose House, 1 Bridgehampton-Sag Harbor Turnpike, Bridgehampton, NY 11932, 631-537-0870, toppingrosehouse.com
Dovetail, 103 West 77th Street, New York, NY 10024, 212-362-3800, dovetailnyc.com
The French Laundry, 6640 Washington Street, Yountville, CA 94599, 707-944-2380, frenchlaundry.com
Crossroads, 8284 Melrose Avenue, Los Angeles, CA 90046, 323-782-9245, crossroadskitchen.com
Dirt Candy, 86 Allen Street, New York, NY 10002, 212-228-7732, dirtcandynyc.com
By CHLOE., 185 Bleecker Street, New York, NY 10012, bychefchloe.com
Read more plant-based stories on Food Republic: