Shanghai Hot Dog Shop Channels A Futuristic American West. It's Kinda Weird.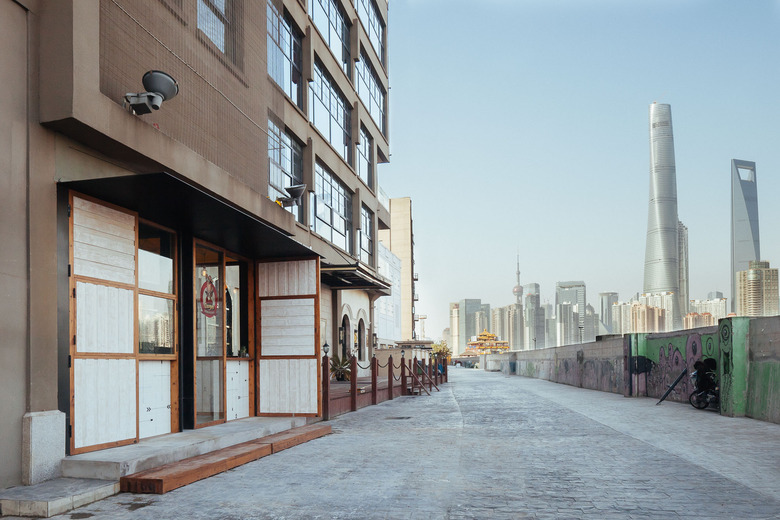 It would be a stretch to imagine the rugged Masked Rider himself sauntering up to the counter at Lone Ranger, a hot dog shop in Shanghai, China, with an unusual interpretation of the American West.
Shanghai architecture studio Linehouse Design came up with the visual scheme, which leans more toward "modern cowboy" than your average vintage tumbleweeds and saddles. White timber weatherboard and clean tiles with an arrow motif lend a bright, airy feel to the tiny space — there are only six seats inside, with another six outdoors when the exterior is open. This contrasts nicely with the ceiling, painted a glorious shade of marigold and adorned with a woven rope structure with Edison-style bulbs dangling from each line.
It's a somewhat curious design choice for the cuisine du jour (considering most hot dog stands in America are anything but visually appealing), but it's also quite beautiful, evoking serene feelings of a welcoming hipster homestead. If that sounds odd, things get even more offbeat when it comes time to order.
In stark, surprising contrast to the sleek design, a cartoonish menu features an array of corn-dog caricatures illustrated by Shanghai designer Johnny Haru. Each menu option is represented by one of several Western characters, including Zorro (pork and vanilla sausage), Bruce Lee (pork, beef and cheese) and Django (pork and black pepper). There's also the less intuitive inclusion of Marilyn Monroe (BBQ sauce) and Audrey Hepburn (ketchup) as the faces of the shop's range of condiments. Below, a peek into the bizarre wonderland of encased meats.
Photos by Benoit Florencon
More restaurant design on Food Republic: