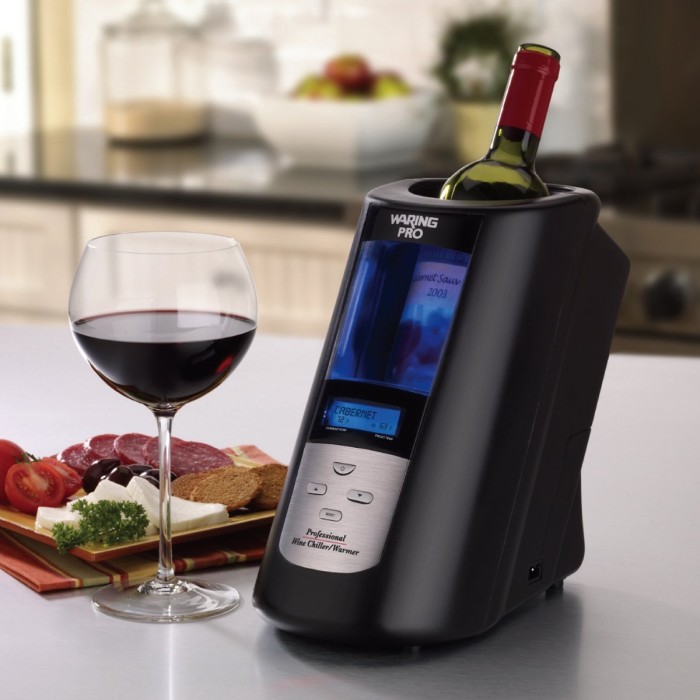 The most-used piece of cooking gear simplifies and streamlines an otherwise complicated task. But when it comes to wine accessories, I often find the opposite. There's an entire industry churning out such items as aluminum stoppers, artfully twisted decanters and articulated screws — and none of these items really help do anything but give uninspired sons and daughters something to buy when they're out of Father's Day ideas. Note: Your corkscrew should never come with instructions, your decanter should be clear, crystal and clean, and you should probably just finish that bottle instead of using the stopper.
Wine, of course, is a delicate substance, one that's been cultivated with care and deserves respect. And the one oft-overlooked variable that always demands precision is temperature. Chilling a bottle of Chablis in the fridge is fine, but it'll always be at least a few degrees away from the ideal. An overly warm red, even a few degrees off, will lose its base notes and aroma — not something you want to risk when you're paying serious dollars for bottles or have a generous guest who's brought a whopper from his personal stash.
The Waring Pro Digital Wine Chiller and Warmer helps ensure your Riesling, champagne and Beaujolais are always at the ideal serving temperature. Featuring a single-bottle fridge with an LCD panel, computer-controlled temperature and an internal database of more than 30 varietals to choose from, the system lets you dial in the exact degree your wine requires.
Positive
The plug-in chiller, which stands a foot high and is roughly double the size of a SodaStream, has a black glass door that swings open to expose a cuff into which you slide your bottle. There's also a slot above for the neck to stick out of and a backlight in the door so you can eye your bottle. I popped in a 2010 Shiraz and shut the door. A three-second press on the control panel brought up the bright blue screen. From there you can select red wine, champagne or white wine and use the arrow keys to shuffle through the internal library to find the varietal you've loaded in.
Both the bottle's current temperature and its ideal temperature are listed on the screen. I had set my Shiraz out a few hours prior to the test and the Waring listed it at 75 degrees — 11 degrees above what's suggested for serving. The fan kicked in, and after about ten minutes, the screen read "Cheers!" and the bottle was ready. I was aware of the wine's full-bodied and fruit-forward flavor, but the right temperature really did bring out layers I'd yet to experience. Proof that computer-controlled temperature is not to be trifled with.
A few more tests worked well: A bottle of room-temp champagne for an impromptu brunch celebration chilled to the ideal 45 degrees, and a Pinot to accompany a special Sunday dinner of seared scallops reached its 48 degrees promptly — had I drank it directly out of the fridge, it would've been at least ten degrees warmer.
Negative
When it's running, the machine is a bit loud — like a humidifier or small summer fan. And the plastic cuff that holds bottles in place isn't the most forgiving; I thought it might break with each bottle I fed it. It's a worry for sure. The machine is not something you're going to want to keep out on the counter, either. It's not ugly; in fact, it's quite well designed and easy on the eyes. It's just fat in the back and a bit awkward to fit on most surfaces.
Conclusion
Is this a must-buy? Don't be silly. But if you're serious about wine, add it to your collection. It performs its job exactly as advertised and allows you to bring out the best of your bottles. Plus, if you frequently have guests over, it's a great way to ensure their varietals are quickly chilled. Price-wise, it's not the most enticing, as this is a pure luxury. But hey, so are those ridiculous corkscrews, and this is far more sensible. $100; williams-sonoma.com
More kitchen-gadget tests on Food Republic: