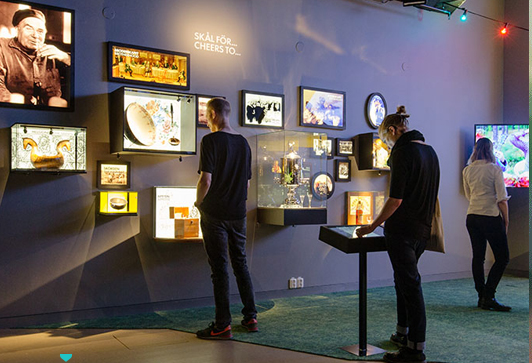 Forget the fine-art pamphlets. For a trip to Spritmuseum, you'll need to prep your liver.
Located on the island of Djurgården in Stockholm, Sweden, this magical place lets visitors look at Swedish history and culture through the engaging lens of alcohol — complete with a new exhibit on craft beer that debuted during Stockholm Design Week earlier this month.
The museum opened in 2012 in two mid-18th-century naval buildings repurposed for the cause by Stockholm-based Lomar Architects. Elements of the building's former industrial life (like exposed beams and brick walls) can be found throughout the space, in the galleries, on-site bar, restaurant, event space and gift shop, but the current beer exhibit takes a more clinical approach to its subject matter.
Over the course of the last five years, the country's beer landscape has grown from about 30 breweries to 150, with interest swelling as new styles emerge. For the exhibit's design, Swedish firm Form Us With Love took inspiration from scientific labs and ateliers, creating a clean and crisp look defined by white tile, bright cold lights and minimal clutter. Green stools designed by Finnish architect Alvar Alto punctuate the antiseptic space with sea foam green flourishes, and an illuminated wall of beer bottles communicates the spectrum of beer styles now celebrated in the country. The firm says the approach was intended to "make the audience investigative and engage with the process of how to find formulas for beer success."
Other exhibits include the year-round "Sweden: Spirits of a Nation," an eclectic, multisensory journey through various sections designed to enhance the content, like the "hangover room," which mimics the unfortunate sensations that come from drinking too much the night before with uncomfortably loud music and striking bright lights. The museum also features over 850 pieces of Absolut Vodka-inspired Pop Art from 550 artists (including Warhol), spanning magazine ads, photographs, furniture and other objects.
The best part? One can partake in a tasting kit throughout the exhibits, and the museum regularly holds tasting events as well, meaning you can enjoy the subject matter in more ways than one. The beer exhibit will be on display through January 2016, so like one of the museum's branded flyers says: "Drinks or museums? Why choose?"
Read these stories about museums on Food Republic: