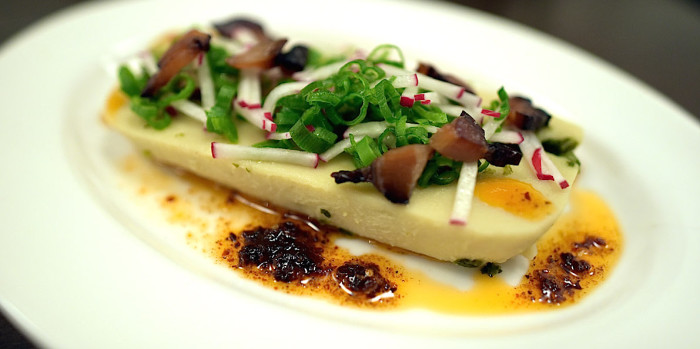 "Chefs are the sum of our experiences," says chef Jonathan Wu, from the kitchen of Fung Tu, the popular Lower East Side restaurant he and his partners opened in late 2013. And experiences he certainly has: At Per Se, Wu was inspired to create his popular fava bean curd terrine, a magical hybrid of tofu and French panisse. The chef's newest restaurant is a prime example of an ongoing trend of fine-dining chefs embarking on more casual projects. But that's not to say that Fung Tu doesn't serve some worthy food of its own, and crowds are taking notice — the snug Chinese-American spot is booked solid almost every night. Wu uses locally sourced, high-quality ingredients in his unique, innovative dishes.
"I got really obsessed with making tofu with soybeans," he says. "And then I got this idea to try making tofu with fava beans — my favorite beans." Panisse, a fried chickpea-flour cake from the south of France that Wu learned to create at Per Se, became the focal point of this inventive, cross-cultural dish. Wu boosts the composed dish with sharp flavors and contrasting textures from chili oil, Chinese bacon and crisp vegetables. See what the various components are below.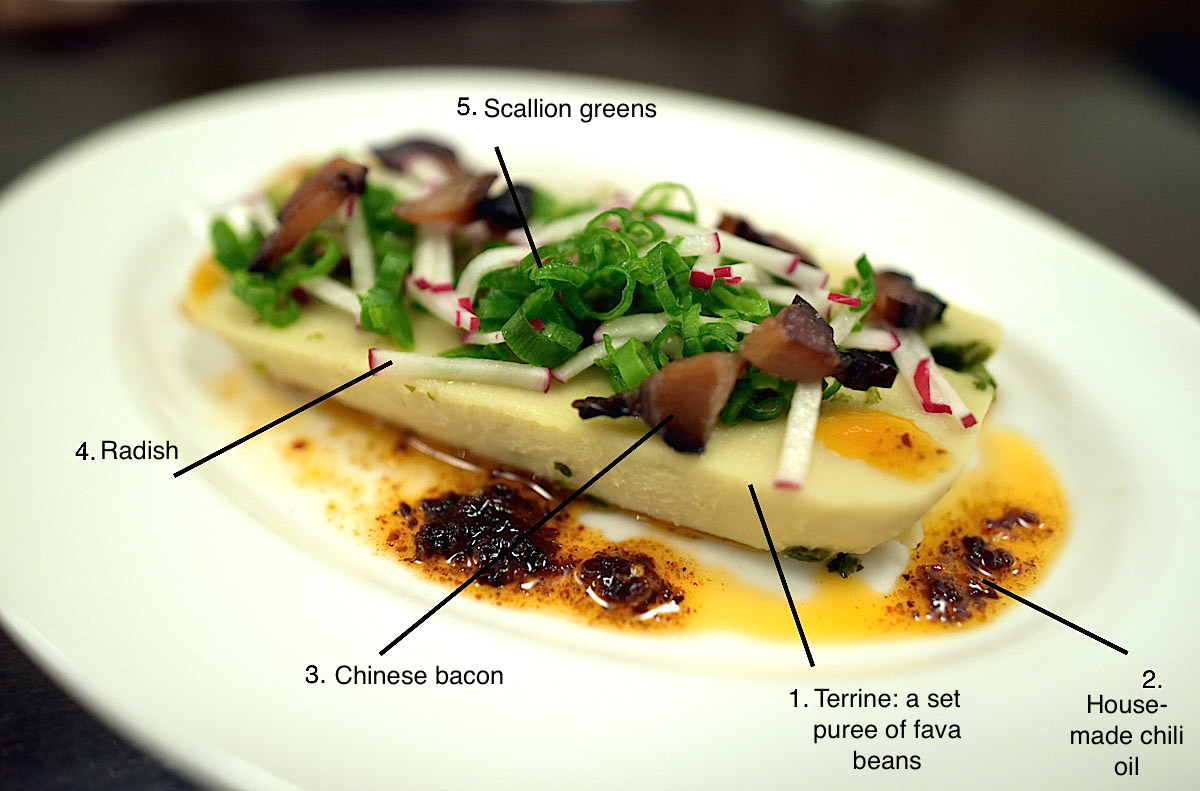 1. Fava Bean Puree: The technique, according to Wu, is a conflation of two recipes: a) panisse, a southern French chickpea fritter, and b) goma tofu, a Japanese tofu made with sesame paste. After preparing it, Wu sets the puree on a shallow dish with a layer of chopped, pickled mustard greens in the middle.
2. Housemade Chili Oil: In Sichuan cooking, fava beans are frequently paired with chilies, making the dots of aromatic, heat-packed house-blend oil an obvious accompaniment.
3. Chinese Bacon: Cut from cured pork belly, the flavor is sweet, soy-salty and aromatic from star anise and cinnamon. Plated, the bacon lends a visual and textural contrast to the smooth, tofu-like consistency of the fava terrine.
4. and 5. Radish and Scallion Greens: Sharp flavors, bright colors and crisp textures.
Fung Tu, 22 Orchard Street, New York, NY, 212-219-8785, fungtu.com
Read more Plate Deconstruction columns on Food Republic: