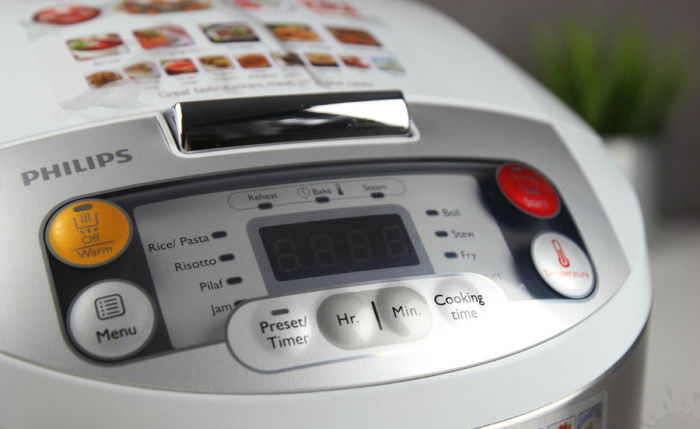 You know those long-term storage units? My New York City apartment is smaller than those. It's technically a studio, but by all accounts should have been listed as a temporary workspace that just so happens to fit a bed. But you should see the exposed brick!
As it is, there's little room for cooking accessories. Counter space is limited; a small round patio table doubles as my prep surface. Any appliances I buy must be worth the space allotment.
That's why I was so intrigued by the new Philips Multicooker. About the size of a standard Crock-Pot, the domed device claims to slow-cook, sauté, steam, boil, roast and simmer as well as make rice, yogurt and risotto — without much pot-watching or worrying. A lofty claim for sure, especially the risotto mode, but if it lives up to it, this show-off could be a savior for home chefs with space or time constraints. To the test!
Positive
Operation is a breeze, with a backlit LCD screen and simple controls. Each independent function is selectable; there are timer settings, too. The removable interior pot is nonstick, and there's a handle for carrying cooked meals to potlucks or the dining-room table.
I tested the slow-cook function first by way of a hearty turkey chili. I sautéed the ground meat and my aromatics inside the pot and dumped in the remaining ingredients before switching to slow-cook mode. The cooker uses what it calls a 3-D heating system to ensure temperature stays consistent—obtuse marketing speak, but it works: My chili simmered for five hours, and the machine switched to keep-warm mode like a standard crock when time ran out. Quality-wise, it was as good as cooking in a standard crock.
Next, I streamlined stew preparation by braising short ribs in the cooker before adding red wine, stock, root vegetables and seasoning (it's all about the thyme, people) before leaving it for seven hours. The flavors mingled and the rich contents never burned or overcooked. Nothing adhered to the sides, and my stew slid out with little spoon prodding. Mad with power, I browned strips of steak, steamed batches of snow peas, carrots and cauliflower, and cooked rice for a stir-fry. The rice was a little overdone and required some scraping to leave the pot, but it was better than stove-cooked grains. All that was required was a quick wipe-down between modes. And any skepticism I had about the risotto-making mode vanished after I sunk a spoon into my mushroom-based version, which was creamy in hours. Was it trattoria-worthy? No, but it had the necessary texture, which in and of itself is impressive for such a multifaceted device.
Negatives
For a versatile device, the cooker doesn't have too many moving parts. However, the detachable steam vent was tricky to remove and clean, and the lid is also a bit finicky: It didn't keep a seal during one steam session, and steam slipped out. The lid's lip has a tendency for gunk buildup, too. Size is also an issue: With a capacity of 16 cups, the cooker can't cook big meals or fit in large Crock-Pot staples as pork shoulders.
Conclusion
It's a hell of a machine. I'd be happy if it did half the things it promised. I prepared a lot of meals in it without any major issues, and that's no small feat. If you're in the market for a rice cooker or slow cooker, there's no reason not to purchase this. It's smart, easy to use, and incredibly versatile. Yes, it's a bit small and pricey. But much like New York City studio apartments, the end result is worth it. $200; williams-sonoma.com
More kitchen gadget tests on Food Republic: