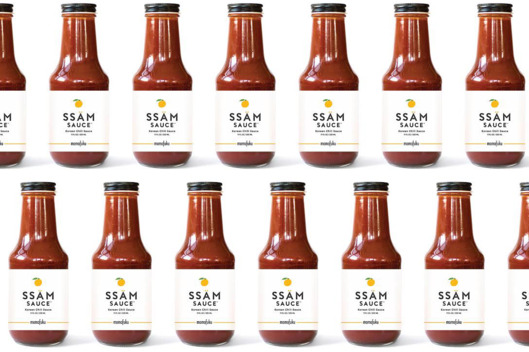 Yesterday afternoon, David Chang took to Instagram to announce his latest venture: a bottled sauce that has a strong resemblance to gochujang, a staple condiment in the Korean kitchen that involves fermented soy beans — ground into a powder and rehydrated with salt water — being mixed with dried red chile flakes and then fermented some more. Few details are known about Ssam Sauce, except that you can sign up for email updates for news on the secret product. Or check your favorite condiments blog.
According to the Chang, a bottle of the stuff will "improve pizza, French fries, rice, ramen, juicy rucy's, chicken & dumplings, spicy fried chicken sandwiches, chicken fingers, chicken nuggets, chicken rings, hamburgers, kale, quinoa, beet salads and pork buns…it even makes sriracha better."
And speaking of "juicy rucy" — Chang's term for his version of the Juicy Lucy, a classic cheeseburger with a lineage that goes back to Minneapolis — it appears Chang has been hard at work on his creation. Topped with Ssam Sauce, of course.
Juicy Rucy tasting: cheesy molten center made better with ssäm sauce pic.twitter.com/hp4FNdb5Kj

— Dave Chang (@davidchang) February 12, 2015