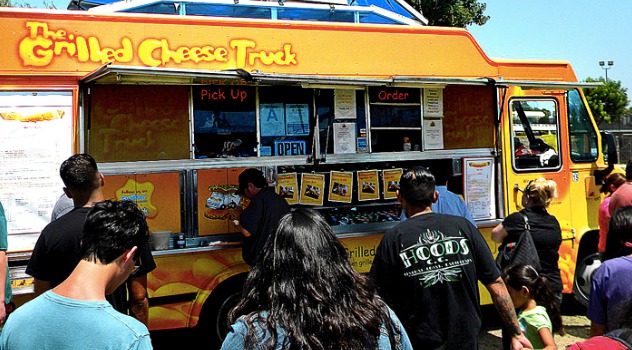 If you thought the food truck craze had finally fizzled out, well, think again. Consider Grilled Cheese Truck Inc., a Florida-based company that recently went public and that, as you probably guessed, sells gooey cheese sandwiches out of vehicles currently wheeling around the greater Los Angeles and Phoenix areas.
In a story on Bloomberg, a market analyst reports that the company is valued at as much as $100 million, after its common stock began trading on the OTCQX® marketplace — under the ticker GRLD. This is a mind-boggling figure for a company that self-reported a balance sheet of $1 million in assets and near $3 million in liabilities.
"No matter how much you like grilled cheese — and I like a good GAC BAC TOM as much as the next guy — I can't see this as a reasonable valuation," writes Barry Ritholtz in the story. Btw, GAC BAC TOM is "diner speak" for grilled American cheese with bacon and tomato. Apparently, Ritholtz had a previous life as a short-order cook before his career in picking stocks.
Fast-casual restaurants have recently been sizzling on Wall Street. On January 30, Danny Meyer's burger chain Shake Shack — once a seasonal hamburger stand operating a single location in New York's Madison Square Park, now growing into a 60-chain global sensation with 27 locations overseas in a diverse range of cities including London, Istanbul and Dubai — went public with a stock price close to $50 (nearly two weeks later, the price is holding firm at close to $40).
While Grilled Cheese Truck Inc. has plans for broad expansion, the fact remains that the company still currently operates a mere four trucks in two markets — selling what can be described as a more gourmet style of grilled cheese, with upmarket menu items including sun-dried tomato whipped goat cheese with caramelized mushrooms and a French onion soup version. But that's a whole lot of cheddar per truck.
"I can't think of a more interesting sign of the old irrational exuberance in equity markets than a publicly traded grilled cheese truck business trading at a $100-million-plus valuation," huffed Ritholtz. Sketchy finances, sure. But we know what we're having for lunch.
Read more food-business stories on Food Republic: