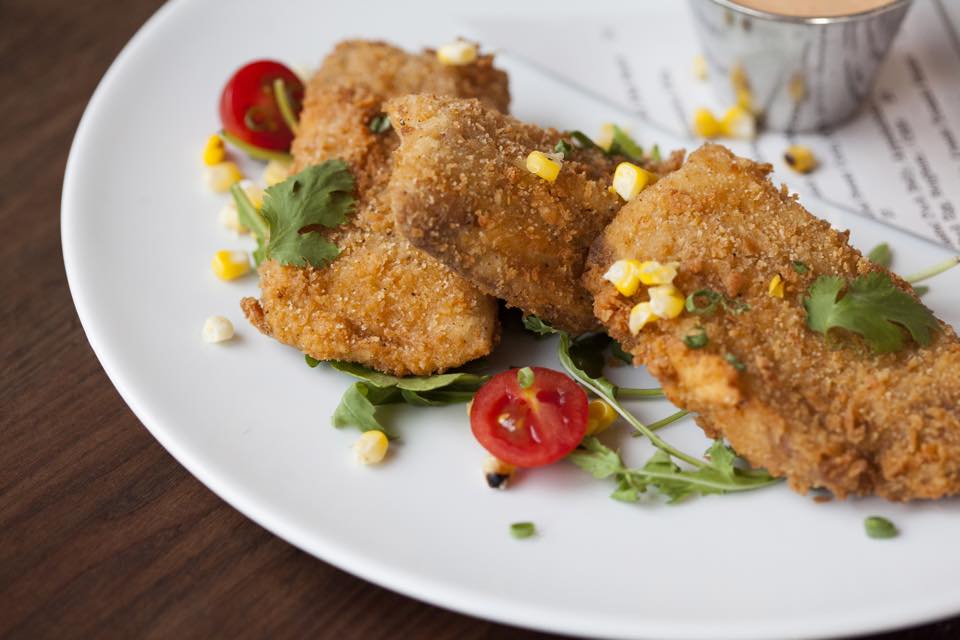 Welcome to Fantasy Travel Week, when traveling the world for food and adventure is squarely on our minds.
Flying into one airport and out of another is known in airline-industry parlance as an "open jaw" itinerary, which seems like the appropriate way to kick off a food-focused road trip through the heart of the Southland. Follow along as we make our gustatory journey across the Gulf Coast:
Thursday A.M. | New Orleans
We begin promptly after our plane touches down at Louis Armstrong Airport. Now, first of all, I'm going to suggest something that might seem a little sacrilegious. For this itinerary, we're going to skip Big Easy dining altogether. Hear me out: New Orleans is so rich in food options that you'll never leave the city limits if you choose to open up that Pandora's box of deliciousness. So pick up your rental car at the airport and head west out of town along Interstate 10.
Thursday P.M. | Gonzales, LA
If those minuscule pretzels on the plane didn't fill you up, make a quick pit stop in Gonzales, conveniently located between New Orleans and Baton Rouge, for an order of boudin balls to go from Philay's Catfish. These little fried nuggets of crawfish and rice are perfectly portable and pair perfectly with that roadie you picked up at the daiquiri stand.
Thursday P.M. | New Iberia, LA
Your next stop isn't so much a place for food as it is the source of something that makes food even better. I'm referring, of course, to Tabasco, the stuff stashed away inside your desk drawer to make bland workday lunches seem almost palatable. Avery Island, located just outside of New Iberia, is where this ambrosial lifeblood is made. Of course, Avery is only an island in that it is surrounded by bayous and levees, like much of the southern part of the state. So don't expect to cross a large expanse of water to get there. What you will encounter, however, is almost 200 acres of beautiful tropical foliage and Spanish-moss-draped trees surrounding the factory where the McIlhenny family has been creating their addictive hot sauces and aging them in oak barrels since 1866. The toll to get on the island is only a buck, with tours and tastings available at the company's visitors center.
Friday A.M. | Lafayette, LA
Just up the highway from Tabasco is Lafayette Parish, the heart of Cajun country. One of the region's most famous residents was the late artist George Rodrigue, known for his series of Blue Dog paintings featuring a yellow-eyed spaniel-terrier. The dog even found his way into a series of Absolut Vodka ads, placing Rodrigue in a rare territory of artists including Andy Warhol, Keith Haring and Ralph Steadman. Rodrigue and his lovable mutt are also honored at Lafayette's Blue Dog Café, where the kitchen staff create their own works of art in the form of Cajun classics such as crawfish bisque and hearty shrimp, crab and oyster gumbo. 
Fried or grilled seafood dishes are also highlights, but try the Crawfish Alfredo, made with smoky and peppery tasso sausage from nearby Poche's Market. Or, even better, take a quick side trip to Breaux Bridge to visit the family-owned smokehouse where the sausage is made. Poche's has been selling sausage and specialty meats for more than 50 years. For better or for worse, this Southern tubesteak institution was instrumental in popularizing the Thanksgiving Frankenbird, the turducken. But a package of the house's classic boudin, made with pork liver, onions and rice is the power play here.
Friday P.M. | Lake Charles, LA
The boudin belt is a certified foodie magnet, as Food Republic correspondent Jenny Miller ably demonstrates here. For a quick fix, stop at Luna Bar and Grill, where Dave Evans is serving up a hybrid of California cuisine and Louisiana standards. Really, it's just so you can order the Luna Tuna, topped with large Gulf shrimp and citrus sauce. The restaurant also features an eclectic music showroom next door called Luna Live, where a diverse range of music acts from Black Flag to Cyril Neville have performed over the years.
Friday P.M. | Beaumont, TX
As you pass from Louisiana to Texas, the indigenous fuel supply for smoking meats transitions from hickory and pecan to mesquite and oak. Unfortunately, the oil-rich region at the border is pretty much bereft of interesting dining options. To wit, Trip Advisor readers name Carrabba's Italian Grill as the top dining destination in Beaumont. Instead, grab a paper sack full of fresh fried pork cracklin's and some ridiculously inexpensive petrol at the Gas 'n' Go and head on down the line.
Friday P.M. | Houston, TX
Driving through Houston amid its millions of motorists is a necessary evil on the way from point A to point B on this odyssey. So at least reward yourself with a meal at Underbelly, where Chris Shepherd, the 2014 James Beard winner for Best Chef Southwest, offers his own tour of Houston without the stress of traveling through the city's notorious Spaghetti Junction/Stack Exchange interchanges. Shepherd showcases the diversity of Houston's port city Creole culture in the form of fresh-caught Gulf seafood, seasonal produce and his particular talents for charcuterie. Much of the food here is served family-style, so it might be a good time to pick up a hitchhiker or two.
Saturday A.M. | Lockhart, TX
Leaving Houston in your rearview mirror and driving toward San Antonio, you'll find yourself barreling into the heart of Hill Country, home to some of the most famous smoked-meat emporiums in the country. It's amazing that there are any wooden fences left in Elgin or Lockhart, when you consider that so much of the native post oak wood is smoldering in barbecue pits all over the region. Stalwart meat markets like Lockhart's Kreuz and Smitty's Markets and City Market in Luling are still cranking out remarkable briskets, beef clods, ribs and sausages. For more specifics, consult this beefy list here. My advice: Avoid the really long lines by picking one of the lesser-known spots.
Saturday P.M. | Llano, TX
Llano doesn't get the attention of Lockhart, Elgin, Taylor or Luling, but it has plenty to brag about in the form of Cooper's Old Time Pit Bar-B-Que. Home of the famous "Big Chop," Cooper's prefers mesquite over oak for grilling huge pork porterhouses that can be ordered as thick as two inches. A crispy crust of a liberal coating of salt and pepper seals in the juices and tickles the tongue, but don't miss out on the other fine smoked-beef dishes. Since you pay market price by the pound for all the main dishes at Cooper's, you'll know exactly how much you've consumed when it comes time to decide whether to order a plate of their amazing fruit cobblers. But do it anyway.
Sunday A.M. | Austin, TX
You've made it this far. Now you're ready for the most arduous stretch of the journey, waiting in line at the ridiculously popular Franklin Barbecue. It's a rite of passage. And it will probably take all morning. Trust us: The brisket is worth it.
Sunday P.M. | Austin, TX
At this point in your sojourn, you've probably loosened your belt a few notches and adjusted the power seat of your rental car a couple of inches farther from the steering wheel. So by the time you arrive at the Austin airport for the outbound leg of your open jaw, you'll probably be fine with keeping your mouth shut for a little while. Then again, maybe there's still room for a few more of those airline pretzels.
Philay's Catfish
13386 Airline Highway, Ste. A,
Gonzales, LA 70737
225-647-3999 
Tabasco Sauce Factory
Avery Island Road
Avery Island, LA 70513
337-365-8173
Blue Dog Café
1211 West Pinhook Road
Lafayette, LA 70503
337-237-0005
Poche's Market
3015 Main Highway
Breaux Bridge, LA 70517
337-332-2108
Luna Bar and Grill
719 Ryan Street
Lake Charles, LA 70601
337-494-5862
Underbelly
1100 Westheimer Road
Houston, TX 77006
713-528-9800
Cooper's Old Time Pit Bar-B-Que
604 W Young St
Llano, TX 78643
325-247-5713
Franklin Barbecue
900 East 11th St.
Austin, TX 78702
512-653-1187
Read more Fantasy Travel Week stories on Food Republic: