A Brief History Of Beer Tourism In America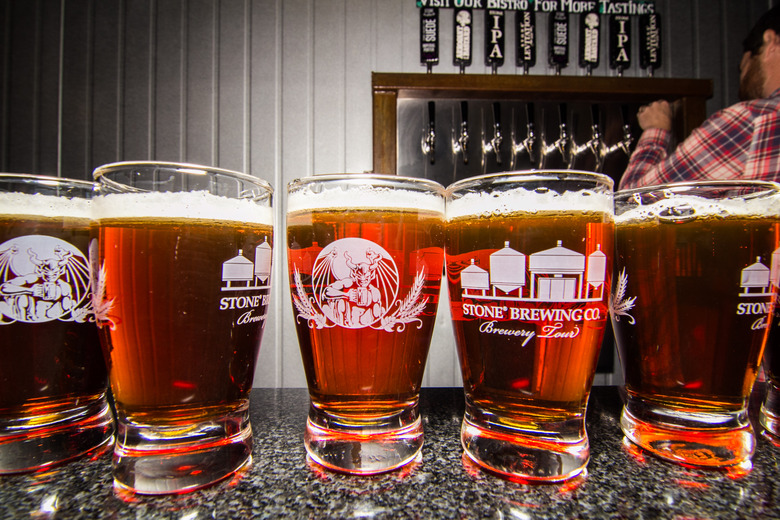 It's Fantasy Travel Week here at Food Republic, but instead of regurgitating a woefully incomprehensive list of the cities with great infrastructures for beer, we decided to look at the idea of traveling specifically for beer itself. Yes, we're talking about beer tourism.
You've probably heard the term raised recently in the context of the exploding craft-beer industry. The practice of traveling to visit a certain brewery or beer region is indeed on the rise as people want to feel more connected to the food and drink they consume and explore new cities and cultures through the lens of the beverages that are created there.
Yet the idea of beer tourism — although that's not what it's always been called — has been around for just about as long as breweries have existed in America. Think back to the golden age of brewing before Prohibition. The country was flush with thousands of small breweries creating a crazy variety of styles with regional ingredients. Major distribution systems didn't exist like they do today, and while taverns and brewpubs allowed thirsty patrons to take beer home in growlers, for a long time that was as sophisticated as the system got.
Most of the major macro breweries that loom large today were all getting started around this time. In the late 1800s, Miller and Schlitz in Milwaukee both had beer gardens that functioned as major community-gathering spots and drew crowds from far and wide. Anheuser-Busch started offering tours at the St. Louis brewery in 1904, when the city hosted the World's Fair. A-B's VP of experiential marketing, Julia Mize, says the practice started as a way to showcase the company's beer and the city to tourists. "We used the balcony around the clock tower to bring guests up and they could see a view of the city," she says. "Since then we've had consumer experiences at most of our breweries at one point in time."
After Prohibition ended, the rise of the big brewing companies and the implementation of the notorious three-tier distribution system eliminated much of the regionalism of beer that was rampant before the Noble Experiment. Miller, Coors, Pabst and A-B were suddenly available all over the country, meaning people didn't need to travel to taste beer — it was delivered to their doorstep.
Yet despite the wide availability, beer continued to be a reason to travel. "People come from all over the world specifically to visit the St. Louis brewery, because it's where Budweiser has been brewed since 1876," Mize says. "There's this great sense of history of how it's been made and a great sense of pride. I want them to have fun and create a memory that's shareable." Since the turn of the century, the company continued to tweak the tour system, making it more of an engaging experience that would score fans for life.
In many ways, beer turned into a more tangible source of entertainment during the height of the macro reign. A-B opened the first Busch Gardens, an actual tropical beer garden and bird sanctuary, in 1906, but by the late '70s, locations in Tampa, Florida, and Williamsburg, Virginia, were full-blown amusement parks, playgrounds for beer lovers to see the famous Clydesdales and get free samples of the suds, complete with roller coasters and animal habitats. The entertainment empire was sold to SeaWorld Parks and Entertainment in 2009, but its legacy as one of the most extreme examples of beer tourism prevails.
Then, as craft beer started to swell a few decades ago, everything shifted. The concept of beer tourism as an exploration of a place's culture and identity has returned, with America once again boasting thousands of breweries, each region generally specializing in a different style. Sure, you can go to the liquor store if you want to know how a West Coast IPA differs from an East Coast version, but many small companies still don't distribute nationally, and each brewery looks and feels different, generating a great excuse to travel for beer.
The motivation behind tours has also changed. Craft beer typically defines itself with an aggressive DIY mentality, meaning everything the big breweries do is considered taboo. So in the beginning, tours were small and often unstructured, following an open-door policy that if there were a brewer around, he or she might show you some tanks if they were between tasks. Everything was about the beer itself, and the idea of inviting people to the brewery as just a marketing tool was frowned upon.
In California, for example, one of the country's most prolific beer states, places like Stone Brewing Co. see tours as a tool to introduce people to ethos of craft beer while also supporting other San Diego breweries. "It's not just about showing off our tanks," lead indoctrination specialist Haley Jones says. "We're showing people what it means to be a craft brewery and why that's special."
Jones says craft-beer tour crowds also differ from those who would visit Miller Valley in Milwaukee or A-B in St. Louis. She sees die-hard Stone Brewing fans, well-educated craft-beer enthusiasts and inspiration-seeking home brewers rather than your average tourist. "Craft breweries all have such big personalities, so the personality [of the brewery] might resonate with you, and you will make a pilgrimage to that brewery," she says. "It's not just because they want something to do; they're our fans."
Stone Brewing Co. has had a formalized tour system since 2005, but it wasn't until about 2010 that Jones says a major spike in visits started. "The first couple of years we had one tour a day, and that was if people showed up," she says. "Now we do seven tours a day on weekends, and they sell out. If we could somehow miraculously have simultaneous tours, we could do 14 tours on weekends, and we'd probably still have to turn people away."
As demand to go behind the scenes at craft breweries around the country increases, tourism boards are starting to pay attention. States such as Oregon and North Carolina tout craft beer as one of the primary reasons to visit. Beer trails have popped up in New York and Texas. Hotels in Pennsylvania are offering craft-beer packages and spa treatments with sudsy pedicures, and one bed-and-breakfast in Michigan offers a home-brew session with Saugatuk Brewing as part of a weekend-getaway package.
Whether you're a die-hard craft-beer fan looking to learn the nuts and bolts of fermentation or your average joe looking to drink some golden suds straight from the source to pass a Saturday afternoon, there are no signs of beer tourism slowing down anytime soon. It's a great time to be drinking all kinds of beer, and with so many new options sprouting up around the country, one could quite seriously spend a lifetime traveling and lapping up one of America's greatest liquid commodities.
Five iconic American craft breweries worth the pilgrimage:
1. Stone Brewing Co. | Escondido, CA
Thirsty pilgrims in search of aggressively hopped brews in sunny Southern California have plenty of options at their fingertips, but the real mecca is Stone Brewing Co.'s world-class facility in Escondido. Take a tour (remember to book ahead), then spend the rest of the afternoon at the on-site World Bistro and Gardens, the 12,000-square-foot restaurant and one-acre outdoor beer garden that opened in 2006. 1999 Citracado Parkway, 760-294-7866, stonebrewing.com
2. Brooklyn Brewery | Brooklyn, NY 
Brooklyn Brewery first started making that signature lager in 1988 and has since seen the north side of Brooklyn turn into a culinary destination. Now firmly entrenched in a neighborhood that's downright buzzing with great food and beer joints, the brewery remains one of craft beer's most sought-out destinations. Tours take place every day of the week. 79 N. 11th Street, Williamsburg, Brooklyn, 718-486-7422, brooklynbrewery.com 
3. Boulevard Brewing | Kansas City, MO
A true Midwestern gem, Boulevard has been brewing award-winning beers since 1989. In addition to the free walking tours, you can also sign up for one of the more in-depth experiences, like the Smokestack Tour, which offers a guided tasting session and food pairings, or the Unfiltered tour, which lasts for 90 minutes and includes tastes of some of the brewery's more "eclectic" offerings. 2501 Southwest Boulevard, 816-474-7095, boulevard.com
4. Deschutes Brewery | Bend, OR
Nestled in picturesque central Oregon, what started as a small brewpub in 1988 has evolved into one of the country's top breweries, one that continues to push the envelope with fresh suds. Visit for a tour and sample any day of the week, or if your trip to the Pacific Northwest won't accomodate a hike out to Bend, the Portland brewpub is a solid second option. 901 SW Simpson Ave., 541-385-8606, deschutesbrewery.com
5. New Belgium Brewing Company | Fort Collins, CO
One of the country's most down-to-earth and sustainability-minded breweries since 1991, the home of Fat Tire opens its doors for tastings and tours Tuesday through Sunday. If you live on the East Coast, the pending Asheville outpost recently started hiring, meaning an opening is likely on the horizon. 500 Linden St., 970-221-0524, newbelgium.com
Check out more from Fantasy Travel Week on Food Republic: