10 Gifts For The Coffee, Cocktail And Wine Geek In Your Life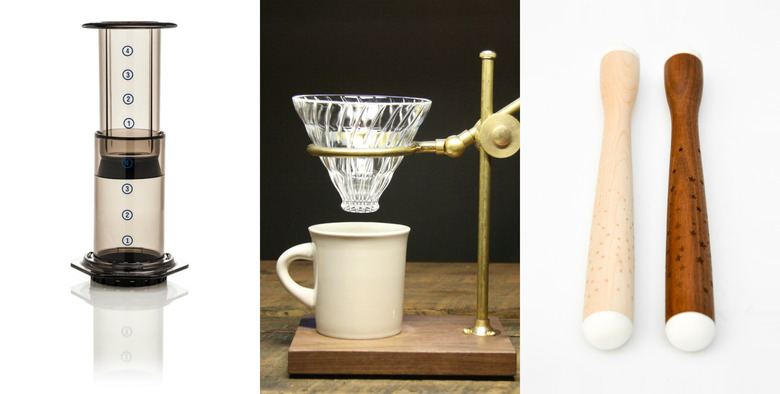 We may receive a commission on purchases made from links.
Whether he or she is more likely to be found sipping pomegranate oolong sweetened with raw honey or obsessing over a four-inch-thick wine list, the way to your valentine's heart is through drink. That might not seem terribly romantic, but trust us — the gifts on this list are bound to please the wine, coffee or cocktail geek in your life. An added benefit? Your valentine will be so thrilled that she'll pop open that vintage Burgundy she's had in the cellar for years and share with you!
1. Ah, the fine-wine drinker's dream: to own a Coravin ($300), enjoy just one glass of that 1990s-era Barolo and save the rest for later. The device itself looks a little medical, but once you get the hang of dropping the needle into the cork, you'll want to use it every night. It also solves the problem of what to do if you're drinking alone...not that you'd be doing that on Valentine's Day.
2. Every home bar should include an inspiring book of cocktail recipes. Presented in beautiful hardcover, Brooklyn Spirits ($26) offers much more than simple instruction on how to make drinks; it tells the stories behind the borough's most beloved distilleries, as well as the bars and the mixologists who run them. The people and places come alive, which will make you and your valentine appreciate drinks on a whole new level. In addition to over 70 cocktail recipes, the book includes instructions on making syrups and bitters.
3. Would your valentine look cute sipping espresso from a slick, modern bamboo-and-ceramic set, possibly while sitting cross-legged, wearing all white and reading Kierkegaard? Then gift that person the Fellina Sok-Cham Espresso Set ($70). The bamboo saucers detach from the tray, and the stainless steel spoons simply rest across the rim of the cup, so you don't have to worry about dropping anything or making an awful clatter when you're ferrying espresso from the kitchen to your guests.
4. It's the gift that says, "I want you to be nicer in the mornings and realize that caffeine plays an important role in that." It's the Professor pour-over stand from the Coffee Registry ($189). Handcrafted from brass and American walnut and designed in the Victorian style, the Professor comes with a glass pour-over, which you can raise or lower depending on the height of your mug or decanter.
5. As any cocktail hound knows, bitters add a layer of complexity that ties together different flavors. Help your Valentine perfect those mixology skills with this collection of six flavors from Fee Brothers. The set ($43.95) includes West Indian Orange, Peach, Lemon, Grapefruit, Mint and Old Fashioned Aromatic bitters.
6. Wouldn't it be romantic to make mojitos to pair with your fish tacos? Make your home dinners even more perfect with a handmade AHeirloom Cocktail Muddler ($20), made of either walnut or maple with a Corian tip on each end and your choice of grooved or round handle. Best of all, it can be engraved! We won't copywrite your valentine's muddler note for you, but those chalky, pastel-colored heart-shaped candies? They've got some great lines. "Be Mine" is probably a safe bet.
7. Get your partner working on his coffee-making skills so he can rock the next World AeroPress Championship — yes, that's a thing — in your area. AeroPress ($25 to $30) enthusiasts swear by its capacity to produce a beautiful, customized cup of coffee in under a minute, and you can't beat the price. It works by totally immersing the coffee in hot water, which quickly extracts maximum flavor.
8. The coffee lover in your life will thank you for gifting a burr grinder, which gives beans a consistent grind and can be tailored to any coffee-making method. Burr grinders range greatly in price and precision, but the Capresso Infinity ($100) may make your valentine's heart flutter the most, as it offers grind settings for pretty much every type of coffee out there—espresso, Turkish, French press, you name it. If, however, you have a teeny-tiny kitchen like many apartment dwellers do (or if you're on a budget this Valentine's), you may want to go for the manually operated Hario Slim ($25), which, at just seven inches tall, is sized exactly to dispense right into the AeroPress.
9. Decanters are the ultimate wine accessory. Along with helping mature or "tight" wines to breathe or "open up" and develop their distinctive flavor profiles, decanters look beautiful in your home and on your dinner table. There are some downright sexy decanters that will dress up your wine experience. One of them, the Zalto Carafe ($95), is a favorite of sommelier Aldo Sohm; my friend Joe Hirsch, who works at New York City's Flatiron Wines, also vouched for the Zalto, explaining: "It's not going to aerate as rapidly as a wide Burgundy decanter, but it's a great option for touchier wines that might become flabby with a traditional decant. Saves shelf space, too!"
10.What relationship wouldn't benefit from the addition of an attractive, unique kettle? For the home designed in a modern fashion, the Uplift Kettle ($88) by Mark Naden features natural cork handles alongside stainless steel. If your aesthetic is more classic, then a brightly colored and sturdy Le Creuset kettle ($100) will send the message that you look forward to many afternoons spent cozily drinking tea with your Valentine.
Find more Valentine's Day coverage on Food Republic: