24 Places To Visit For Fantasy Food Travel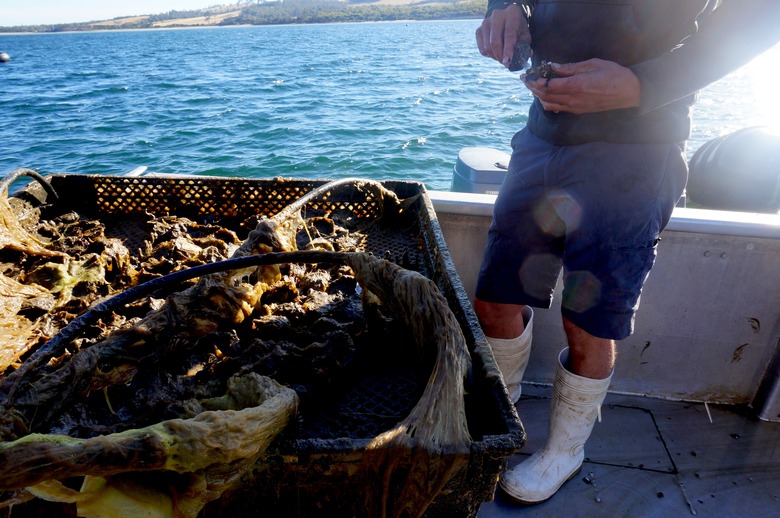 This week we bring you our third annual Fantasy Travel Week. Recently, on one of those cold January afternoons when you wish they sold shots of serotonin at the local espresso bar, we sat around a table in our drafty Manhattan offices and came up with a list of places we'd travel to for the food and drink alone. We've been to some of these places, while others were pulled straight from the bucket list. And a few more are places we're planning to visit in the upcoming year. Check back throughout the week for stories from chefs, travel writers and other intrepid souls who know no boundaries or borders when it comes to searching out the most incredible food and drink on the planet. But here's the list. How many have you been to? Did we miss somewhere? Of course we did. Let us know in the comments.
By George Embiricos, David Farley, Jess Kapadia, Richard Martin, Jenny Miller, Matt Rodbard and Chris Shott
1. DUBROVNIK
The problem with Dubrovnik – located on the southern Dalmatian Coast in Croatia – is that it will always be too good-looking for the traveler to appreciate anything other than the physical aesthetics of this Adriatic gem. But try, for a moment, to overlook the 80-foot-high walls that surround the Stari Grad (Old Town), itself laden with limestone streets and charmingly rickety red-tile-roof buildings. Try to ignore the glistening Adriatic Sea. And if you're successful, you can eat very well here. Start at Pantarul, where local ingredients and Italian flair (after all, Dubrovnik was once part of the Venetian empire) combine to create dishes like Adriatic prawns in a vegetable risotto and pancetta-wrapped monkfish filet. Or marry the city's physical beauty with its buddingly excellent eating scene at Victoria, located on a terrace overlooking the Old Town and serving freshly caught Croatian coastal dishes, like grilled squid and lobster and crab bisque. 
2. TASMANIA [CHEF'S PICK]
Tasmania is an island-state off the coast of Australia's mainland, an easy two-hour flight from Sydney and Melbourne and a must-visit if you've made the aggressively long trek to that part of the world. The natural beauty is breathtaking, with pristine sea and rolling hills of endless lavender. But we're not here to talk Nat Geo photo ops. The food, including restaurants, markets and rich farming culture, is equally a draw. In the capital of Hobart, two very large markets operate on Saturday and Sunday throughout the year: the Salamanca Market and Farm Gate Market, the latter serving as a meeting point for local farmers, producers and fans of fresh lamb burgers and plump Bruny Island oysters.
"I love the laid-back approach of the people and beautiful scenery and clean crisp air," says Melbourne chef Daniel Wilson of Huxtable. Wilson also suggests seeking out wine producers such as Stefano Lubiana and Stony Rise, as well as Lark Distillery, which has earned global praise for its Scottish-style whiskeys. The growing Tasmania craft beer and spirits industry also includes Moo Brew craft beer at Moorilla Estate (part of the wild Museum of Old and New) and the "sold out everywhere" Sullivans Cove, which won the coveted World's Best Single Malt in 2014.
3. PENANG
Malaysia is basically a three-for-one in the cuisine department. The country's remarkably multiethnic makeup (its population is roughly one third each native Malay, Chinese and Indian) is not just a great example of a pluralist society; it's fantastic for food culture. For the choicest eating, devote some time to Penang, whose historic Georgetown area is a UNESCO heritage site with fabulous old wooden shophouses and home to a Chinatown where it's possible to spend days trying Malay-Chinese specialties. Don't miss the fish-ball soup from Pitt Street Homemade Fish Ball Koay Teow Th'ng — even if that doesn't sound like your thing, the soft, springy fish balls in a rich pork broth will change your mind. 
Much of the best food is sold from hawker carts with permanent locations inside of, or in front of kopitiam, or coffee shops, where you don't want to miss the sweet, rich java, whose beans are roasted with butter (or margarine) and sugar. It's in a location like this that you'll find possibly the world's best char kway teow, a typical hawker dish of flat, wide noodles stir-fried with egg, seafood, and chives in a soy-chili sauce. Hit up Siam Road Char Kway Teow, near the intersection of Jalan Anson, and ask for the version made with duck eggs — the noodles are delicately charred over a charcoal fire and served piping hot. Almost two years since we tried it, and this dish still haunts us.
4. PARIS
Just a few years ago, the Canal Saint-Martin neighborhood was one of the best-kept secrets in Paris. Visitors to the city probably wouldn't have ventured to the northeast section unless they happened to be natural wine obsessives going for a glass at Le Verre Volé, which set up shop near the banks of this canal in 2000. Or perhaps if they were Amélie fans — some of the film's memorable scenes involved the iron footbridges over the murky canal. Over the past few years, however, shops have popped up along the previously barren banks, and the quarter's gritty vibe has attracted noteworthy restaurants and provisions spots. Bob's Juice Bar has long served as a vegetarian oasis in Paris in its original 10th arrondissement location, and Jules et Shim has more recently emerged as another healthy option in the 'hood. Befitting its hipster rep, Canal Saint-Martin includes some of Paris's best cheap ethnic eats options, like El Nopal (Mexican) and Le Cambodge (for bo bun/Southeast Asian fare). The area's not as charming as the nearby Marais, but that's not the point, and it's worth the detour.
5. BUDAPEST
The Hungarian capital was one of the first Communist Bloc metropolises to get its culinary act together after 1989. And in the last decade, a handful of restaurants have been further elevating Hungarian cuisine, twisting it and bending it into something not only infinitely more edible but, in many cases, lighter and fresher. It all began in 2004 with Bock Bisztro, serving up things like roasted duck legs flavored with honey and fig and foie gras "sushi." Since then other notable eateries have popped up on both sides of the Danube, including Costes, the first restaurant in Hungary to receive a Michelin star under the helm of elBulli alum chef Miguel Rocha Vieira, and Onyx, which serves up elevated Hungarian specialties. And don't forget to pop into the Central Market Hall, bedecked with hanging salami and strings of paprika and littered with stalls selling locally made cheese and all manner of Hungarian edible delights.
6. NEW DELHI
For the first time in the Indian capital's extensive history, people are eating smoked fish and cronuts. You're still guaranteed a memorable experience at Indian Accent or Dum Pukht, both regulars on Asia's 50 Best Restaurants. Bukhara, in the city's diplomatic enclave of Sardar Patel Marg, is regularly named the best restaurant in India. But while you're surrounded by desi khana, it's essential to note that some of the best food in this quickly growing culinary destination has heavy foreign influences. Montreal-born chef Nira Kehar introduced restaurant-goers to poutine, smoked brisket, red velvet cupcakes and other dishes you're unlikely to find on the subcontinent. Kehar also offers the city's first Western-style brunchto-order (aside from hotel chains catering to Westerners). 
Another awesome wild card: renowned chef Rahul Akerkar's Delhi outpost of his Mumbai appetizing haven, Indigo Deli, an homage to his Jewish-Indian upbringing. Is everyone getting a kick out of a deli in Delhi? Perhaps. Are Indians totally loving everything bagels with cream cheese and house-cured lox or a stacked pastrami Reuben with a masala-infused Bloody Mary on the side? Without a doubt. New Delhi's diverse food enthusiasts are primed for a revolution, and the country's most dynamic chefs are making it happen. Eat lots of local specialties from kebabs to biryani to creamy frozen kulfi, and when the inevitable small tragedy of Western-palate fatigue strikes, you'll know where to seek refuge until your next chaat craving takes over. It's a beautiful cycle.       
7. BRAZIL [CHEF'S PICK]
Chef Shanna Pacifico of Pacifico's Fine Foods in Brooklyn points out that her native country is a great place to eat, thanks to its range of culinary influences, which include Portuguese and African as well as a huge Japanese and Lebanese influence. One of the country's most typical dishes is pao de queijo, irresistible cheesy rolls made with yuca flour (so they're gluten-free, incidentally), which originated in Pacifico's home state of Minas Gerais. There the food is "hearty and delicious," the chef says, made with "lots of pork and slow-cooked meats." You'll find African influences in the state of Bahia, like in a dish Pacifico is currently perfecting in her restaurant called bobo de camarao, a shrimp stew thickened with yuca. Of course there's feijoada, which Pacifico calls "Brazil's version of cassoulet" — the hearty meat and bean dish is eaten all over the country. "What I like most is that Brazil's peasant food is the food of all the people," she says. "Households of all social statuses have the same staples."
8. MARSEILLE
The Provençal port town with the sketchy past? The city you avoided during your holiday stops to nearby Aix-en-Provence or Avignon? Mais non! Marseille is a happening city in southern France, supported by not just the nearly $800 million of public and private money that has been spent, but a community of young entrepreneurs tasked with rebuilding the city using ancient bones that date back to early Greek settlements in 600 B.C. While the innovative, and brand-new, MuCEM (short for Museum of the Civilisations of Europe and the Mediterranean) is certainly one of the city's biggest draws, the culturally rich food culture is not far behind.
The saffron-rich fish stew bouillabaisse is the region's most famous dish, and you can find it served properly at the classic spot Chez Fonfon near the Old Port. But there's much more to the city, including the vibrant Noailles Quarter, where Tunisians and Algerian immigrants sell pastilla (a North African chicken pastry with cinnamon) and cups of sweet tea. A progressive restaurant scene is also forming, in which cheaper rents and a captive tourist industry keeps restaurants like Le Grain de Sel (run by the Barcelona-trained chef Pierre Giannetti) booked up. On the more casual side, a new food hall, Les Halles de la Major, is modeled after Chelsea Market in Manhattan. You can read about that more here.
9. OAXACA
The rest of the world is just beginning to be aware, at last, of the vast differences in regional Mexican food, which goes so far beyond the nachos and burritos many people associate with the country, they're barely even primos (that's "cousins" in Spanish). If there's one region to shine your radar on, make it Oaxaca, which specializes in so many fantastic things to eat and drink that we can't even begin to list them all. The town is known as the city of the seven moles, for the deeply flavorful, long-simmered mole negro that's the specialty (often laced with over 30 ingredients, including chocolate), plus six others, including red, green, and yellow.
It's also famous for chapulines (or grasshoppers to gringos), popular as a toasted salty bar snack and a topping for tlayudas, a.k.a. "Oaxacan pizza," a semi-crisp tortilla topped with refried beans, tomatoes, avocado, and usually some kind of meat, served open-faced or occasionally folded in half — there's a good version at the 20 de Noviembre market, near the carnes asadas aisle. And we can't leave out mescal: The state of Oaxaca is where the vast majority of the smoky agave-based spirit is produced. Unlike commercial tequila, this stuff is for sipping, not shooting. A good place to start is the charming Mezcaleria Las Amantes, where you can also pick up bottles to take home. 
10. TOKYO
Quick: Which city has been awarded the most Michelin stars for eight years in a row? That's right, Tokyo. Japan's capital has been a linchpin for demonstrating the versatility of Japanese cuisine, and the city has assembled an impressive breadth of culinary options that stretch far beyond exemplary sushi and stellar ramen (though it certainly excels in both categories). While many of the city's top restaurants serve kaiseki-style meals, influences from around the globe are everywhere. In fact, multiple French establishments are included on the list of Tokyo's 12 three-starred restaurants. It always helps to attract the absolute best: René Redzepi has brought in Noma from Copenhagen, currently in the midst of a two-month residency. And the politically powerful: Barack Obama ate a much-publicized sushi meal at Jiro Ono's Sukiyabashi Jiro back in April.
11. DUBLIN
Dublin may be synonymous with that dark frothy beer we love so much, but if you know where to look, there's some excellent eating to be had here, too. If there's a positive spin on the Irish economy's downfall — the Celtic Tiger going from a roar to a purr — it's that the culinary landscape went from international to internal. A restaurant that exemplifies this is L. Mulligan Grocer, a gastropub serving up hyper-local fare with an excellent Irish craft-beer list (no Guinness in sight!). A block from Michelin-starred Chapter One is the Hot Stove, an casually elegant spot with local seasonal fare, like Irish rib eye and smoked venison pie. For something similar with a decidedly weirder spin, stop into Fade Street Social, where bad-boy local celeb chef Dylan McGrath fuses Irish with the rest of the planet by serving chorizo-tomato-and-squid flatbread and bacon-and-egg salad.
12. PANTELLERIA
Tell someone you're going to Pantelleria and you'll get a blank stare in return. This 32-square-mile island is technically Italian, but try locating it on a map and you'll see it's actually closer to North Africa than it is to Sicily (it's even further south than Tunis). And if that's hard to bend your mind around, dig this: While capers are the main culinary commodity on Pantelleria (and they're amazing, thanks in part to the volcanic soil they grow in), scan any restaurant menu and you'll eye local "Italian" staples like fish couscous and even sciaki sciuka, better known in North Africa as shakshuka. Town names reflect the 500-year, early-medieval Arab occupation of the island (Khamma, Gadir, Khaddiuggia, and Bugeber). The place to sample classic yet high-quality cuisine of the island is La Nicchia in the village of Scaura, which is owned by one of Pantelleria's best-known caper farmers.
13. CHARLESTON
Call it a Southern revolution. Similar to both Nashville and Austin, Charleston has continued to evolve as a food destination at a breakneck pace, with a number of significant openings in the past calendar year. Chef Craig Deihl points out that this growth of "smaller, simpler, more rustic food-focused restaurants" has taken place in hot spots like King Street and Midtown, as well as beyond the peninsula to adjacent islands. Charleston is still, of course, Sean Brock's town: His Husk and McCrady's are go-to spots for rotating menus that utilize the best of local ingredients, a trend that Deihl says is the "same common denominator" in the city's restaurants, regardless of the cuisine. The city is also home to an impressive selection of charcuterie, with Deihl's artisan meats program at Cypress leading the charge. Hit up sandwich king Butcher & Bee for lunch and finish up with one more — you guessed it — ingredient-driven meal at city mainstay FIG. 
14. MARRAKECH
There is no comparison to sipping sweet, refreshing mint tea out of small glasses while witnessing Marrakech's world-famous medina marketplace buzz around you — it's simply something out of a story. The medina is where you'll want to shop for leather and woven goods, saffron, handmade jewelry and carpets, and great snacks, pastries and juice can be found just about anywhere you look. Fans of char-grilled lamb sausage (merguez) will be in absolute heaven. 
For fine French-Moroccan dining, grab a table at La Nouvelle Sirene for upscale versions of meaty kebabs and traditional tagines like spiced shrimp and lamb and prune. If you've ever wondered how European-influenced North African cuisine and Asian food might possibly fuse, Bô-Zin offers cod tagine with Asian vegetables, Thai squid noodles, salmon brochettes and Chinese fried-chicken croissants, as well as a selection of Moroccan wines. And finally, don't leave the city without indulging in one of the famed 14-course feasts at Le Marocain overlooking the gardens at the La Mamounia hotel. Just keep drinking plenty of that mint tea and you'll be fine.
15. SAN DIEGO
The weather in this Southern California beach town is typically what steals the headlines. Also, the fish tacos, which are sold all over the city in many forms (grilled, fried, ceviche), at upscale dining establishments as well as gas stations. But if you have visited in the past few years, you know something else has taken the city by storm: craft beer. Starting with the influential Stone Brewing Co. nearly 20 years ago, the number of brewing operations has swelled to 110, with the likes of Ballast Point, Los Abbey and local favorite Pizza Port offering tours and tastings. And if you go and don't want to just drink beer all day, make sure to check out the Convoy District, the heart of the city's vibrant Asian community, with restaurants specializing in everything from soba to pho to soup dumplings.
16. BUSAN [CHEF'S PICK]
Korean food might be having a moment in the United States, but still very few people make it to South Korea as tourist, with Seoul being the most popular destination by far. Food is at the center of Korean life, and unlike other countries in Asia, there is a strong sense that the food is "unspoiled," with traditional Korean cooking being the focus at most restaurants. It is not a land of fusion, with restaurants selling only a single dish. Think seolleongtang, a cloudy beef bone broth soup, and the wonderful pork and potato soup called gamjatang. But as you move south in the country, via a two-hour high-speed train, to the port city of Busan, seafood becomes the focus. A visit to the massive Jagalchi Fish Market is a must. Like Tsukiji in Tokyo, there's a crazy selection available, but unlike in Japan, most of the fish are kept alive in giant tanks.
"What is so interesting about Korea is that, obviously seafood is present everywhere, and the diet is so centered around it," says chef Eric Ripert, who visited Busan in 2013 while traveling throughout Korea. "But when you go to the markets, what I was very impressed with were the live fish that were caught wild and still live in tanks. You go to Hong Kong and you find farm-raised tuna, live in bags. But in Korea, you find it alive and straight from the ocean. You don't find that in the western world." The best move is to arrive in the morning and walk the rows and rows of sea squirts, corvina, bristly sea urchin, tiger shrimp. Pick a few things that look good, bag them up and take the rusty escalator upstairs to a large complex of restaurants. There the dutiful cooks will prepare the fish to your liking — grilled, raw, in the form of a soup. The fish's head, bones and skin will all be used, and you will eat everything without thinking twice. Jagalchi is a magical place. 
17. PRAGUE
No one goes to Prague to eat. Until recently, smoky pubs serving things like goulash with dumplings and something called "haunch of pork" were the de rigueur stomach fillers in order to prolong a night of imbibing excellent Czech beer. The problem was a state-issued book, published in the early days of the Communist era (1948-1989), called "Recipes for Warm Meals," in which the government prescribed the only dishes chefs could make. This book narrowed the idea of what Czech cuisine was. And it had a disastrous effect on the perception of Czech food that lasted long after the 1989 Velvet Revolution. All that changed a few years ago when a few chefs began digging up Czech cookbooks from the late 19th century and found that the cuisine is actually good — and much more diverse than anyone alive had thought. One result is Michelin-starred La Degustation, where chef Oldřich Sahajdák pairs Bohemian escargot with walnuts and Prague ham with pumpkin. About a half mile away, celebrity chef Zdeněk Pohlreich at Café Imperial cooks up well-executed takes on unearthed Czech classics, like foie gras-stuffed quail and braised veal cheeks. You can read more about this velvety delicious revolution here.
18. MENDOZA
It's one of only nine "great wine capitals" of the world and home to some of the world's finest Malbecs, yet Mendoza, Argentina, is left largely unexplored by tourists. Located in the eastern foothills of the Andes high above sea level, the region accounts for nearly two thirds of the country's wine production. Take a tour of some of the province's most well-known wineries — Achaval-Ferrer, Luigi Bosca and Catena Zapata come to mind — or take a shortcut and head to Vines of Mendoza, a tasting room that highlights wines from over 100 regional producers. Famed Argentinian chef Francis Mallmann's flagship eponymous 1884 restaurant is a must for dinner, featuring a menu full of a variety of his signature wood-fired grilled meats. Pair the slow-cooked lamb with a local red and you'll want Mendoza to remain unexplored.
19. CHIANG MAI
The number one reason to head to Chiang Mai, the cultural and food center of northern Thailand, is to eat khao soi. If you haven't tried this noodle soup-curry hybrid, you've been missing out on one of Thailand's best dishes. This meal-in-a-bowl is made with pork or chicken broth laced with coconut cream and seasoned with a turmeric-rich Burmese-style curry blend, plus egg noodles, a topping of usually chicken or pork, and always a crown of crunchy fried noodles; don't miss the essential garnishes of chili paste, shallots, lime, and pickled greens. To do it right, rent a bike and take yourself on a mini khao soi crawl on the road that runs along the river across from the main part of the city. First hit up Lamduan — the Thai version of the dish was reportedly invented at this simple open-air restaurant 70 or so years ago. Once you've slurped bowl no. 1, toddle down the road to Khao Soi Samerjai for a slightly different version.
20. ADDIS ABABA
Ethiopia's capital is a phenomenal place to eat, if you know where to go — tourist restaurants tend to serve pizza or burgers in an effort to cater to Western tastes. That's where Addis Eats comes in. The tour company leads small groups on walking tours that include five or six different stops, including a juice bar and a coffee shop (where the black stuff is brewed in a special urn over a charcoal fire), and, depending on the day of the week (Wednesdays and Fridays are "fasting," or meat-free, days for most people), maybe a vegetarian joint for shiro be kibe, a chickpea stew cooked with clarified butter and berbere, the country's typical chili spice blend, a busy fried-fish house, or a butcher shop with an attached restaurant-bar, all typical institutions of Ethiopian eating. Of course, almost everything is served with injera, the spongy sourdough flatbread that Addis Eats cofounder Eliza Richman describes as "the backbone of almost every dish in Ethiopia." Proper injera is made with 100 percent teff flour, which happens to be "one of the world's supergrains," Richman says. Boom.
21. PORTUGAL
Stepping out of the long shadow cast by Spain's incredible reputation in the culinary world has not been easy for neighboring Portugal, which as a proud country has long been recognized for its  wines — mostly the fortified Porto and effervescing Vinho Verde. But a trip through the country's highly specific regions can be a wild eating adventure. Tràs-os-Montes, which some have called the country's pork capital, produces some of the world's best ham and sausages. And in cosmopolitan Lisbon, seafood is king. The fish market, Mercado da Ribeira, is home to a large food court that serves all kinds of cod, octopus and traditional garlic-and-steak sandwiches. And of course, be on the lookout for arroz de pato, a dish of whole duck with chorizo, rice and spices that New York City chef George Mendes has mastered. But we're pretty sure that a little old grandma somewhere in the country has him beat.        
22. HONG KONG
Hong Kong is a notorious maze of restaurants. You find them hidden behind unmarked doorbells, deep underground and high atop skyscrapers. The indigenous cuisine is, of course, Cantonese, so digging on dim sum and char siu is priority one. The famous Tim Ho Wan, reputed to be the world's most affordable Michelin-starred restaurant, is a good starting place. But your options here are endlessly global. Contemporary standouts skew British (Aberdeen Street Social), Japanese (Yardbird) and Thai (Chachawan). On a recent visit, The New York Times's Frank Bruni seemed especially impressed with the localized riffs on Berkshire pork and wagyu short ribs at Ho Lee Fook. With a name like that, it has to be good. You might utter something similar in English when you see the bill. Dinner for two averages about $1,000 (not including drinks or tip). Now that's fantasy food, people!
23. TROMSØ
Tromsø holds the distinction of being the second-most-populated city north of the Arctic Circle. And north it certainly is: the "capital of the Arctic" is located over 200 miles above the circle. So why make the trip? Constant daylight for two months per year (mid-May through mid-July), for one. Some of the most phenomenal views anywhere of the aurora borealis (Northern Lights), for another. Impeccably fresh cuisine with an emphasis on locally caught fish and wild game is quite the cherry on top. Spend an evening aboard the Vulkana spa boat to experience all three. Be sure to stop by the best restaurant in town, Emma's Drømmekjøkken, for fresh Norwegian cod served the traditional way with cod liver, cod roe, carrots and potatoes, as well as reindeer filet and sausage. Take in happy hour at ølhallen pub and then continue on to Mack's — open since 1877 — for a pint and a tour of the world's most northern brewery.
24. HYDRA
Much has been written about the resurgence of the Greek isles lately, and for good reason. Crete has world-class archaeological sites, Mykonos has all-night partying and Santorini has picturesque sunsets and volcanic sand beaches. Lesser known but equally deserving is Hydra, a short boat trip from Athens and a blossoming destination for contemporary art (start at the annually changing exhibit at Deste, located in the island's old slaughterhouse). Wear your best walking shoes — Hydra is famous for its thousands of steps — and make your next stop Omilos, the restaurant and bar housed in the former Lagoudera space, the island's legendary club, which played host to the likes of Sophia Loren, Elizabeth Taylor and John Lennon in the 1960s. Mini boutique hotel Bratsera has one of the island's best restaurants and is located just a short walk from the happening Pirate Bar.
This post is brought to you by our friends at MasterCard Priceless Cities
Read more travel stories on Food Republic: