Enrique Olvera's Cosme Is Serious. Also? These 5 Places For Mexican In NYC.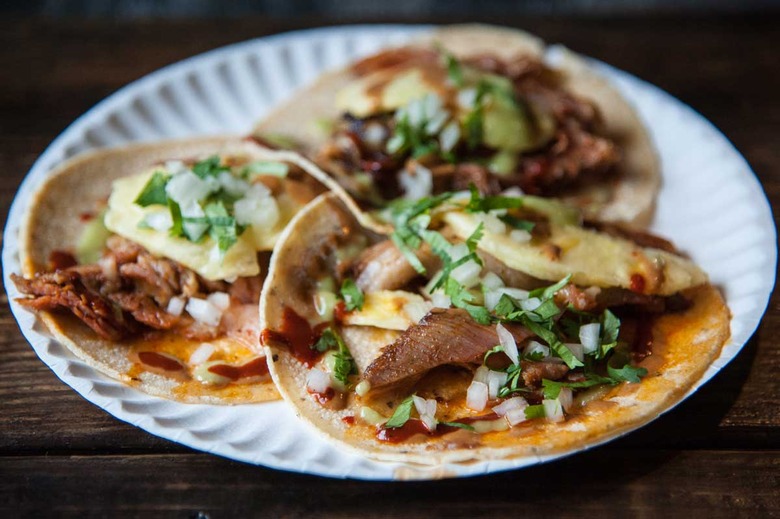 Richard Sandoval's Pampano specializes in different types of cevi
In Wednesday's review, New York Times restaurant critic Pete Wells bestows three stars on Enrique Olvera's Cosme. Wells argues that the Flatiron newcomer — helmed by the chef/owner of the world's 17th-best restaurant, Pujol — breaks a trend of Mexican restaurants in New York City that simply indulge "a chef's south-of-the-border fantasies." In Olvera's case, this process is reversed: The Mexico native took several trips to New York before opening in the city, researching restaurants' latest tendencies and customers.
At Cosme, Olvera combines a Mexican mindset with local ingredients from the Hudson Valley and surrounding regions. "If you think about it, the principles of Mexican cuisine are similar to many other cuisines. You use local ingredients. You stick to your flavor profiles," he said in an interview last March with Food Republic. The chef certainly knows how to adapt to his new clientele. While largely original and innovative, dishes remain accessible: The majority of them are composed with fewer than four ingredients. And, to use Wells's words, while there are no "sombreros" and "grinning Calaveras" to be found, as at many of the city's gimmicky Mexican joints, there's still guacamole on the menu here even if it's listed on a different side of the page. The review got us thinking in the office: Where do we go for legit Mexican cooking in New York City? While the list could have gotten pretty long, we wanted to call out five places (well, four places and one neighborhood) that serve authentic, regional Mexican food.
1. Pampano
Cooked fish and ceviche are the stars of the show at Richard Sandoval's elegant Midtown restaurant specializing in coastal Mexican cuisine (the Mexico native also operates Peruvian spot Raymi and more fiesta-friendly Maya in NYC). A casual first-floor taqueria serves Americanized favorites like tacos, burritos and quesadillas, while those craving a more serious meal head upstairs for white-on-white tablecloths and a quiet outdoor space to complement grilled grouper in banana leaf and pan-seared black sea bass with plantain chutney. 209 East 49th Street, New York, NY 10017, richardsandoval.com/pampano
2. Toloache
Inspired by his family's home cooking, chef/owner Julian Medina has spent over 15 years creating refined Latin cuisine. After training extensively in his hometown of Mexico City, Medina worked alongside Richard Sandoval in some of New York's most renowned Mexican restaurants. Featuring creative, contemporary Mexican bistro menus with a focus on seasonal, natural ingredients, the three locations of Toloache mark Medina's first solo ventures. Meanwhile, the menu at his Yerba Buena in the East Village traverses Peru, Cuba, Argentina, Colombia, Mexico and Spain. 166 East 82nd Street, New York, NY 10028; 251 West 50th Street, New York, NY 10019; 205 Thompson Street, New York, NY 10012, toloachenyc.com
3. Sunset Park, Brooklyn
Composed of a vibrant melting pot of cultures — with sizable populations of Puerto Rican, Mexican and Chinese immigrants — Brooklyn's Sunset Park is one of New York City's most underrated food destinations. Take a taco tour of the neighborhood and hit up local favorites Tacos El Bronco, Tacos Matamoros and Taqueria El Maguey. Don't expect much in terms of comfy interiors, but good luck finding more affordable or authentic tacos anywhere in the city. Tacos El Bronco: 4324 4th Avenue, Brooklyn, NY 11232, tacoselbronco.com | Tacos Matamoros: 4508 5th Avenue, Brooklyn, NY 11220 | Taqueria El Maguey: 3910 4th Avenue, Brooklyn, NY 11232
4. Fonda
You'd be hard-pressed to name a chef who has done more for Mexican cuisine in the United States than Roberto Santibañez. Born in Mexico City — and having been in charge of three award-winning restaurants there — the chef relocated in 1997 to work at one of the country's most legendary Mexican restaurants, Fonda San Miguel, in Austin, Texas. After working for five years as upscale chain Rosa Mexicano's culinary director, Santibañez has opened three New York locations of Fonda (two in Manhattan, one in Brooklyn), combining traditional home cooking with modern dishes like braised duck tucked between tortillas lavished with habañero-spiked tomato salsa. 40 Avenue B, New York, NY 10009; 189 9th Avenue, New York, NY 10011; 434 7th Avenue, Brooklyn, NY, fondarestaurant.com
5. Empellón al Pastor
One of the country's most accomplished pastry chefs enjoys eating Mexican food and decides to open three NYC restaurants devoted to it. It's not the most conventional route to taco supremacy, but it's a route that's certainly worked for Alex Stupak. The former wd~50 and Alinea employee now spends his days making flawless tortillas in-house and filling them with a variety of meats, fish and veggies. His third city opening features a signature item (the namesake taco al pastor), along with a more casual drinking den-esque setting on St. Marks Place. 132 St. Marks Place, New York, NY 10009, empellon.com/al-pastor
Read more about Mexican cuisine on Food Republic: