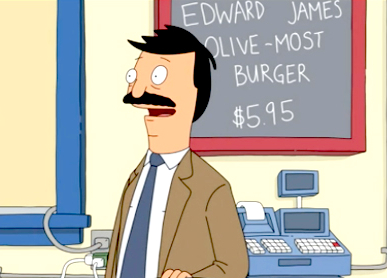 Time for a patty in between two puns, because we're talking about Bob's Burgers, a.k.a. "my second-favorite use of Jon Benjamin's voice." One of my many, many favorite things about this instant TV classic (besides a treasure trove of erotic friend fiction) is the never-ending rotation of daily specials scrawled on a chalkboard for all to see. (There's a Tumblr dedicated to it.) For example: the Don't Give Me No Chive Burger, served with no chives.
Now you can sear, flip and garnish along with the lovable Belcher family. NPR's The Salt reports that a cookbook will be authored by blogger Cole Bowden of the Bob's Burger Experiment, who began re-creating each episode's burger in advance of the air date (with creator Loren Bouchard's permission, of course). Writes Bowden on his blog:
The Experiment has gotten a lot of attention recently, especially regarding the cookbook. Loren Bouchard reached out to me a few weeks ago and he told me what his image for the book was. He's been a long time fan of the blog, and I'm very excited to work with him.
The book is in very early development. We're starting out with a few recipes and seeing how everything fits together. I'll keep all of you posted as new information arrives, but for now you'll have to stick to the blog.
We'll stick to the blog like cheese to a bun as we wait for this welcome addition to the library.
More animation on Food Republic: