It's A Fridge That Brews Your Morning Coffee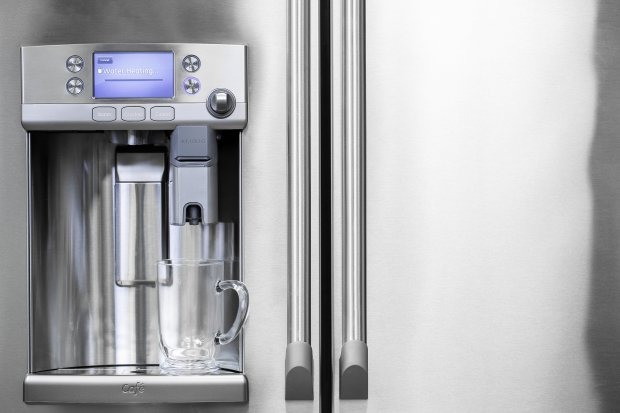 As the single-cup coffeemaking scene continues to heat up amongst competitive brands, GE just threw down with...a refrigerator? Touting the product as the first of its kind, the mega-brand partnerned with Keurig to create a fridge-coffeemaker hybrid for its Café Series line.
The fridge, which hits the market this fall ($3,300), works with any type of Keurig K-Cup (coffees, teas, other single-serve beverages — there are over 400 varieties to choose from), in addition to dispensing hot water. You can also use your smartphone to preset the brewing time, which is becoming a standard feature with just about any electronic device these days (thermostats, AC units, ovens), yet many coffeemaker brands still have some headway to make in that area.
Depending on how your prioritize your appliances, you can call it a fridge that makes coffee or a coffeemaker that also happens to be a fridge. Either way, you're saving room on your countertop for whatever the next genius hybrid appliance might be. A mini beverage fridge with beer and wine taps, perhaps?
More kitchen design on Food Republic: