Bocuse D'Or 2015: On The Front Lines Of Culinary History In Lyon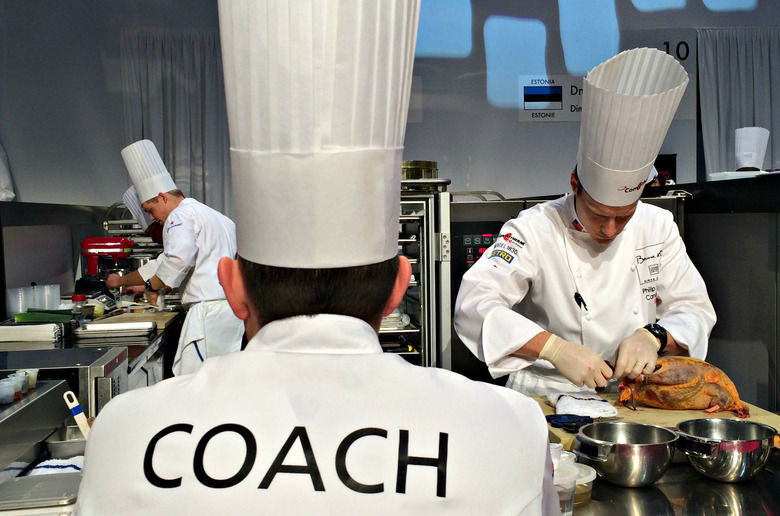 History doesn't follow a recipe. The ingredients of life are too chaotic to predict. But add just the right amount of luck and a solid dash of timing, and history appears right before your eyes. On Wednesday night, I witnessed history in Lyon, France, when Team USA shocked the world and captured second place at the 2015 Bocuse d'Or, the most prestigious cooking competition in the world, which somehow combines the World Cup, the Super Bowl and the Westminster Dog Show into one two-day spectacle.
Huge video screens display ornate trout dishes, and screaming fans blow vuvuzelas and wear identical hats and scarves. Judges in tall toques gaze critically as massive platters of guinea fowl parade past them like freshly groomed schnauzers. All of this happens in a small stadium constructed in the back corner of the SIRHA restaurant trade show. Walking into the Bocuse d'Or after a stroll through the convention floor is like discovering the Victoria Secret Fashion Show in the dressing room of a Macy's.
At 9 a.m. on Tuesday morning, a British brass band was warming up, a throng of cameras was following the French team, and U.S. chef Phillip Tessier and his baby-faced commis, Skylar Stover, were going through the last steps of their pre-competition checklist like NASA Ground Control.
The influence of Thomas Keller was evident everywhere you looked. Tessier and Stover both work for him at the French Laundry, and Keller serves as president of the American delegation. Just above the clock was a small sign reading "Sense of Urgency" — the same message you find in all of Keller's kitchens and his guiding principle.
At 9:20 a.m., Tessier said, "Let's go, Skylar," and so began the five-hour-and-35-minute march toward history.
Thomas Keller and I sat in the dining room, and I asked him the most basic question of all: "How did it feel when they announced you had won second place?"
He started by telling me that Bocuse had called him eight years ago. Until that point, the U.S. hadn't even formed a traditional backing organization, and the American competitors were getting beaten badly. Bocuse told them that he, Daniel Boulud and Bocuse's son, Jérôme, were the three chefs who could bring the United States to prominence in the Bocuse d'Or, and it was time to step up their game. And so, Keller said, "we promised him back then that that's what we would do."
As we spoke, it was clear that the moment was catching up to him. Here he was, sitting in Restaurant Paul Bocuse with Bocuse himself in the next room. Keller's voice wavered a bit as he continued, his eyes a little glassy. "For me, today is a moment for him [Bocuse]," he said. "It's a pretty special thing."
Read more about the Bocuse d'Or on Food Republic: