Destination Taprooms: 5 Breweries Around America Upping Their Design Game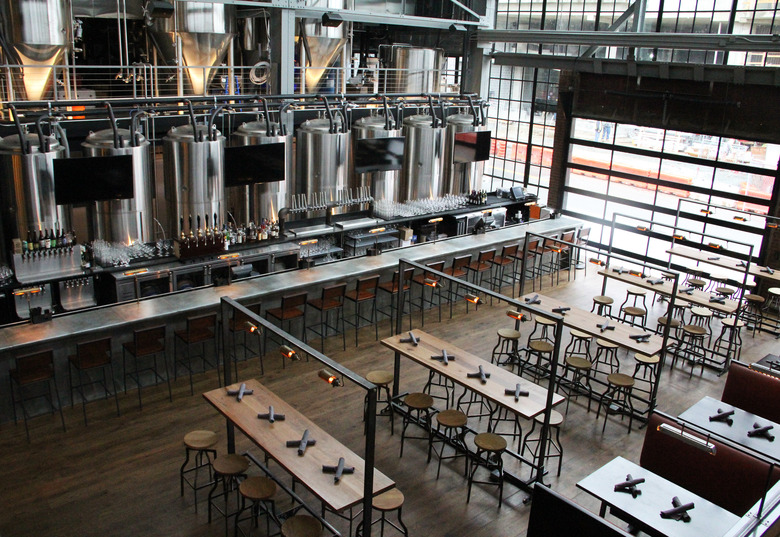 Surly Brewing Company's new taproom in Minneapolis is barely a month old but has already attracted thousands of thirsty visit
From a tourist perspective, visiting new craft breweries has long been an underwhelming affair. The experience usually goes like this: There's a short and basic tour (look, shiny tanks and hoses!) and then guests sample house beers in a makeshift bar area or a bare-bones taproom with a few stools awkwardly situated by a keg or two. If you're lucky, maybe you get a free pint glass at the end.
Yet as the craft-beer industry continues to explode, brewers are realizing the benefits of stepping up their design game to attract new crowds of "beer tourists." These big, bold, beautiful new spaces and structures are becoming so common, they've earned a new name: destination taprooms.
There's certainly nothing wrong with the basic setup, especially considering that one of the driving mentalities of craft brewing is DIY and most start-ups can't afford to hire architects or interior designers. But places like Stone's World Bistro & Gardens in California and Brewery Vivant's quirky former funeral-home digs in Michigan make a convincing argument for how drastically the experience of visiting a brewery can be changed by good design.
Sprucing up aesthetics is also great for business. Breweries in states where on-site sales are allowed have a strong financial impetus for hosting guests and creating repeat business: Instead of sending beer through proper distribution channels and paying a cut to distributors and retailers, selling beer directly to visitors at the facility means the company reaps the full profit of each pint.
Here are a few relatively new taprooms (and one that's soon to open) that are worth the journey to experience firsthand. Many of them boast beautiful taprooms and on-site restaurants. Some even have gift shops, meaning you'll definitely be able to leave with that coveted pint glass for your collection.
1. Bluejacket, Washington, D.C.
There aren't many brewery taprooms that position guests square in the center of the action, but that's overwhelmingly the case at this production brewery in the nation's capital. Bluejacket Brewing set up shop in the city's old Navy Yard neighborhood in a factory building formerly called the Boilermaker Shops, where munitions and boiler parts were once constructed for ships. Unlike other breweries, the space is largely vertical, with ceilings up to 50 feet high, a constraint that pushed the owners to build upward instead of horizontally. They intentionally left open space in the center for the taproom so guests could get an "ant-farm view of the brewery," says owner Michael Babin. Old beams remain exposed, and floor-to-ceiling windows flood the space with bright light during the day, creating a stunning industrial look that celebrates the building's history while still feeling hip and modern. 300 Tingey Street SE, 202-524-4862, bluejacketdc.com
2. Breckenridge Brewery, Littleton, CO
At its core, the brewing process is still an agricultural one — an idea that Coburn Partners wanted to emphasize in the design for Breckenridge Brewery's new Littleton digs. Built on former farmland in this Denver suburb, the new facilities were cleverly orchestrated to look like a rustic farm. Tours start and end in the barn-like brew-house taproom, and the adjacent "farmhouse" houses a full bar and restaurant for thirsty guests. Rough-hewn reclaimed wood and an abundance of windows create a welcoming environment, and a strong indoor-outdoor connection is reinforced with a big wraparound porch that's perfectly suited for those sunny Colorado days. The brewery aims to be in production and open to the public in April 2015. 471 Kalamath Street, 800-328-6723, breckbrew.com
3. Lagunitas Brewing, Chicago, IL
It's not so much the taproom itself at Lagunitas' new Windy City outpost that makes it so unique, but rather the experience one must endure to get there. Enter through the front doors of the unassuming industrial warehouse and it's instantly apparent that you're in for an unusual treat, as Willy Wonka's "Pure Imagination" blasts through the speakers and spinning laser lights flood the long, winding corridor. The taproom itself is also impressive, as three of the four walls are windows offering views of the behemoth production tanks beyond. The whole experience is almost as dr­amatic as the fictitious chocolate factory. 2607 West 17th St., 773-522-2097, lagunitas.com
4. Speakeasy Ales & Lagers, San Francisco, CA
This might be the only speakeasy in the country where you won't find a single classic cocktail on the menu. Instead, craft beer straight from the source punctuates the agenda at San Francisco's Speakeasy Ales & Lagers. Layers of reclaimed wood panels line the walls and sides of the bar, while Edison bulbs in old growlers cast a soft glow over furniture made from defunct brewing equipment. You won't be able to watch any of the brewing action from the bar, but the space is dark, intimate and memorable — perfect for hiding from the world and enjoying a good, fresh pint. 1195 Evans Ave., 415-642-3371, goodbeer.com
5. Surly Brewing Co., Minneapolis, MN
The newest "destination taproom" in this roundup is barely a month old, but it has already attracted hundreds of thirsty visitors. Armed with a drool-worthy design by HGA Architects, Surly's new production brewery in Minneapolis features a sweeping indoor beer hall fit for 300 people, with a second-level event space seating another 140. A glass wall provides glimpses of the monstrous stainless steel brewing tanks on one side, while the other showcases the two-acre site that will play host to a communal beer garden (set to open this spring) and patio complete with fire pits for those frigid winter nights. Polished concrete floors emphasize that this is a working beer factory, but warm walnut and elm tables help soften the harsh look, and oversized round light fixtures help keep things classy in the large space. 520 Malcolm Ave SE, 763-999-4040, surlybrewing.com­
Find more great breweries on Food Republic: