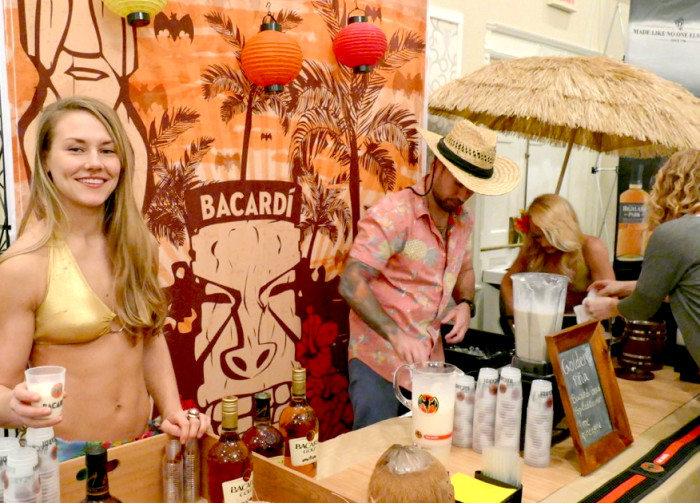 Last weekend's fourth annual San Antonio Cocktail Conference has grown from a restaurant's small charity event to a bona fide road-trip-worthy weekend. With a week of lead-in pairing dinners, four days of featured events and two full days of seminars, the festival audience includes both casual cocktail fans and bartenders looking to network and learn. When Mark Bohanan started the event in 2012, he referenced a need to combine charitable community outreach with education on the craft-cocktail movement. These days, with The New York Times calling SA one of the "52 Places to Go in 2015" and a cadre of up-and-coming chefs helming notable projects, food and drink lovers no longer need convincing to spend a weekend in Alamo City.
The 2015 scene in the city is one of rapid growth, with established favorites like Bohanan's, Esquire Tavern and The Brooklynite now joined by tiki bars (Concrete Jungle), basement speakeasies (The Last Word) and classy spots on the Riverwalk (Paramour). Add in developing scenes in the Southtown neighborhood and at the beautiful Pearl complex, and the number of establishments doing good drinks has morphed from "count them on one hand" to "can't do them all in a long weekend" seemingly overnight — something SACC can take partial credit for.
A number of trends emerged from the copious drinks on offer, but none more so that a shift from whiskey to whisky. Perhaps bored with the massive demand for bourbon-based drinks, Texas bartenders offered up recipes showcasing Scottish products Balvenie 12, Jameson Black Barrel, Tullamore Dew, Cutty Sark and a number of other Scotch and Irish blended and single-malt whiskies. This wasn't limited to sponsored tipple; it was prevalent across events and seminars. While scotch hasn't traditionally been used in cocktail applications, the drinks we tried placed emphasis on the fruity and honeyed qualities of the whiskies, or (in the case of the Black Barrel) on the toasty, spicy flavors. 
In addition to the whiskey swap, the utilitarian practice of grabbing anything handy for champagne cocktails seems to have fallen out of favor. Instead, we saw grower champagnes, high-end cavas and a noticeable spike in sparkling-wine quality being used in showcased drinks. Noted Chris Ware of San Antonio's upcoming bar Paramour: "No more will just a decent and readily available bubbly do; the options of different grape profiles like Vouvray or using bubbles that are predominantly Pinot Meunier help bring complexity to the bartender's arsenal. With grower champagnes coming into the market, a quality bartender has to know his product for his cocktails to come alive."
There was also an awareness by bartenders that drinkers are more comfortable with booze-forward recipes: There were fewer sweet drinks and even less usage of simple syrup than in previous years. Instead, the sweet components often came from ingredients like allspice dram or even from fortified wines, including Madeira and port. James Beard nominee Jeret Peña of SA's The Last Word agrees: "Generally, I noticed a lot of great spirits, people keeping cocktails simple and clean and enhancing the authenticity of the spirits."
Peña mentioned another trend of note that was less about the drinks and more about their creators: He is pleased to see more women running bars and crafting cocktail menus throughout Texas. Said Peña: "Women bartenders are really kicking it up a notch. I love to see the trend of barmen leaning towards more barwomen — especially here in San Antonio."
In addition to the blowout evening cocktail crawls, SACC is filled with daytime seminars designed to tackle granular drink topics for both consumers and the trade. Saturday morning's programming included an enlightening and thoughtful seminar by Charlotte Voisey on the use of different honey varietals in cocktails. Not content to discuss simple recipes, Voisey provided gin and scotch neat along with four different styles of honey to create a panoply of flavor and texture combinations. The simple trick showed just how different the styles of honey can be, and how employing the correct one can artfully elevate your home bartending. Our favorite combinations were the orange-blossom honey with Hendricks gin and the alfalfa honey with the scotch…and we didn't mind the provided Airmail cocktail, either.
The afternoon Angel's Envy seminar was a hot ticket for bourbon enthusiasts, with cofounder Wes Henderson taking attendees through all three versions of the unconventional brand to explain the process behind the bourbon expressions. Henderson mentioned that the idea for the original Angel's Envy (done with a port-barrel finish) was born from ideas that were considered but never fully developed during his late father's career at Brown-Forman, going on to note that some of his dad's other projects eventually resulted in both Woodford Reserve and Gentleman Jack. Our favorite of the three expressions was the relatively new Angel's Envy Rye, which utilizes an aged cognac-barrel (previously used for Plantation Rum XO) finish to put a decidedly sweet and rich spin on a rye whiskey.
As the conference wrapped up, the city's bartenders felt confident that the conference showcased the city's talent. Says Ware: "Being able to step outside of the prep center and watch the city really come alive with locals and tourists alike was great. They're all buzzing about cocktails and where the new places are to go." Later this year, they hope to see another milestone — Peña mentioned a wish to see the "the birth of the USBG [United States Bartenders' Guild] in San Antonio." If the weekend was any indication, that step forward for San Antonio is well deserved.
Find more cocktail culture on Food Republic: