Hotel Food: Not Just Club Sandwiches Anymore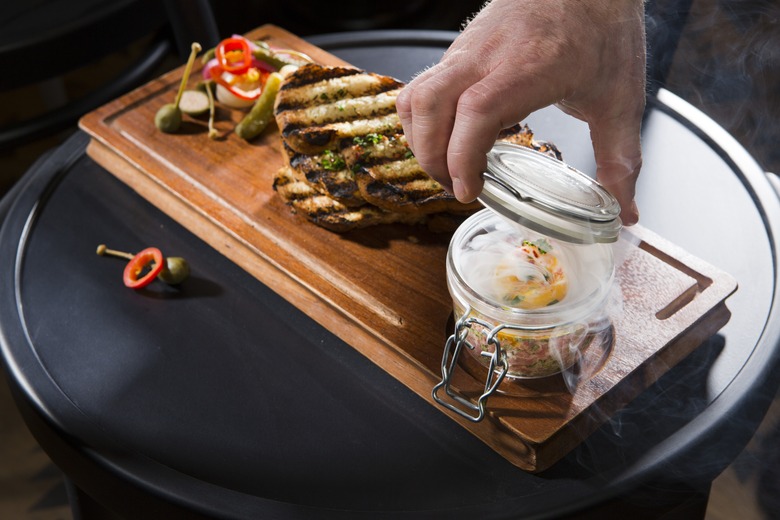 Can you really judge a hotel by its club sandwich? Some critics used to think so. Financial Times columnist Tyler Brûlé once wrote that the classic club is a better yardstick than high-thread-count bedsheets or brand-name bath products in the loo. Indeed, the club is an exemplary sandwich and a quintessential room-service staple. As a metaphor for the increasing importance of good food and beverage options to an overall hospitality program, it works nicely as well. But when checking in at today's more modish hotel properties, you might consider ordering something a bit more current.
At Richard Branson's brand-spankin'-new Virgin Hotels Chicago, for example, this means "fatty noodles," Japanese-style udon with lobster and rapini, laced with Sriracha and other Asian spices. It's one of the things that Rick Gresh, the hotel's executive chef, does best. "This is the dish he makes for himself when he gets home," says Marlene Leslie, Virgin Hotels' vice president of food and beverage. "He calls it his drunk food."
Gresh is a hotel-restaurant veteran, having spent seven years as executive chef at David Burke's Primehouse, located inside the James Hotel on the city's Magnificent Mile. But even that choice assignment seems pretty routine compared to the wide scope of offerings he'll be overseeing at the newly opened Virgin property, in the city's Loop District. The hotel's Commons Club – a vast drinking, dining and mingling space, where Gersh presides over breakfast, lunch and dinner – occupies two full floors of the 26-story, fully renovated landmark Art Deco building. In the coming months, he'll also be developing the menus for a new all-American diner on the ground floor and a Japanese-style izakaya-inspired rooftop lounge.
Day or night, guests should be able to find something to sip or snack on pretty easily, pretty much anywhere on the premises. Virgin's Leslie says the whole place is designed with that "seamless experience" in mind. When the lights go down, the first-floor coffee shop turns into a wine bar. "In Chicago, there's really nothing like this that exists in the sense of having so many options under one roof where the businesses are all run internally," she says.
It's just the first hotel under the Virgin brand name. Leslie hints at even more expanded culinary offerings at the next properties in the pipeline, including a 240-room building in Nashville expected to open in summer 2016 and a sprawling 500-room facility in New York slated for fall 2017.
This raised culinary bar is a function of travelers having higher expectations as well as hotel operators facing increased competition. In addition to Virgin, rival boutique brand Thompson Hotels also opened a Chicago property recently, featuring a restaurant under the direction of nationally acclaimed chef Paul Kahan.  "There's so much media attention on food right now, and people are smarter," says Leslie. "They demand higher quality, and they demand better options. That has really driven hotels to up their game."
All over the world, hoteliers are amping up efforts to satiate guests in new and unique ways. In a few notable cases, this means importing some big-name chef from halfway around the world, even if only temporarily. Danish wunderkind Rene Redzepi recently began a five-month residency at Tokyo's Mandarin Oriental Hotel, unveiling "a complex tasting menu that's unlike anything anyone has ever served before in Japan," according to the Japan Times. Likewise, London's Heston Blumenthal has migrated his acclaimed restaurant, the Fat Duck, to Australia's Crown Melbourne for a six-month stay, beginning in February.
Food and drink has become such a critical focus for modern hoteliers that it is taking up ever more real estate, sometimes even commandeering the traditional lobby area and pushing the front desk to the side. New York's Ace Hotel is a perfect example. On a typical day, no one is standing on line to check in; the usually lengthy queue leads to the Stumptown Coffee counter. When you consider the two widely celebrated restaurants, The Breslin and John Dory Oyster Bar, also located in the building, it's almost as if the guest rooms upstairs are amenities of the public spaces, not the other way around.
"What we've found is, the lobby isn't really necessary anymore," says Leslie. "If you look at some of the newer hotels that have come onto the market, the lobby ends up being another food and beverage space where people eat and drink. So we've taken the approach of just including that in our designs and making that space comfortable and having the right lighting, instead of treating it as an afterthought."
Technology, too, is changing the way travelers eat and drink. With Virgin Hotels' mobile app, for instance, guests can schedule room service before they even set foot on the premises.
Of all the hotel companies presently laser-focused on food, few have promoted the importance of a harmonious shelter-sustenance synergy for as long or as loudly as Kimpton. The San Francisco-based boutique brand, founded by Bill Kimpton in 1981, prides itself on operating restaurants that appeal more to local diners than out-of-town tourists in an attempt to attract both groups. "In theory, if the locals are supporting the restaurant, well, guess what? Hotel guests are going to go check it out, too," says James Lin, Kimpton's senior vice president for restaurants and bars. 
Lin notes that the realities of modern hotel-management contracts play a big role in driving the heightened focus on food and drink. Hotel owners don't generally manage their own buildings. They leave that up to the branded management companies, which traditionally also handled the in-house bars and restaurants. But modern hoteliers have realized they have other options. They can, say, partner up or lease out those spaces to the hottest restaurant group in town. This means hotel companies have to become more competitive or risk losing out on food and drink entirely. "It's no longer a layup," as Lin puts it.
Kimpton's newest property is the Hotel Monaco Pittsburgh, which opened January 20 with an eye toward satisfying the meat- and beer-centric cravings of western Pennsylvanians. It features an American tavern-style restaurant, The Commoner, with several modern touches, including a fashionably rustic wood-burning oven, an extensive craft-beer list and even barrel-aged Negronis on tap. Yes, there will be pierogies, a local staple, but no Primanti Bros.-style sandwiches piled high with cole slaw and fries. "We tried to steer clear of being overtly Pittsburgh," says chef Dennis Marron, who previously ran Kimpton's high-performing Poste Moderne Brasserie in Washington, D.C. That said, ingredients are heavily locally sourced. There's also an adjacent smoked-meat carvery and cafe called The Commoner Corner. A rooftop biergarten is expected to open in the spring.
Kimpton's next property, the Hotel Van Zandt in Austin, expected to open in May, will feature bar/restaurant spaces that cater to your ears as much as your mouth, with a focus on live music both inside the hotel proper and its auxiliary buildings along hip Rainey Street. "Music is a key theme in Austin," says Lin, "so we're tying that into it."
Kimpton currently employs so many chefs and bartenders at its 63 locations across the U.S. that it recently compiled its own internally generated culinary and cocktail trends report. That extensive roster is only expected to grow, now that global giant InterContinental Hotel Group has acquired the company, promising accelerated growth both domestically and abroad.
With all that culinary brainpower at his disposal, Lin forecasts a more casual, very booze-heavy future for the hotel food and beverage business. He points to Kimpton's Hotel Palomar in San Francisco, where the former fifth-floor fine-dining restaurant, popular during the dot-com boom, was recently replaced with a more laid-back, bar-centric concept called Dirty Habit, which has been immensely more profitable.
"Even though the food was fantastic and the ambiance was great, it didn't make money," Lin says of the prior incarnation. "If it doesn't make money, it's just like the independent world — you're going to close your doors."
CORRECTION: An earlier version of this article erroneously stated that Nico Osteria, located in Chicago's Thompson Hotel, earned three Michelin stars. In fact, it earned zero stars. Its executive chef, Paul Kahan, previously earned Michelin stars at another Chicago restaurant, Blackbird.