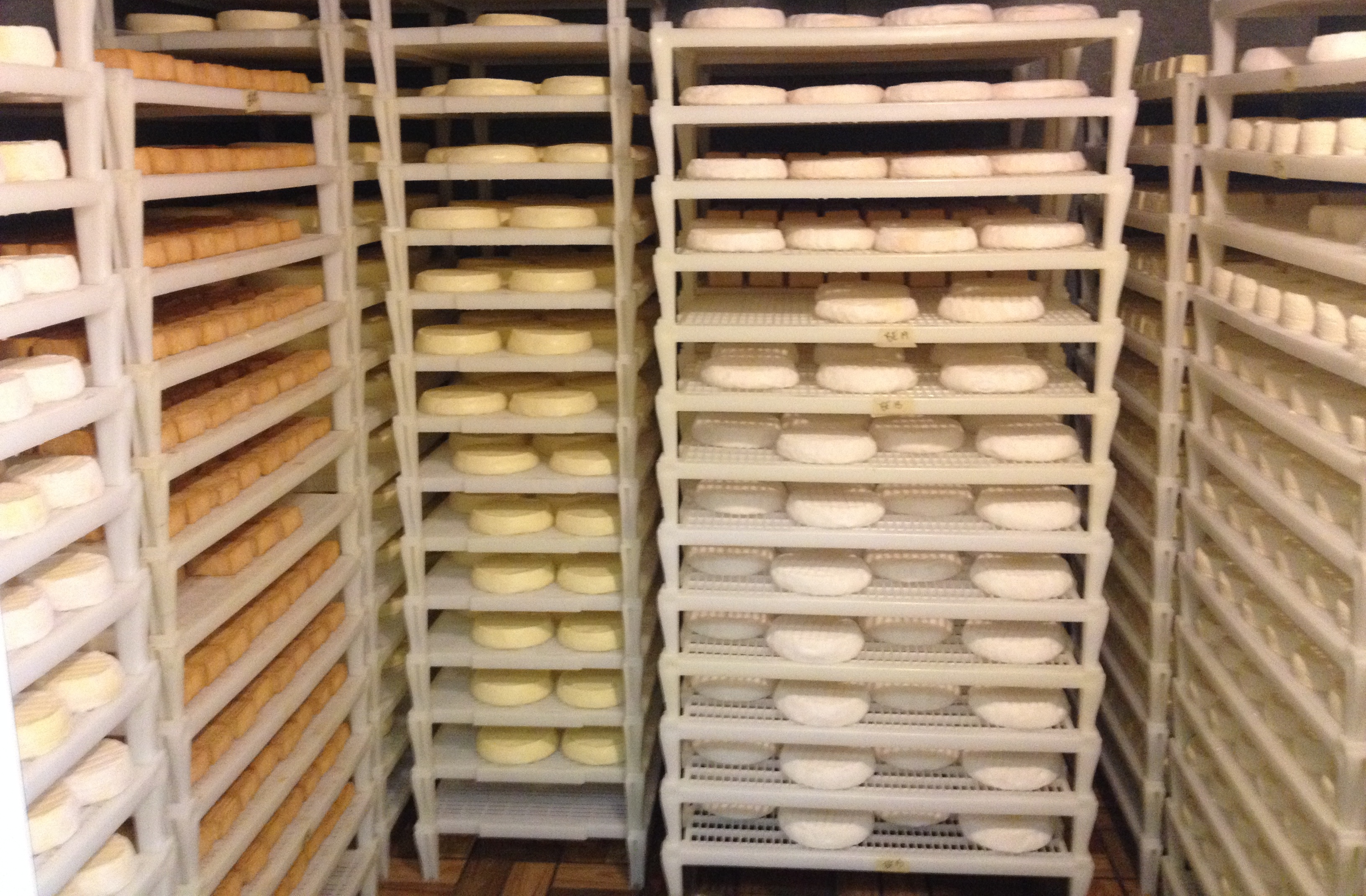 Food Republic has partnered with Bridlewood Estate Winery to bring you some great entertaining and cooking posts. Next up is a profile of a rapidly expanding cheesemaking company in Mankato, Minnesota.
Imagine: One day you're a stockbroker in bustling San Francisco, and then—fast-forward a few years—you're an award-winning cheesemaker living in a tiny town in Minnesota. For 52-year-old Keith Adams, that's exactly what happened. 
In 2008, Adams started Alemar Cheese in the small city of Mankato, an area about an hour from the state's famous Twin Cities. In general, this place is known for its college bars, not artisanal fromage. But, as Adams continues to produce superb cheeses like his signature, Camembert-style Bent River, that reputation is on its way out.
"I went into this knowing that the market for fine cheese in Mankato was not a strong thing; it's a great place to raise kids but it's not a culinary Mecca," says Adams, who started selling his cheese in the Twin Cities and now ships across the country.
Before he got into cheesemaking, Adams ran a mini chain of bagel shops with his then brother-in-law. This venture produced five stores, but by 2005 they had all shut down, much to Adams' dismay. 
At first, he wasn't sure what to do with his time, so he got in with a small children's book publishing house. Though he respected the work, Adams wasn't content in an office, and knew he had to get back into something he had a real passion for—the food business. That's when he turned to cheese.
"The more I researched it, the more appealing it was," he says. "By the summer of 2008, I got to the tipping point where I just had to do it."
That's when he contacted Sue Conley, co-founder of the famous Cowgirl Creamery in San Francisco. This, he thought, is exactly the kind of cheese business to get into. Lucky for him, when he approached Conley, she agreed to teach him about cheesemaking. Not only that, but she introduced him to Margaret Morris, the owner of Glengarry Cheesemaking, an equipment shop in Ontario, and author of The Cheesemaker's Manual. Adams bought his tools from Morris, and in turn, she helped him develop recipes and techniques.
"I wanted to focus on one cheese for a long time," he says. "You have to make guesstimates, the milk is not the same and the milk fats change, so it was important to me to focus on one kind of cheese."
Today, Alemar Cheese continues to sell its first creation, the award-winning Bent River, which gets its name from the 90-degree bend the Minnesota River takes in Mankato before it flows toward Minneapolis. They now also have a large-format brie called Blue Earth, named for the county Mankato is in, and wash-rind cheese made with oatmeal brown ale from the Minneapolis brewery, Surly. This tasty wheel got dubbed Good Thunder, after a small town nearby, and it has graced the tables at Jean-Georges in New York City.
"It's on a cheese plate at a three-star restaurant," he says. "That's pretty good for a couple of guys from Mankato."
Funnily enough, in December 2014 Adams decided to finally leave Mankato since his two daughters were in college and frankly, he was ready to return to his home state of California.  Adams headed to Sonoma wine country to start making English-style cheese. Back in Mankato, his partner and fellow cheesemaker Craig Hageman holds down the fort and visits fairly regularly.
As for why English cheeses? Adams says he has had a kinship with the United Kingdom ever since living there for a while during his childhood. He is so passionate about the project that this past summer he went to England to do research. Plus, he adds, he won't be stepping on his mentor's toes because no one in California really makes this type of cheese.
"It's the best of both worlds—I get to spend time in Sonoma, but also go back to Mankato to see my kids," he says. "I just loaded up my old Subaru and hauled my worldly possessions in a trailer, and now, I look at it as launching the next chapter of my life."
It will be a while (think summer of 2015) until Adams gets his California operation going, but until then, Alemar Cheese fans can continue to get his artisan cheese products straight from Minnesota.
           This post is brought to you by our friends at Bridlewood Estate Winery.