How To Make Ginger Syrup Without A Mess, While Avoiding Shredded Knuckles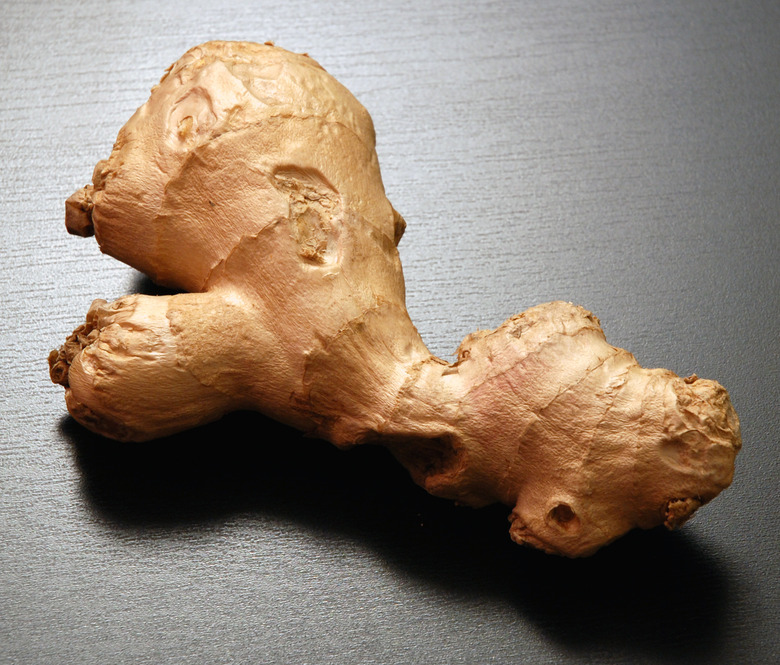 Ginger root can go a long way when making ginger syrup to use in cockta
We may receive a commission on purchases made from links.
Jeffrey Morgenthaler is Food Republic's Contributing Cocktail Editor and author of the occasional column, Easy Drinking. Jeffrey is an industry veteran, having worked at many styles of bars for the past two decades. He currently manages the bars Clyde Common and Pépé Le Moko in Portland, Oregon and is the author of The Bar Book: Elements of Cocktail Technique. 
If there's one ingredient that goes great in cocktails, it's ginger. Let's face it, it's something of a bartender's Band-Aid when it comes to fixing up a drink, and I'll be damned if it's not delicious. At one of the bars I manage, Clyde Common, we have no less than two drinks containing some form of ginger on the cocktail menu, pretty much at all times. Our hot toddy would be flat without it, and our Dark and Stormy shines with bright, spicy, freshly pressed ginger. And I owe it all to a simple trick I learned many years ago.
Back in 2008, I had the rare opportunity to fly to London and tend bar alongside my good friend Jon Santer at Simon Difford's home bar, the Cabinet Room. Both Jon and I had brought over some things that we intended to use to show off to the UK bartenders: I had packed a half gallon of my newly created tonic syrup, and Jon had brought a carbonation rig to use to carbonate cocktails.
Unfortunately for us, the universe had other plans. British Airways promptly lost my baggage, and Jon hadn't considered that American and English CO2 tanks are threaded in fractions of inches and millimeters, respectively. We needed some fallback drinks, and we needed them quickly.
We raced into the kitchen and began frantically looking for ingredients to whip up in place of our failed attempts. I'm pretty sure I made some sort of berry purée, and Jon put together the most elegant ginger syrup I'd ever seen. I honestly can't remember exactly what I made that night, because I was so fascinated with Jon's simple method.
Ginger is tough, fibrous and doesn't easily give up its spicy juice. There are a few methods I've seen over the years for getting juice out of ginger. The first, and most tedious, involves grating the ginger with a cheese grater or microplane, and then pressing the resulting pile of pulp through a strainer to collect the juice. A time-sucking, knuckle-grating option that I reserve for times when I'm locked in a rental cabin with very few resources.
Another popular option requires a juice extractor, an expensive piece of equipment that will make quick work of separating the ginger juice from the pulp, while doing so at considerable expense and requiring a fair amount of cleanup.
The brilliance of this ginger syrup is its technique: a simple blender perfectly purées the ginger with sugar and hot water, which can then be strained to remove any wooden pulpy bits. Prep is simple, cleanup is a breeze and the results are every bit as good as ginger syrup made by any other method.
To Make Ginger Syrup:
Combine equal parts (by volume) rough-chopped ginger (no need to peel!), boiling water and sugar or honey in a blender. 1 cup each is a good place to start.
Purée ingredients until mixture is smooth, then strain through a fine strainer or cheesecloth.
Bottle and refrigerate until ready to use. Will keep in the refrigerator for around a week.
Try it in a Penicillin sometime, or in this light, refreshing vodka spritzer that's been on our happy hour menu for the past year.
Pacific Standard Cocktail RecipeIngredients:
1 1/2 ounces vodka
3/4 ounce lemon juice
1 ounce ginger syrup
Sparkling water
Directions:
Combine ingredients and shake with ice until well chilled.
Add 1 1/2 ounces sparkling water and pour over fresh ice in a Collins glass.
Garnish with a lemon wedge.
Find more easy drinking stories on Food Republic: