Startup Poursteady Thinks Robots Can Make Better Pour Over Coffee Than You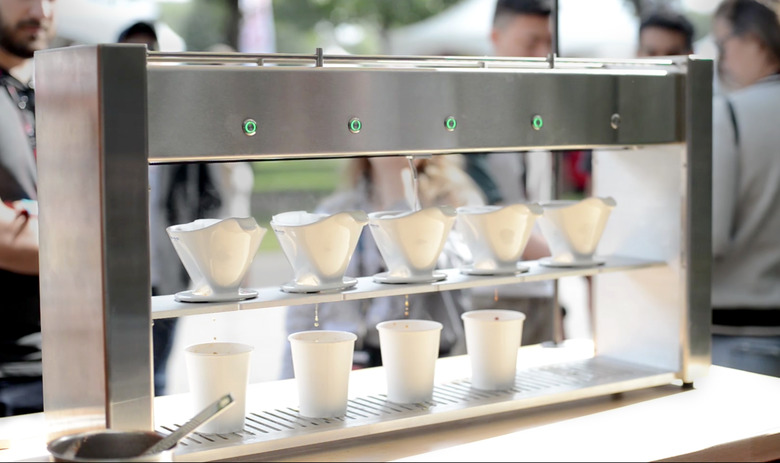 Have you ever stood around waiting for a barista to make your $4 single-origin pour over coffee? He pours a little water through to prime the filter, then some more to get the grounds going so they "bloom" — releasing pent-up carbon dioxide. Then, finally, after you've checked your e-mail and Instagram and replied to three texts, your coffee is ready.
OK, we agree that slow coffee service is perfectly fine, and a steamy, savory, clean-tasting pour over coffee is worth waiting the extra minutes. People love pour over coffee because it allows baristas to account for variables such as the type of bean, the roast and the ideal strength of each individual cup. But with all these highly specific factors in mind, one company is banking that the future of pour over coffee may be in robotics. After all, these days your refrigerator temp, home alarm system and sprinkler system can all be controlled by robotics. So it was only a matter of time before you could program a coffee maker to prepare your morning cup according to your personal tastes.
Two new individual automated pourover coffeemakers for the home recently came onto the scene: Chemex's Ottomatic and Ratio. Both are very sleek and look nice on your countertop. But automation has been pretty absent for the professionals at the coffee shop. That is, until Poursteady recently entered the market. Invented in Gowanus, Brooklyn by four guys with a history in product development and engineering, Poursteady runs using a computer. Think making four cups at once, according to a single method.
"The operator can set up the water heater to maintain water temperature within one degree and set the flow-rate to match how they like to pour," explains Stephan von Meuhlen, one of Poursteady's co-founders. The recipe's settings allow the operator to select the number of pours, how many grams of water for each pour, how long to wait between each and even the shape and size of the pour pattern. The plan is to eventually have the machine set up so that each cup can be individually programmed, while making four cups at once.
Poursteady has earned praise at NYC's Maker Faire and other design festivals, and is now debuting in an NYC co-working space The Impact Hub. According to the company, a unit will soon will be installed in Facebook's New York City headquarters. Each Poursteady is built custom and uses locally fabricated and assembled parts (costing around $15,000), so its ascent to worldwide restaurant and coffee shop domination might be a little slow — but it's definitely entering the scene.
Surely, automation might ruffle some feathers in the barista community. But Michael Sadler, the lead educator at pour over coffee specialist Toby's Estate in Williamsburg, Brooklyn, assured us that automated coffee is a positive thing for the industry.
"There is a certain attachment to human touch and the romance that's involved in manual brewing, and there's definitely value in that," Sadler concedes. However, he also appreciates how robotics-driven automated coffee makers can account for the many variables that make pour over coffee so desirable.
Sadler sees innovation not as a threat to the barista vocation, but rather as a welcome challenge. If, one day, all coffee shops featured automated pour over, he imagines it would "become the job of the barista to justify the coffee, tell its story," and work on education and menu development, rather than focusing on all the variables involved in pour over.
How does Poursteady's coffee taste? I tried a cup, made from pre-ground D'amico Papua New Guinea beans in Poursteady's Gowanus warehouse. I was visiting with a friend who is opening a café and is considering installing a Poursteady, and we deemed the brew totally drinkable. I imagined what a hit it would be in my office, where people line up grumpily each morning for the mediocre sludge that is made, one cup at a time, out of a machine.
Sadler says that innovations like Poursteady, which threaten to radically alter coffee culture in unpredictable ways, represent "a good challenge for us to have in coffee, to question whether there can be progress made." Although Sadler acknowledges that the coffee industry employs a lot of people whose "job it is to bring human touch to things," he is optimistic that automated pour over — if well-designed and easy to use — can free up coffee makers to become storytellers and educators, and to sharpen their coffee skills in other ways, like fine-tuning recipes. 
If Poursteady continues to take off, in a few years your morning routine might include learning about the farm where the beans come from, or how the blend was crafted — instead of sighing impatiently while your barista constantly pours water into a filter to make that perfect cup.
Find more coffee culture on Food Republic: