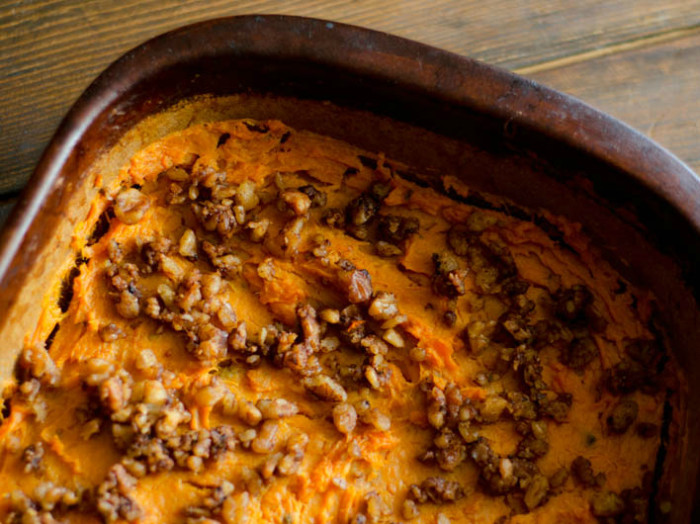 January is Healthy Living Month at Food Republic. Do you feel healthy? We sure do. But lately, healthy living has often been summed up by a few popular diet — namely, gluten, grains and dairy free. We fully recognize that no one philosophy fits all, and that educating oneself is important in making these decisions. So we've done our research to offer you 12 online resources to help you hone your daily eating, drinking and living habits.
1. The Paleo Diet | thepaleodiet.com 
Those new to Paleo would benefit from a browse through this website, which was created by the modern Paleo movement founder himself, Dr. Loren Cordain. Meal suggestions, research findings and recipes are presented in an easy to navigate fashion, along with blog entries that surround more specific topics, including immune system boosts and the neurobiology of sugar cravings.
2. Paleo Leap | paleoleap.com 
Entertainment meets education meets design in the game for this site, which is as informative as it is visually appealing and user friendly. More than 350 Paleo recipes headline the site and are broken into ultra specific categories for quick craving hunts. The site also features a wealth of resources for those trying to start or maintain Paleo habits, covering topics such as sleep, willpower and money saving tips.
3. The Domestic Man | thedomesticman.com 
This website was started by Russ Crandall, who began following a Paleo diet in 2010 for its autoimmune reversal capabilities after he was diagnosed with Takayasu's Arteritis, which causes inflammation and narrowing of the arteries. Thanks to some past culinary training and to his own trial and error in the kitchen, Crandall's food interest has led him to publish three cookbooks. His recipes appear weekly on the site, which also covers broader food topics, such as the food chain process.
4. Gluten-Free on a Shoestring | glutenfreeonashoestring.com 
Prompted by her son's diagnosis with celiac disease, Nicole Hunn started this blog to help those averse to gluten find recipes within their budget. Since then, she's also debuted three cookbooks, including Gluten-Free On A Shoestring Bakes Bread. As a result of increased interest in the gluten-free bread baking process, Hunn offers several resources regarding the pantry staple, including recipes, tips on gluten-free flours and a special Q&A section dedicated to how it works.
5. Robb Wolf | robbwolf.com 
Relying on his background in both science and health, Wolf studied the approach of Dr. Loren Cordain before penning his own Paleo book — The Paleo Solution: The Original Human Diet. His published works extend to practical living topics, including The Paleo Dining Out Guide and The Paleo On A Budget Guide. Focused sections on the website, from meal plans and testimonials, to research findings and links to Podcasts, function as a helpful launching point for those getting started with a Paleo lifestyle.
6. Mark's Daily Apple | marksdailyapple.com
Former endurance athlete Mark Sisson launched this site to help others rethink their eating and exercise habits and to efficiently step into healthier lifestyles. The site is built around Sisson's Primal Blueprint, a comprehensive plan that studies evolutionary biology to control how specific genes are expressed. Convenient tools, such as diagrams, charts and challenges encourage participants to think beyond just food and drink and about daily practices to see results (e.g. slow exercise and heavy lifting multiple times per week, sprinting once a week).
7. Against All Grain | againstallgrain.com 
After being diagnosed with an autoimmune disease when she was 22 years old, Danielle Walker took it upon herself to change her eating habits and now follows a strict grain-free diet. Her website reflects her strong dedication to the lifestyle through personal details of her own story, video cooking demos and gorgeous food photos accompanying recipes. For more of her work, fans can turn to her cookbook Against all Grain, a New York Times best seller.
8. Primal Palate | primalpalate.com 
A passion for food and cooking led couple Hayley Mason and Bill Staley to start Primal Palate, a site offering tips on going Paleo in 30 days, ways to follow a Paleo diet in college, and menu planning tools — including the myKitchen option, which builds a grocery list based on a selected recipe. They also encourage community input, as evidenced by a recipe upload feature and Q&As with those transformed by a Paleo diet. As if that weren't enough, the couple has released an app and three best-selling Paleo cookbooks, including Gather, a guide to at-home Paleo entertaining.
9. Predominantly Paleo | predominantlypaleo.com 
After upholding a gluten-free routine for four years, it wasn't until Jennifer Robins faced an onslaught of health issues that she decided to give up grains and dairy and start this blog, which is meant to inspire others in her shoes. The site is best known for Robins' ingredient interest in yucca and cassava flour, which she uses to create a variety of dishes — from egg rolls and empanadas to pierogies and chocolate ravioli.
10. Nom Nom Paleo | nomnompaleo.com 
With a bachelor's degree in Nutrition & Food Science and a penchant for tasting menus, Nom Nom Paleo founder Michelle Tam knows her food. While low fat and low calorie diets initially distracted her from going Paleo, we're glad she did — her site has become a go-to for grain-free food enthusiasts, earning Tamm the title of "the Martha Stewart of Paleo" from The New York Times. Site visitors can find details on Tamm's culinary adventures via her Out and About section, along with all of her Whole30 recipes, which are also available in her best-selling cookbook.
11. Everyday Paleo | everydaypaleo.com 
Sarah Fragoso's path to Paleo began in February of 2008 when she was faced with several health issues, including constant painful swelling in her legs and bouts with depression. Since then, Fragoso has debuted numerous books highlighting a variety of topics, from Italian cooking to a children's book meant to spark interest in Paleo eating habits for kids.
12. Gluten-Free Living | glutenfreeliving.com 
This across-the-board site offers news surrounding the gluten-free industry, traveling tips (i.e. gluten-free hotels), and basic information on the differences between celiac disease, gluten sensitivities and wheat allergies.
Find out more about healthy living on Food Republic: