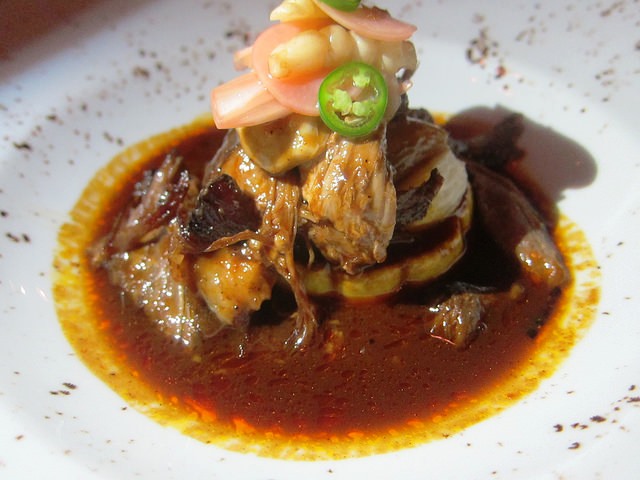 It was always Thomas Jefferson's hope that the fertile soils of his home state of Virginia would become a primary supplier for all sorts of food for the rest of the young country. In truth, while the Founding Father and third U.S. president might have been a great statesman and inventor, his wine grape-growing efforts at Monticello were pretty dismal.
Modern-day Virginia has definitely found its culinary groove — Esquire magazine recently crowned the Old Dominion "The Food Region of 2014." On Monday, Jan. 12, many of Virginia's greatest agricultural assets came together at Rappahannock Restaurant in Richmond to pat themselves on their collective backs. Rappahannock is the fourth restaurant venture of cousins Travis and Ryan Croxton, who were also recognized for their farming operations at Rappahannock River Oyster Co. At their eponymous restaurant, the Croxtons showcase a large raw bar of their oysters and other Virgina products in their kitchen under the direction of chef Dylan Fultineer, formerly of Blackbird and Hungry Cat.
Lest you think the Croxton boys are just rubber-booted aquatic farmers who harvest oysters to serve on precious slabs of recovered driftwood in their sea-to-table restaurants, their latest venture is much more rock and roll than Mumford and Sons. In fact, the Croxtons have partnered with a local Richmond band to create GWARbar. That's right, your favorite thrash metal intergalactic barbarian warrior band has their own blood-soaked bar and eatery. The Croxtons helped to develop the menu of "GWARtinis" and "Scum Dogs" as well as dishes like "Lettuce Slay," Jizmak & Cheese" and "Filet o' BalSac." Go for the death metal; stay for the GWAR-b-que.
Joining the Croxtons and state VIPs at the reception were Craig Rogers of Border Springs Farm and Sam Edwards from Edwards Country Ham. The two collaborated on a unique "lamb ham" using sheep from Rogers' farm and the curing facilities at Edwards. The result were paper-thin slices of deliciously funky meat which were only rivaled by Edwards' acclaimed "Surryano" ham, his take on European curing methods made from heritage breed hogs raised and finished on peanuts.
Related: Uh-Oh, Ibérico — Country Ham Is The (Old) New Charcuterie Of The Moment
Other Virginia artisans recognized at the reception included Sub Rosa Bakery, Champion Brewing Co., Foggy Ridge Cider and Barboursville Vineyards. Adam Musick of Musickland Farm also contributed some of his heritage pork to the dinner, but was unable to attend.
The team of Virginia all-stars collaborated on a four-course dinner with guest chef Ian Boden of The Shack in Staunton, VA. Boden's tiny restaurant seats only 26 diners in mismatched chairs around seven tables, but the chef had no difficulty working with the premium ingredients in the large kitchen at Rappahannock.
Virginia Secretary of Agriculture Todd Haymore and Governor Terry McAuliffe attended the reception in their roles as head cheerleaders for local agriculture. Their praise was effusive for the quality of the ingredients and economic impact that purveyors have on the economy. But McAuliffe recognized that there is still one hurdle he wants to get over. "Virginia wine sales are now tied for fifth nationally with Texas," the governor bragged. "And we're going to beat Rick Perry if I have to drink every bottle myself!"
Read more about Virginia on Food Republic: