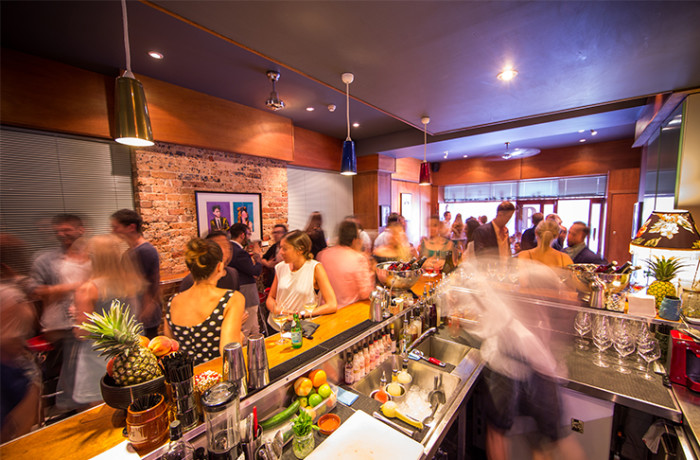 By the time 2008 rolled around, the cocktail revival was already peaking in many cities around the globe — yet not Sydney. Until that point, nightlife in Australia's most populous town had been dominated mostly by large operations who could handle the hefty licensing fees and complex bureaucracy of securing a liquor license; pre-2008, drinking choices were generally pubs or cavernous clubs.
However, new legislation that year made it suddenly easier to open so-called small bars (with a capacity of 120 people or fewer), and Sydney's cocktail scene burst open. "It changed the landscape completely," recalls Tim Phillips, co-owner and bartender at Bulletin Place, Sydney's most lauded cocktail bar (and No. 19 in the world, according to Drinks International's 2014 list). "It allowed operators to put our heads together and open something."
That's what Phillips and his partners did two years ago with Bulletin Place, an intimate second-floor barroom tucked up the stairs of an old building on one of Sydney's back laneways. The team did the build-out themselves: "We spent more on ice machines than we did on furniture," he told me, gesturing around the spare space decked out with reclaimed this-and-that.
In typical fashion for drinkeries of this ilk, Bulletin Place is tough to find and doesn't take reservations, relying instead on the charmingly phrased policy "first in, best dressed" (Aussie speak for "first come, first served"). Not so typically, it doesn't have a menu: instead bartenders scout daily seasonal ingredients and scrawl the night's half-dozen cocktails du jour on a roll of butcher paper.
If I was suffering from sticker shock over my 19 Aussie dollars ($15.60) cocktail – a Phillips on-the-fly creation of pomelo, bourbon, star anise and cinnamon – at least I enjoyed the freebie that's presented to all drinkers, a tonic made with pastis, bitters, vermouth, sugar, and soda water. The tincture is served before any cocktails and is intended to "refresh the palate, since a lot of customers come in after a meal," an employee explained.
As I learned a few nights later, $19 is actually on the low end of prices at Sydney's high-end cocktail bars, where drinks often range from 20 to 25 Aussie dollars (roughly $16-$20). Short on time but determined to get a feel for the city's robust and growing small bar scene, I enlisted the help of Martin O'Sullivan, president of the New South Wales Small Bar Association and a co-owner himself of two bars.
I met up with the affable and energetic O'Sullivan's near his Asian-themed bar-restaurant The Grasshopper, another hidden drinking establishment in the Central Business District (CBD). Happily, he offered to lead me to there since I would've been hard-pressed to find the place myself, secluded as it is down (no joke) Temperance Lane.
"Seven or eight years ago when we heard the laws were changing, we started looking for a laneway," O'Sullivan told me. When he and his partner Belinda Lai (who also happens to be his wife), plus one more business partner, decided on a former printing shop down a back alley, friends thought they were nuts. But the longtime bartender's instincts were correct: People did want a semi-hidden spot to drink where they could spill out to al fresco tables in the alley. "We've really breathed new life into the laneway," O'Sullivan reflects.
After sampling a few cocktails at Grasshopper, including a unique combo of fresh strawberries, Bulleit bourbon and da hong pao (a Chinese tea), plus some tasty Asian bites, the best of which was a sort of cumin-spiced mu shu lamb served with thin pancakes, it was time for the tour. Our arrangement suited me ideally: Martin led us (on foot and then in his car) and did the talking, while I, like a good reporter, drank and took notes.
Sydney's CBD teems with small bars, so we set off for a whirlwind look at these. First stop: Mojo Record Bar, with a sort of East Village-when-it-was-still-punk vibe and an actual vinyl shop up front. The rockabilly-styled bartenders wore black, 45s decorated the wall above the bar, and rock 'n roll blasted. It was warm and convivial in this basement space, and I didn't want to leave, but after a mere longing glance at the drink menu (mostly beer, with a few simple cocktail options), we were off.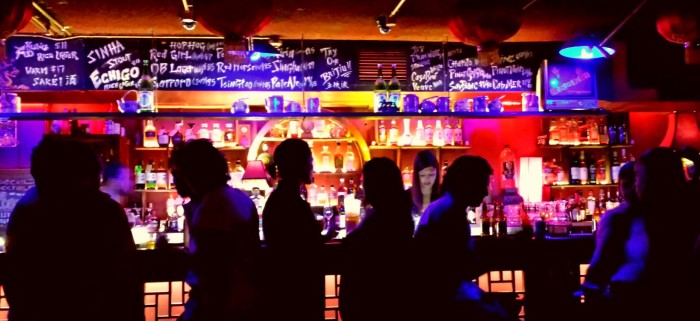 Next up: Another Asian spot, Uncle Ming's, this one with a much more pungent (and highly stylized) whiff of iniquity. Thanks to my fearless leader's familiarity with seemingly every single person in the nightlife industry, we glided past the formidable-looking bouncer, down the stairs to a glowing den of a drinkery where the drug of choice was not opium, as surroundings suggested, but rather top-shelf Japanese whiskey and top-notch cocktails served in Chinese tea cups. Though we were trying to practice moderation, I wound up slugging back a shot of tequila and then an off-menu concoction dubbed the Panties Down, whose details were somehow lost to the night. Apparently the booze was starting to take effect.
O'Sullivan must've noticed, because he took me on a little stroll after that, where the bracing October night air, still chilly in the early Australian spring, set my head straight as we passed the original small bar, aptly named Small Bar, a narrow candlelit place specializing in beer and wine. Compared to the elaborately themed boites we'd been seeing, this place was like Early Man contrasted to his cousin the homo sapien — the evolution was apparent.
From there the night gets a little hazy (and not just because we ended up, about five stops later, at a bordello-themed bar called The Hazy Rose). A little voodoo magic happened at Papa Gede's, a hidden NOLA-themed CBD spot featuring cocktails with names like Dying Bastard (gin, brandy, dash of absinthe) and the Gambling Priest (gin, Montenegro, honey). My drink, the Divine Intervention, was a remarkably tasty shrub made of apple, passionfruit, and absinthe, anchored by a giant spherical cube, so deliciously sweet and sour that fairy dust may have been the unmentioned garnish.
After that we jumped in O'Sullivan's car (wisely, an hour before he had ceased imbibing anything but water) and flew to cutesy Darlinghurst, where another mob of hot cocktail joints is concentrated. We popped into arty, 70s-looking Kubricks, with its baby-faced proprietor and back patio adorned with a hulking vintage chandelier and a green "living wall." Though I drooled for a Sriracha Sazerac, there was no time. Instead, we trotted down the block and up the stairs to the Hazy Rose, then around the corner to Hinky Dinks, which is modeled after a 50s-style diner, milkshakes and all (though of course, these are spiked).
Maybe it was the booze, maybe it was the wrenching 16-hour time difference between Sydney and my home in New York (which always seemed to hit the worst at night) — probably both. After Hinky Dinks, I hit a wall. It was a shame, because we could have gone on all night: Darlinghurst alone had Eau De Vie, Pocket Bar and Shady Pines Saloon within a short saunter, all reputable outposts for a quality quaff. But by then, my high-thread-count hotel sheets were calling.
A few nights later, I tried to fill the one gaping hole in our nightlife tour, by visiting a little joint called The Baxter Inn. O'Sullivan had recommended we skip this subterranean speakeasy on our first early evening pass through the CBD, since it's reliably elbow-to-kidney-jammed at any sort of normal hour. Then I'd lost steam before we could return that night. So I decided I'd tackle it myself, no easy undertaking since the Baxter belongs to that third wave of speakeasies (or whatever wave we're on these days): namely, places that seem like they actually don't want to be found.
This marketing tactic was succeeding on me, as I skulked uncertainly up and down the same stretch of dimly lit Clarence Street. Crikey! Where was this place? Some Googling unhelpfully informed me that the Baxter could be found down a "dark, non-descript laneway." I swore then, fully six years after I'd made my first, pleading 3 p.m. phone call for a reservation to New York's then-secretest secret bar, PDT, that I was through with this kind of b.s. I nearly threw my iPhone in protest.
But just then some well-dressed youngsters ambled up and I scurried surreptitiously after them, guessing where they might be going. Their leader stopped in front of a gated parking garage. "Oh man, is it closed?" he exclaimed to his companions, whereupon I piped in: "Uh, excuse me, are you looking for the Baxter Inn?" "Yeah, it's usually down here," the guy said, gesturing to the gated-off ramp. "Guess it's closed tonight." And off they went.
Unreasonable dark and nondescript laneways aside, I supposed it was reasonable that the Baxter might be closed on a Sunday night. It was, unfortunately, my last night in town, so I never did return to scope the place myself. But I do hear great things. You should definitely go – if you can find it.
Bulletin Place 10-14 Bulletin Pl., Level 2; no phone; bulletinplace.com
The Grasshopper 1 Temperance Lane, Sydney CBD; +61 (02) 9947 9025; thegrasshopper.com.au
Mojo Record Bar 73 York St., basement level; +61 (02) 9262 4999; mojorecordbar.com
Uncle Ming's 55 York St.; no phone; unclemings.com.au
Small Bar 48 Erskine St.; +61 (02) 9279 0782; smallbar.net.au/erskine-street
The Hazy Rose 83 Stanley Street, Level 1; +61  (02) 9357 5036; thehazyrose.com.au
Kubricks 79 Stanley St.; +61 (02) 9360 0360; kubricks.com.au
Hinky Dinks 185 Darlinghurst Rd.; +61 (02) 8084 6379; hinkydinks.com.au
Eau de Vie 229 Darlinghurst Rd.; +61 (04) 2226 3226; eaudevie.com.au
Pocket Bar 13 Burton St.; +61 (02) 9380 7002; pocketgroup.com.au
Shady Pines Saloon 256 Crown St.; no phone; shadypinessaloon.com
The Baxter Inn 152-156 Clarence St., basement; no phone; thebaxterinn.com