Can Coconut Sugar Really Save Us From Death By Delicious Dessert?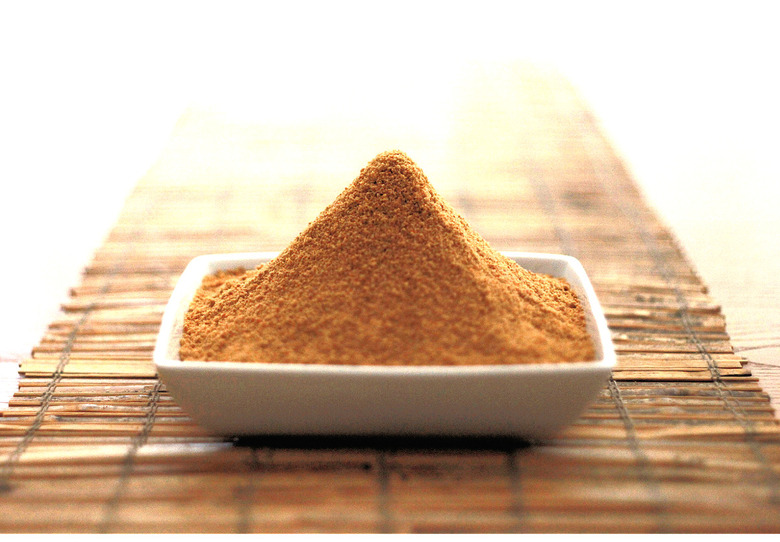 The previous decade's much-ballyhooed war on Christmas has nothing on the current combat zone surrounding dessert. Goaded by some fairly damning medical research and Jamie Oliver, backlash against processed sugar raises questions about right and wrong ways to indulge in the sweet stuff.
"The average American consumes nearly three times the recommended amount of added sugar every day, which is taking a tremendous toll on our nation's health," UCSF professor Laura Schmidt told The New York Times in November. Schmidt contributes to SugarScience, a new public health project encompassing 12 scientists at three universities. Their 8,000 articles of independent research link sugar to chronic and fatal conditions like heart disease and type-2 diabetes.
Still, this is America. If we cannot gulp big, sweet relief from untaxed, fructose-heavy sodas, surely we will find other routes of reprieve.
Nature, it so happens, provides ample alternatives. Coconut sugar consists of sap distilled from the flower buds on palm trees. It has lower glycemic index and slightly more nutrients than processed white sugar, and caramel-rich taste and texture similar to conventional brown sugar.
"At the moment, coconut is the most fashionable ingredient amongst my health-conscious clients," says chef Phil Lydeard, formerly of London's two Michelin–starred Hibiscus restaurant. Now based in Los Angeles, Lydeard is partnering with two nutritionists to launch Pro Meal Plans, a diet and wellness site, to debut January 16.
"[Coconut sugar] works well when baking, especially when nuts are involved," Lydeard adds, but warns against using it with impunity. "A sugar is a sugar! If consumed in large amounts, it could potentially be detrimental to health."
Instead, Lydeard advocates for "old-school" honey. A versatile sweetener and key player in Mediterranean diets, honey is equally suited to breakfast pastries and vegetable sides.
Franklin Becker agrees, though his enthusiasm is measured. The chef and owner of Manhattan's Little Beet and Little Beet Table was diagnosed with Type 2 diabetes at age 27. He has authored three health-focused cookbooks, including 2014's Good Fat Cooking.
"Agave and honey contain less glucose and fructose than table sugar," Becker explains. As a result, less fructose gets stored as fat in the body.
Honey, however, is a dietary mixed bag. A spoonful is considerably more caloric than processed sugar; but it also tastes sweeter, so less is required to make the medicine go down. Rumors that honey might be better for diabetics than processed sugar are routinely denied, but everyone agrees it is comparatively rich in antioxidants.
Diane Kochilas, collaborating chef at Molyvos restaurant in New York City and author of 19 cookbooks, espouses Greek honey as well as petimezi, an ancient sweetener popular on Crete. Made from fermented grape molasses, petimezi counts Yotam Ottolenghi and Sami Tamimi amongst its fans.
"It has an incredibly rich, full flavor," Kochilas enthuses. "It's definitely fruity, but isn't as sweet as sugar or [simple] syrup, which is one reason why you can use it in both desserts and savory dishes." Petimezi contains potassium, calcium, iron and vitamins A, B and C. Unfortunately it is also highly caloric.
"Rule usually is, the sticky stuff is most often better for you, but still not good – especially in excess," Becker adds.
Moderation is key because there is no perfect sugar substitute. Date sugar, for example, is mineral- and fiber-rich, but does not dissolve in liquids. Blackstrap molasses is a natural byproduct of table sugar production. It contains the most minerals and antioxidants of any conventional or alternative sweeteners, but its rich flavor overpowers light drinks and vegetable dishes. Many Korean-American cooks favor cactus honey powder, which is made from dried agave nectar. It has lower glycemic index than table sugar, and a healthy amount of immunity-boosting saponins. Dessert fans, consider this your call to arms.
Read more about sugar on Food Republic: