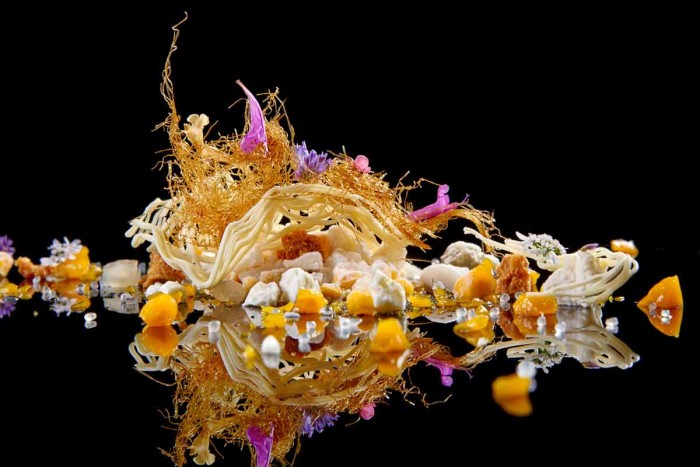 Since April 2014, Eater restaurant critic Bill Addison enjoyed (read: endured) 263 meals in 29 American cities. That's nine months of near-constant travel, trips to the gym, Photoshop sessions, late-night writing sessions, airport lounge writing sessions and a whole lot of time sitting in restaurants. As somebody who has reviewed restaurants in a past life, I can confidently say it is one of the most difficult editorial jobs around.
Wait, you think reviewing restaurants is a dream job? Are you kidding? Yes, restaurant food can be pretty life-changing. And scoring a reservation at a city's "hottest" table can be pretty exhilarating — at least for one's Instagram account. But restaurant meals can also be a combination of boring, solitary, chilly, sweltering, overly rich, overly conceptual, overly soulless, soul-sucking experiences. To call Bill Addison trek around the country god's work would be irresponsible. But if you worship at the alters of Alice Waters, Aaron Franklin, Dan Barber or Joël Robuchon, Bill's Eater 38 might just be pretty close. You can check out the entire list here. I like the balance in restaurant style and geography — there's no coastal bias. No way. And we've featured many of the chefs and restaurants on Food Republic.
I also like (more I greatly appreciate) that Bill, on one of his very rare days off last summer, took me and some friends to a little Korean restaurant, Yet Tuh, near his home in Atlanta. It was one of my favorite meals of the year. I got to try a pretty hard to find braised chicken dish, Andong jjimdak, and on a night Bill could have been at home cozying up with a bowl of cream of wheat, he was out at a restaurant. Respect.