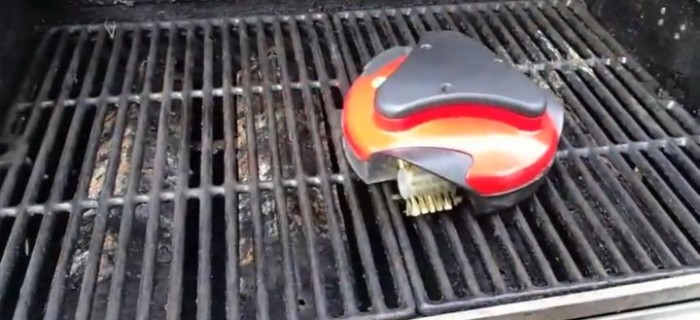 Are you kicking yourself for forgetting to consult our handy guide to the season's new kitchen products when shopping for your favorite home cook? Or, perhaps, did you just forget about buying him or her a present altogether over the holidays? Fear not, we've got you covered here. Fresh off "selling more than 40,000 units in over 30 countries" in the past calendar year is the new-and-improved Grillbot, currently catching buzz at the annual International Consumer Electronics Show (CES) in Las Vegas, Nevada. So, what exactly is this Grillbot, you may ask, and why should you be caught up in the frenzy?
Here's a quick background: the fly-shaped gadget is, quite simply, a grill-cleaning robot. The best thing about it is that you may never have to actually see it at work — simply toss the thing on your grill after you've finished cooking, cover the grill and let the device do all the dirty work for you. The machine works in 10, 20 and 30-minute cycles, and entirely eliminates the need for human leg(arm?)work. That's right — at the cost of a mere $100, the days of having to dread the inevitable tireless scrubbing of the grill after a home-cooked meal are now a thing of the past. Let us repeat: your manual grill-cleaning days are a thing of the past. Check out the short tutorial video below for a primer on how these bad boys go to town on a grill's dirt and grease.
Grillbot 2.0 unveiled at CES includes five new features, including an extended battery life and heavy-duty bristles, designed to increase their overall lifetime use. Other updates include enhanced controls that assist the robot's mobility, noise-dampening bumpers and accompanying carrying cases. We'll stop short of calling 2015 "the Year of the Grillbot," just yet. But, hey, we can't argue that it's pretty catchy. Here's a video from Time's Techland blog, geeking out on the CES floor.
Check out these gadgets that rock on Food Republic: