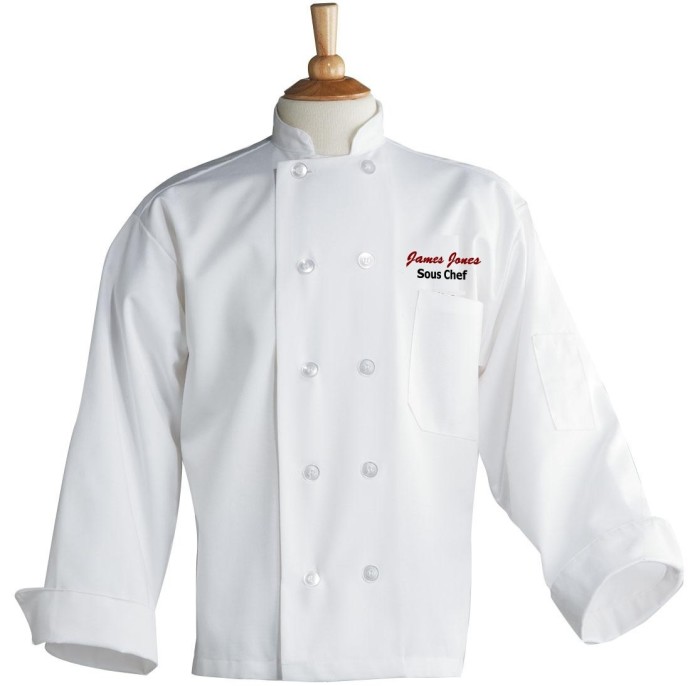 "I'll likely catch flack for this, but I'm going to present my arguments for why these damn [chef coats] have no part in my world." Those were the bold words of chef Greg Baker, who penned an article on Food Republic yesterday about the staple kitchen garment he considers not only unfashionable, but also unnecessary and uncomfortable. The piece quickly blew up on social media, with professionals from all over the globe voicing their opinions. Some backed the classic chef's whites as a necessary, utilitarian uniform; others agreed with Baker and would rather cook in an old Metallica tee. Here are some of the day's more notable reactions, compiled via email interviews and, of course, Twitter:
Sarah Simmons | chef/owner Birds & Bubbles and City Grit in New York City
On how she believes the majority of chefs view these coats: "I think most chefs think that chef coats are a drag. I don't know many who actually like wearing them, which is why I think everyone has really jumped on the designer apron bandwagon."
On coat options for female chefs: "[Baker] is correct, but at least the coats are designed for men! I feel like a square every day because none of them fit…Shannon Reed makes amazing designer coats for women…if I could afford it, I would have a closet full of them. They are so well-made and comfortable."
On why she ultimately wears a chef coat: "When I'm prepping, I usually wear a t-shirt and an apron around my waist. During service, I wear my coat because I run a lot of food and try to say hello to as many guests as possible and can't do that in a t-shirt."
Allison Robicelli | chef/owner of Robicelli's in Brooklyn
On why she stopped wearing them: "I stopped wearing them pretty much the second I could — so maybe 10 years ago. They're very boxy and the only way I could get them to fit over my female figure was to take the XL ones my restaurant would get in, which would leave the sleeves way over my hands. Then I'd roll them up and the tops would look all puffy like clown sleeves. I just looked ridiculous."
On one other problem with them: "Chef coats give you a limited range of motion in the armpit area if you have big boobs, and pretty much everyone in our kitchen has those. It's hard to safely lift hot sheet pans in and out of the oven if you can't move your arms without forcing your breasts up."
On how she believes chef coats are viewed in the industry: "I think they're seen as kinda fussy and old fashioned, and also elitist…now I see almost everyone in a work shirt, because I think everyone wants to be seen as a working chef, even if they're mostly doing P&L sheets or schmoozing with celebrity diners."
Alex McCrery | private chef and creator of chef clothing company Tilit Chef Goods
On the problem: "Since I began my career as a chef almost 20 years ago, it seemed apparent to me that the people making hospitality uniforms weren't wearing them or listening to the workers that were…in a physical sense some chefs expressed to me that improvements could be made to make the fit better, update the style, add comfort and have more utility. In an emotional sense chefs and cooks, myself included, wanted to bring back the feeling of pride from the first time they put a chef coat on."
On his solution: "At Tilit our solution was to create a survey of working cooks and chefs to help design our coat…we've tried to solve the issue and know that the chefs wearing our goods will like it, because they helped make it!"
And now, the responses from Twitter:
Rich Francis | chef/owner of Aboriginal Culinary Concepts and District Red, Top Chef: Canada contestant
'clothes don't make the man any more than going to church on Sunday makes one pious.' I quit wearing a chef coat… http://t.co/0Sg5aac3qI

— Rich Francis (@gwichintribal) January 5, 2015
I only wear one for special occasions. http://t.co/UMwiE1IlVs

— Julio-Cesar Florez (@ac3jc) January 5, 2015
The Dudes Kitchen
@foodrepublic A chefs coat on backwards is a #straightjacket!

— The Dudes Kitchen (@thedudeskitchen) January 5, 2015
#yesChef Why Chef Coats Suck: A Story Of Fake Professionalism And Very Bad Fashion | Food Republic http://t.co/dvaDhc50Zp via @foodrepublic

— Travis Myers (@Chef_Myers) January 6, 2015
Spot on from @gregsbaker in @foodrepublic Chef coats do suck http://t.co/iJaRck1wxx #fatguyinalittlecoat #itsflorida

— Chad Johnson (@ChefChadJohnson) January 6, 2015