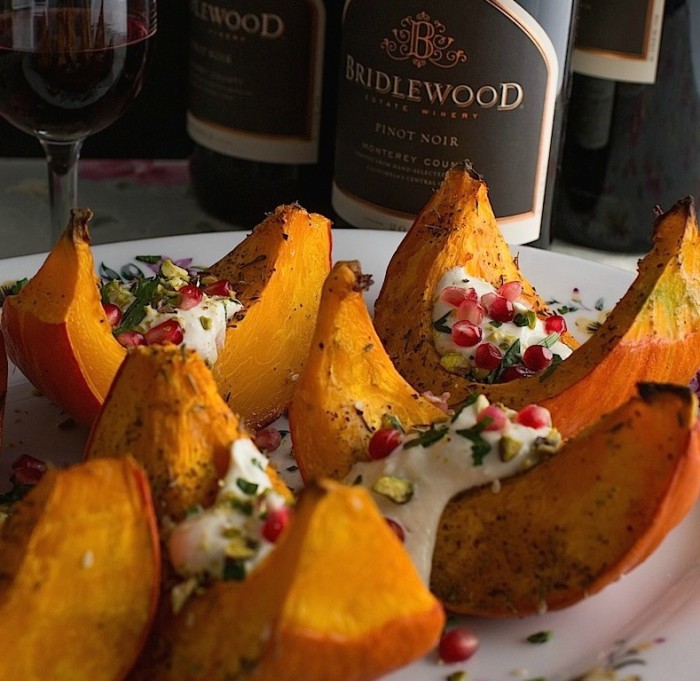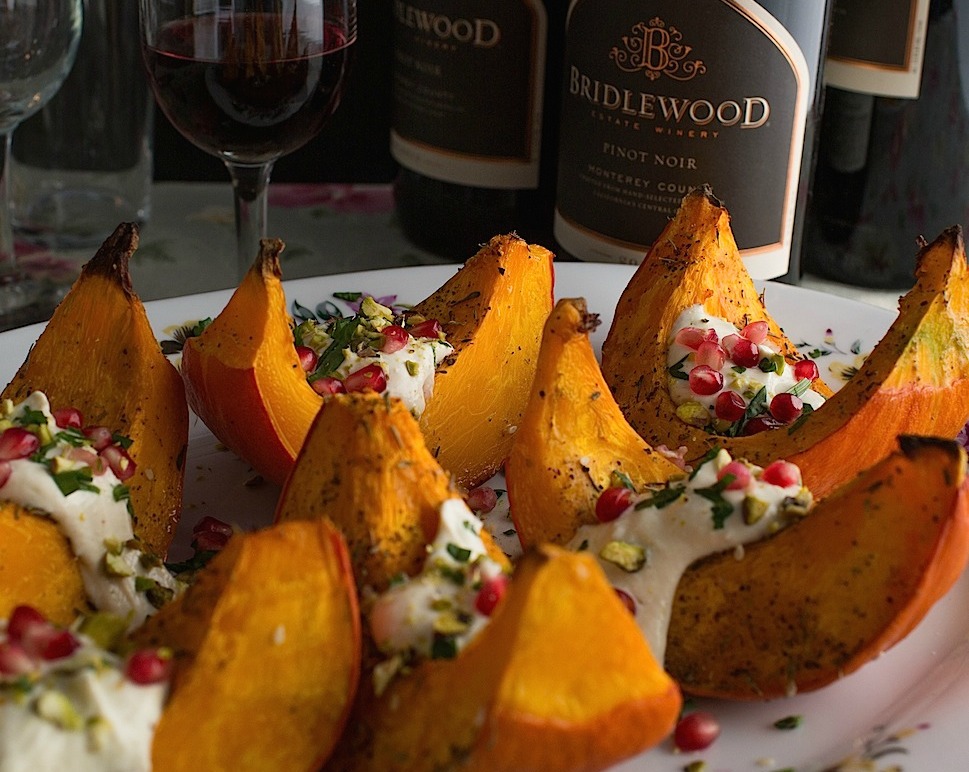 Food Republic has partnered with Bridlewood Estate Winery to bring you some great entertaining and cooking posts. Next up is Denise Woodward of Chez Us sharing a recipe for a vegetarian dish perfect for the holidays. Denise and Chez Us can be found on Facebook, Twitter, Instagram, Google+ and Pinterest.
This recipe for roasted kabocha with tahini dressing is a must for your holiday celebrations this year. Not only does it go well with a simple roasted turkey or pork tenderloin, but it pairs nicely with Bridlewood Pinot Noir. The fruit-forward flavors of dark cherry and hints of floral undertones in this wine pair well with the dense and rich kabocha squash. The slightly acidic pomegranates and the brightness of the tahini complemented the flavors of the wine as well as the squash. This is definitely a beautiful recipe that will wow your friends, and maybe even the adventurous eaters at your table.
Servings: 4-6
Ingredients:
3 pounds kabocha squash or butternut squash, seeded and cut into 8 equal slices
1/2 teaspoon kosher salt
1 teaspoon za'atar
1/4 teaspoon black pepper
3 tablespoons olive oil
1/2 cup whole milk Greek yogurt
2 teaspoons tahini paste
2 teaspoons fresh squeezed lemon juice
1/4 cup Italian parsley, finely minced
1/2 cup pomegranate seeds
2 tablespoons pistachio dust (see below)
Directions:
Preheat oven to 350℉.

Place the squash slices onto a baking sheet. Combine the salt, za'atar and pepper in a small bowl, mix well.

Lightly drizzle olive oil over the kabocha slices and sprinkle with the za'atar mixture.

Place into the oven and roast until tender and lightly caramelized, about 35-45 minutes. You may need to drizzle a little more olive oil over the squash during the roasting process. Be sure to not let the squash dry out.

In another small bowl combine yogurt, tahini, remaining olive oil and lemon juice. Whisk until smooth. Season to taste with a little salt.

Place whole pistachios in a small plastic bag and roll a rolling pin back and forth until you have small crumbs, known as pistachio dust.

Place the roasted kabocha onto a serving platter. Evenly divide the yogurt dressing, parsley, pomegranate seeds and pistachio dust over the tops of each slice.
           This post is brought to you by our friends at Bridlewood Estate Winery.