2014 In Review: The 20 Big Beers Of The Year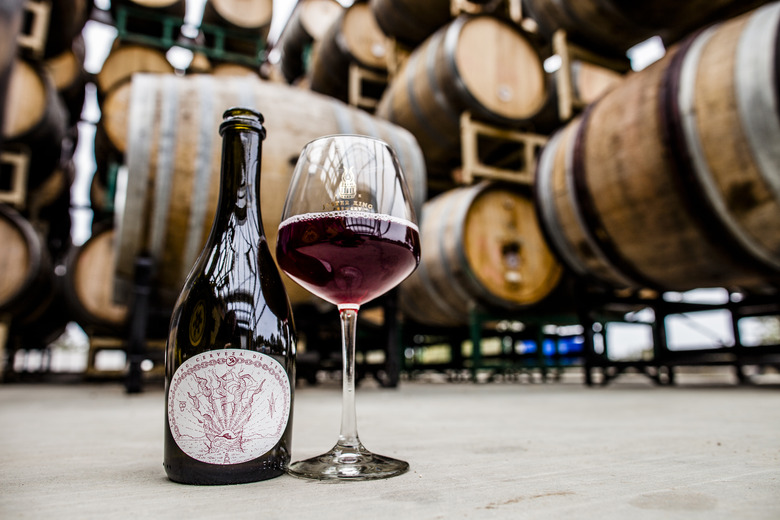 The year 2014 was an excellent — and sometimes overwhelming — time to be a craft beer lover. There is no limit to the creativity brewers are showing, and trends are splaying out in a million different directions. Old styles are being revived, new styles invented and hyper-regional production continues to rise, meaning that if you live almost anywhere in the country these days, you'll have access to a delicious local brew.
And as the industry continues to grow, beer seems to be in the news every other week, with topics ranging from impending hop shortages to the politics of buyouts and mergers. Smaller breweries are selling shares to bigger ones, well established companies have announced (and broken ground on) cross-country expansions to keep up with demand, and in the meantime brewers are putting out some of the best tasting, most experimental brews we've seen to date.
No 2014 "best of" list is ever comprehensive, but below you'll find a collection of notable beers and moments in craft beer from the past 12 months. This list represents a smattering of awesome new brews, which ones made the biggest headlines, and a few of my personal favorites tossed in for good measure.
1.  Green Flash Brewing Company Treasure Chest
San Diego's hop house Green Flash made a splash this fall when they acquired the promising Alpine Brewing. Each brewery will continue to make their respective beers, but the merger will help smaller Alpine meet increasing demand. Meanwhile, Green Flash released a notable Plum Saison called Treasure Chest, a pink-hued brew created to raise money for breast cancer charities. The move is a breath of fresh air in a market where many continue to use the female image solely as a sexy marketing ploy. Women drink craft beer too, guys, so take a note from Green Flash's book next time you have a beer to name or label to design.
2. Anderson Valley Brewing Company The Kimmie, The Yink, and The Holy Gose
The tart, salty wheat beer known as Gose is having a moment in the sun this year, and Anderson Valley's canned delight is one of the most balanced and refreshing ones out there. An abundance of salt creates a strong mineral flavor that carries through the crisp carbonation, ending in a slightly dry finish. The follow-up Blood Orange Gose also stands out in the category, with its light, sassy citrus addition to the fistfuls of salt and underlying grainy flavors.
3. Moody Tongue Brewing Company Shaved Black Truffle Pilsner
It's been a big year for crazy brewing experiments and wild flavor combinations, but Chicago's Jared Rouben (who worked for Goose Island before opening his new "culinary brewing" operation in Chicago earlier this year) dominated the conversation with the release of this $120 Pilsner made with rare black truffles from Australia. Could a 22 ounce bomber of ANY beer be worth that much dough? You'd have to be one of the lucky 500 lottery winners to know.
4. Founders Brewing Company Dark Penance Imperial Black IPA
This Michigan brewery recently announced they've sold 30% of their ownership to Spanish Brewery Mahou San Miguel, making them one in a long line that have recently sold portions of their operations to larger companies. Dark Penance is one of their star releases of 2014; At 100 IBUs, it's quite bitter, but the high 8.9 ABV helps balance out that astringency with ample residual sugars, and whereas most black IPAs taste thin and watery, Dark Penance achieves a poignant blend of malts and hops with a luscious, layered texture.
5. Stone Brewing Company Go To IPA 
Session beers are still very much in vogue, and Stone successfully delivers huge hoppy flavors in a small package with the Go To IPA. It's one of the most expressive session beers because despite its 4.5% ABV, it bursts with Stone's signature fresh hop aroma and a dry, bitter body that shines with bundles of bright lemony hops. If the driving conversation surrounding session brews is maintaining personality in the face of light proof, Stone's punctuated the discussion with effortless skill.
6. Chris Banker \ Stone Brewing Company \ Cervezeria Insurgente Xocoveza Stout
Many outstanding collaborations came down the pipeline this year, but this Mexican hot chocolate-inspired stout may have created the loudest buzz. The inspiration for Xocoveza (pronounced SHO-CO-VAY-ZA) comes from Chris Banker, winner of this year's American Homebrewers Association competition, and was created in tandem with Stone Brewing and Baja California's Cervezeria Insurgente. With cocoa, cinnamon, pasilla chile and coffee all playing prominent flavor roles, there's a roasted, earthy element to the creamy milk stout that plops it squarely on the top list for many fans of the darker brews.
7. Sixpoint Brewery Rad
Shandies and Radlers (beer mixed with citrus soda or fresh juice) had a big moment in 2014, and while Germany's Stiegl was a staple in my house, Sixpoint Brewing's Rad (3.2%) is a strong stateside contender with its conflicting aggressive levels of grapefruit juice and soft carbonation levels. I love Sixpoint's beers for their dialed in flavors and the Rad falls right in line with that mantra. There's not really hops or malts to speak of in the flavor profile, but 16 ounces of fresh, tropical countenance makes it a great summer sipper if you're a fan of drinks like Palomas and Mimosas. Consider it an appropriate beer for non-beer drinkers.
8. Off Color Brewing Fierce
Chicago's Off Color is one of the most inventive and brilliantly flippant companies making beer in America right now. The recipes are unusual and thought provoking, and Fierce, the low ABV Berliner Weisse, was a real summer highlight. The tiny 3.8% ABV brew has almost zero bitterness but a loud zingy tartness with sour lactobacillus and fruity saison yeast influencing the flavor. I desperately hope it becomes an annual release. 
9. Austin Beerworks Peacemaker Anytime Ale
This easygoing ale didn't launch in 2014, but the brewery's decision to re-release the flagship brew in a seven-foot-long 99-pack for a ridiculous $99 price tag grabbed the attention of CNN, NPR, Time and more. Marketing antics aside, the beer itself is crisp, perfectly balanced and thirst quenching — ideal for taking the edge off those hot Texas evenings. 
10. Breakside Brewery Aquavit Barrel-Aged IPA
Barrel-aged beers continue to capture the hearts and minds of brewers everywhere, and this year the spectrum of possibility broadened when experiments extended beyond the typical bourbon cask. Now, any barrel is fair game, like this IPA rested in House Spirits Krogstad Aquavit barrels. The hints of Scandinavian herbs soaked into the wood mingle so well with the bold hops in the IPA that the beer won second place in the experimental category at Chicago's Festival of Barrel Aged Beers.
11. Allagash Brewing Company Coolship Resurgam
The beer writer Joshua Bernstein introduced me to this older release at a bottle share this fall, and its funky, citrus-forward flavors have lodged firmly in my memory since. Resurgam is part of the company's coolship program, meaning it ferments spontaneously via interaction with natural yeasts in open-air vats. It won a GABF medal in 2010 and again this year, with silver in the Belgian-style lambic or Sour Ale category.
12. Jester King Brewery Cerveza de Tempranillo  
I love watching this Texas brewery continue to throw caution to the wind. This year they started re-fermenting barrel-aged sours with a variety of wine grapes, including Merlot, Blanc du Bois and my favorite, the Cerveza de Tempranillo. Unfiltered, unpasteurized and naturally conditioned, it tastes like a crisp, light-bodied wine-soda-beer hybrid with a biting carbonation and delightfully perky cranberry personality with dry tannins on the finish. Overall, it's incredibly inventive and quite simply put: an exceptionally well-made sour.
13. Greenbush Brewing Company Delusion
This year's bottling of Greenbush's Imperial Cream Stout was aged in whiskey barrels from Chicago's Koval Distillery, giving the beer a slightly dry, grainy backbone to support the inherently rich, chocolaty sugars in this 11.7% monster. I like the perky pops of raspberry jam-like sweetness, paired with a darker fig, milk chocolate and mint personality. A solid barrel-aged stout for any occasion.
14. New Belgium Brewing Company Salted Belgian Chocolate Stout
New Belgium broke ground on its new Asheville facility this year, and they continue to make headlines in regards to brewing sustainability as well. The most buzzed about offering from the brewery this year is their collaboration with Perennial Artisan Ales — a Salted Belgian Chocolate Stout released as part of the experimental Lips of Faith series. The salt helps round out the sweet flavors, making it a scrumptious option for people who like desserts that are both sweet and savory.
15. Bauhaus Brew Labs
More and more beers are finding a home in cans instead of bottles, meaning shelves are increasingly lined with beautifully designed packages. 2014 saw many beers move into canned form, but my favorite label design comes from Austin's Helms Workshop, who designed the eye-catching labels for the lineup from this Minnesota brewery. Aren't they just so fun to look at? Read our profile of Helms Workshop.
16. Goose Island Brewing Company Bourbon County Coffee Beer
The annual limited edition release from Goose Island always has beer collectors scrambling for the latest gem, and while I usually avoid the fray I was privy to trying the coffee stout this year. Best. Coffee. Stout. Ever. The body is thick with a clean focused java flavor you don't get very often from coffee beers, thanks to the use of Intelligentsia Zirikana beans sourced from Rwanda. Perfect if you like a bit of buzz with your brew. 
17. Other Half Brewing Company
Brooklyn's brewing scene is blooming, and I've heard a bunch of noise about this little brewery this year. Known for their expert finesse when it comes to hops, Food Republic's very own Jon Katz remarked that "few East Coast IPAs hold a candle to them right now," so they'll no doubt be a force to be reckoned with as they ramp up bottle and can production. Other Half also received the Brooklyn Brewery stamp of approval, as Garrett Oliver brought "ghost bottles" to the small and oft-packed tasting room in Carroll Gardens in October. 
18. Sierra Nevada Brewing Company Harvest IPA series
IPAs aren't always my first choice, but I'll never turn down those made with fresh hops — picked and brewed usually within a short 24-hour time frame. You simply can't beat the gigantic aromatics and the concentrated hop flavor, and few breweries have embraced the trend more than Sierra Nevada. The new Harvest IPA series features a specialty series made with fresh hops, single hops and wild hops. They were also the first brewery to experiment with Neomexicanus this year, a hop known for its wild apricot, melon and citrus aromas. 
19.  Wicked Weed Brewing Serenity
Wicked Weed entered 2014 with a bang when they bottled Serenity (an American wild ale) for the first time last March. The relatively young North Carolina brewery has several series in the works, including the most recent focus on Belgian-style Ales using fruit and spices that mimic old world flavors (think: dried cherry, lavender, honey, cranberries), but the 100% Brettanomyces beer Serenity captured the praise of beer enthusiasts and journalists across the country thanks to its fruity barnyard funk and pleasingly dry finish.
20. Jolly Pumpkin Artisan Ales Noel de Calabaza
Michigan's Jolly Pumpkin is the Midwest king of sours beers, and this winter's Noel de Calabaza is an exceptional sour beer for the holiday season. There are more malts present than other sour brews, helping it feel more appropriate for cold weather drinking, and that character helps weave other darker flavors like fig, roasted chestnut, raisins and sugars together with the naturally sour base. I'll be ditching the Great Lakes Christmas Ale for this pretty sour this year.
Read these 2014 In Review stories on Food Republic: