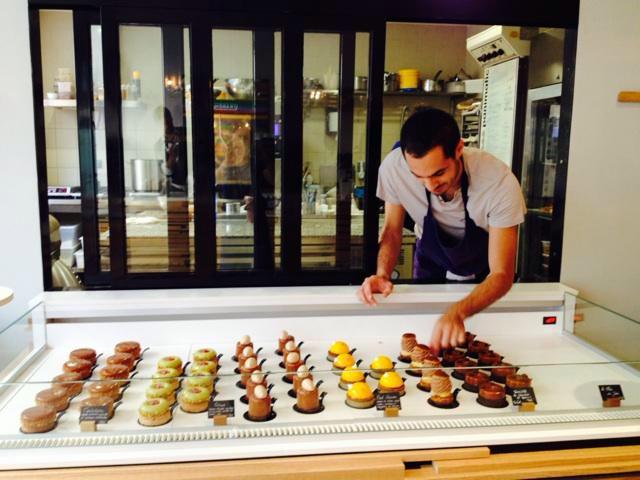 New York pastry chef Pichet Ong grew up in Thailand, Hong Kong and Singapore. He has toured the world extensively in search of the best things to eat (many of them on the sweeter side of the flavor spectrum). Often, he finds himself in Paris, where he'll spend days combing the city for the latest and greatest in the world of baking and pastry. When there, here are 10 of his favorite new wave places.
When it comes to desserts, sweets or anything related to pastry, Paris has got to be the city that first comes to mind. Not only do Parisians have a long tradition of eating sweets — they consume them all day and everyday — the city is also home to many MOFs (short for Meilleurs Ouvriers de France), master craftsmen who compete every three or four years. As a pastry chef and serious eater of desserts, it's an eye-opening experience every time I go. There are the internationally known institutions and classics such as Ladurée, Maison du Chocolat, Maison Berthillon, Lenôtre, Jacque Genin, Sadaharu Aoki, Blé Sucré, Poilâne, Jean-Paul Hévin, Eric Keyser, L'Eclair de Génie and Pierre Hermé. But, the 10 places listed below are slightly newer places, representing a more au courant wave of pastry cookery.
1. Gateaux Thoumieux 
This is the place to go when you visit the Eiffel Tower, located just a stone's throw away. Chef-owner Jean-François Piège and his patissier Ludovic Chaussard are genius when it comes to fruits. They take restaurant dessert concepts and construct them in the form of cake. Get the Cerisier (chocolate-cherry cake) or the strawberry-rhubarb tart when in season. Also, they make an awesome limited batch of kouign-amann, which sells out very quickly. 58 Rue Saint-Dominique, 75007 Paris, +33-1-45-51-12-12, gateauxthoumieux.com
2. Hugo & Victor 
This is a handsome store designed in "Dior Homme" shades of gray, with bright colorful pastries to match. Masculine in style, patissier Hugues Pouget makes individual cakes, tarts and pastries with minimal fuss and clean designs relying more on shapes. The (former) architect and modernist side of me likes any of his unusually shaped tarts made with seasonal fruit or chocolate. I like the Hugo Passion dome, or single-origin-ingredient macarons. Desserts can also be enjoyed with Champagne, fitting the French tradition of eating and celebrating sweets in concert. Multiple locations, hugovictor.com
3. Michalak Masterclass 
One of the most followed patissiers on Instagram, Christophe Michalak's pastries are skillful, but whimsical, works of art that are very inspiring to many pastry chefs of the now generation. In addition to an e-commerce shop, you can visit the dessert truck Choux d'Enfer or the brick-and-mortar Takeaway Shop, where you can enjoy one of the plated desserts with tea, or a flight of verrines. The also make the best chocolate chip cookie in Paris – if you get homesick and crave one. 60 Rue du Faubourg Poissonniere, 75010 Paris, +33-1-42-46-10-45, christophemichalak.com
4. Café Pouchkine 
I'm big on the "fusion" of cultures that I've been exposed to through endless travel, and thus I appreciate what MOF Emmanuel Ryon does here. Amazement starts immediately, eyes dart everywhere. In the case you can go for one of the fantastically ornate cakes that matches the glittery and opulent Franco-Russian style décor — such as the charlotka or moskito. With tea go for a simpler slice of the light, ethereal, and less sweet galette medovick. 64 Boulevard Haussmann, 75008 Paris, +33-1-42-82-43-31, cafe-pouchkine.fr
5. Liberté Patisserie Boulangerie 
Home to Benoit Castel, who is making some of the best artisanal breads in town. You can't go wrong with any of the big selection of viennoiserie, but I could also go for sweeter treats — to go with a good cup of joe — such as the very original tart citron, chocolate-praline cube, financiers or la tarte à la crème renvensante — with the flakiest shell in town. 39 Rue des Vinaigriers, 75010 Paris, +33-1-42-05-51-76, liberte-patisserie-boulangerie.com
6. Du Pain et Des Idées 
With more shops selling fresh croissants per square footage than any other city in the world, this is my pick for the best one in Paris. Nothing is typical here – exotic aromatics and spices are used in many offerings – with the pain des amis being most recommended. My favorite is the beautiful "les escargots" — which come in flavors like pralines, chocolate-pistachio, cassis, and the more adventurous nougat and rum raisin. 34 Rue Yves Toudic, 75010 Paris, +33-1-42-40-44-52, dupainetdesidees.com
7. Des Gâteaux et du Pain 
Patisserie Claire Damon is not shy when it comes to flavor at this very stylish pastry boutique. Every component in her signature J'Adore la Fraise utilizes the strawberry to its maximum; the gorgeous apple tatin is seasoned with maple syrup; while chestnut tart is paired with cassis. It is all about surprise and delight here – pound cakes come in a variety of flavors including salted caramel. Even the sable biscuits comes in parmesan or Himalayan blue poppies. Multiple locations, desgateauxetdupain.com
8. Colorova Patisserie 
This eclectic Left Bank salon could be my most beloved new shop —  suggested by New York City's Jennifer Yee of Lafayette. We both love the quirkly, homey feel of the stylish room with internationally inspired appointments, particularly the wooden display case that houses many whimsically structured cakes — and the view of chefs working in the kitchen. Get anything and everything here, like the lemon and sesame tartlet, or the Bailey's and banana tartlet. They are all standouts, including the savory foods. Try brunch! 47 Rue de L'Abbe Gregoire, 75006 Paris, +33-1-45-44-67-56, facebook.com/orlova2013
9. Patisserie Ciel 
I adore everything about this place – elegant, serene and understated. Pastry chef Youlin Ly has a perfect chiffon recipe – and the lightest touch — that's synonymous with Japanese-style French cakes. The staple roster of popular Asian flavors are all featured here, including matcha, sesame and yuzu, but unless you return everyday, I would go for seasonal fruit–based specials. The origami gift boxes that house these beauties are art-like collectibles by themselves. 3 Rue Monge, 75005 Paris, +33-1-43-29-40-78, patisserie-ciel.com
10. Popelini 
This shop represents the next wave of pastry shops that take a singular theme of choux and make a whole variety of treats of all shapes and flavors. These cream-filled puffs are becoming ubiquitous — they're delicious and small enough to have half a dozen in one sitting. You might say they're the Paris equivalent of NYC's cupcakes (circa 2005). But if you're going to try choux in the City of Light, this is the place to try them. 29 Rue Debelleyme, 75003 Paris, +33-1-44-61-31-44, popelini.com
And make sure to follow Pichet Ong on Instagram (@PichetOng). It's one of our favorite chef accounts, and dude does travel.
Read more about Paris on Food Republic: