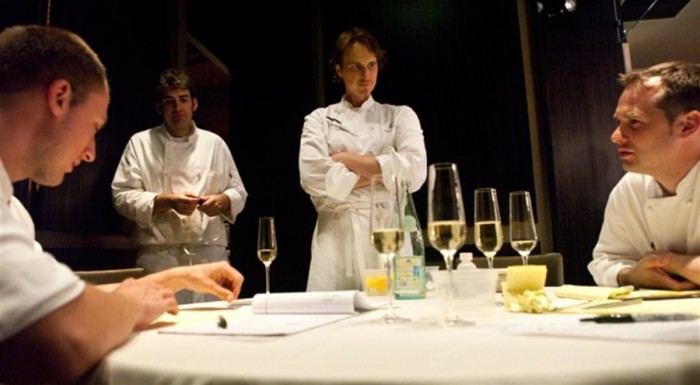 The team behind Chicago's innovative rotating-theme restaurant Next announced the three new concepts for 2015 last week — including Spanish tapas and a wine-centered concept called "Terroir." But since it's French Week here at Food Republic, our interest specifically piqued when we heard that French Bistro cuisine will take the first rotation of the year.
The Bistro menu will run from January to April, with a five-to-seven course chalkboard menu that changes by the week and specials that rotate on a daily basis. Price points range from $80 to $120, which is significantly more affordable than menus of the past.
After speaking to Grant Achatz about the decision via email, it became clear that the choice wasn't based off any flash-in-the-pan "French food is on the rise again," he says, eschewing the word trend. Instead, it's a way of bringing attention to the history and enduring legacy of French cuisine.
While some critics argue the theme isn't quite as exciting as previous iterations, Bistro makes sense for the restaurant timing-wise. Next originally opened with "Paris 1906" in 2011, a menu centered on the technique of famed chef Escoffier. Now, four years later, Achatz looks to where Parisian culture was in 1910 (four years later in France, see the time parallel?). After the city's notorious flood caused most of the city to rebuild, bistro fare rose in popularity.
"It seemed fitting to do this rich, hearty food in the dead of Chicago winter," Achatz says. He was also drawn to the casual cuisine because it "allows for more creative freedom." Without the need to compose the elaborate, highly refined banquet-style feasts of 1906, menu items will be spontaneous and ephemeral, and most will be selected with seasonality and availability in mind. "If we get a whole pig, we get one brain, one tongue, four trotters, two huge hams, one liver etc. We will cook them, and when they are gone they are gone."
While Achatz says inspiration for the theme isn't based on any specific bistro in Paris (although he admits the team's favorites from their travels are Bistro Paul Bert and Chez l'Ami Jean), each menu will pay specific homage to the true classic bistro experience, without gimmicky or trendy twists. "Some things will come over like classic steak tartare, the use of organ and game meats, mushrooms like chanterelles, classic soups and preparations like terrines," he says, "but also more luxurious dishes like Rossini." (For the uninitiated, Rossini is a steak dish bathed in butter and topped with a sliver of foie gras.)
As far as the bigger picture goes, Achatz doesn't necessarily think that French food or Bistro cuisine is necessarily on the upswing in the States ("did French food ever go away?" he asks), but part of the reason why he wanted to bring the menu to life was to honor restaurants in the U.S. making true bistro food as well. Some of his favorites? Blue Ribbon, which he calls "an American Hipster Bistro," and Balthazar, both in New York City.
Read more from France Week on Food Republic: