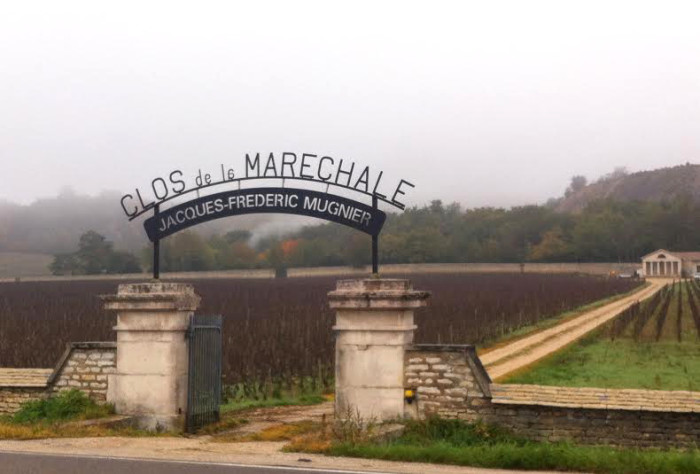 You're at your local wine shop, eyeing the Burgundy. You've drunk a few in your day, with favorable results. Perhaps you've familiarized yourself with certain names, like Vosne-Romanee or Chassagne-Montrachet, enough to know that the first place is known for its powerful reds, the second for elegant and flowery whites. There's a $150 Grand Cru staring at you. Is it worth it, you think, given the many variables that could make a wine great? Could it be a dud? And an expensive dud at that.
While it takes much time to become a Burgundy expert, it is possible to learn a lot about the region through a short visit. On a recent trip there, while touring up and down what's known as the "Côte d'Or" that includes the Côte de Nuits (known for Pinot Noir) and the Côte de Beaune (known for Chardonnay), I was startled at how close together some of the appellations were. I walked from Vougeot to Chambolle-Musigny in 20 minutes, for example. Ambling around Chassagne-Montrachet, I noticed that many Premier Cru plots were right alongside the Village ones. So, then, what exactly does "terroir" mean in Burgundy, I wondered?
In the company of legendary importer Becky Wasserman's team, I tasted the 2013 vintage of some of Burgundy's most established winemakers. Frédéric Mugnier, a fifth-generation winemaker in Chambolle-Musigny, told me that Burgundian winemakers "have tried and tried to determine why one plot tastes different than another, but it's impossible." He added that he thinks it has to do with "the behavior of water in the soil, the soil's capacity to take in water."
Third-generation winemaker Pascal Mugeneret in Vosne-Romanée, who took the reigns of his domaine 10 years ago and works biodynamically, said that he tries to "find the balance in everything, see and understand what the vines say."
Caroline Lestimé, of Domaine Jean-Noel Gagnard in Chassagne-Montrachet, said that one great thing about Burgundy is that "there is no monopoly" over the land, since multiple winemakers will often share plots of Premier and Grand Cru sites (unless they are Monopoles, which have single owners); the benefit of this is that "everyone can express what he wants, what he thinks. There is no uniformity. This is a richness."
Richness, indeed. Generally speaking the Premier or Grand Cru status is attached to a site for historical reasons, having to do with when a plot was planted and who was in charge of it, as well as geographic ones, such as soil quality, elevation, slope gradient and sun exposure. It's complicated, but here are a few basic guidelines and classifications to help you become a more informed Burgundy drinker. Following that, Food Republic got in touch with New York City's foremost Burgundy expert, John "Beaver" Truax. "Some Burgundy lovers say that there are no bad vintages, only the wrong times to drink them," Truax explains. Nevertheless, he provided us with "some sweeping generalizations about the last 10 vintages."
Burgundy Classifications (created In 1861):
Bourgogne is the regional classification, meaning it can be from just about anywhere in a region or sub-region (in which case a region will be named like "Cote de Nuits," but not a village or site), and will be a blend of multiple sites. This represents about 40 percent of Burgundy's production. Drink it young.
Village-level wine will contain parcels from the area around a village, which will be named on the label. The wine might be sourced from slightly more specific "lieux-dits" that are known for specific attributes but don't have AOC status, and it might even include Premier Cru sites. Village Burg is a great value to be drunk young or cellared.
Premier Cru represent 18% of Burgundy's total production. You will pay more for them, and they will be worth it. These are vins de guard not to be drunk earlier than, in most cases, five years old, or ideally as much as 12 years. The name of the Premier Cru site will be on the bottle alongside the village name.
Grand Cru is rare and very expensive. Grand Cru represents less than 5% of total production in Burgundy. You'll notice that some villages take their names from the nearby Grand Cru sites, such as Montrachet, Chambertin and Musigny.
John "Beaver" Truax On The Latest Burgundy Vintages:
2003 – Whites have aged surprisingly well and turned into something no one would have suspected. Maybe the reds will surprise everyone 10, 20 years from now. It was one of the earliest harvests in history: the heat was oppressive all over Europe. Nearly impossible to predict or figure out.
2004 – Much better for white than red, but these whites are now 10 years old. Lots of the reds had an unripe, green quality because there was so little sunlight. Some growers did a "green harvest" and there were enough leaves to power photosynthesis and ripen the grapes that were left on the vine. Very few growers made good reds. 
2005 – A great vintage for both red and white and very plentiful. The reds will be particularly long lived.  Great balance. A remarkable vintage that will last and last.  Wonderful wines in all price ranges, red and white.
2006 – The whites are very good but not for the long term. The reds are delicious at the moment and the best should last for 10-20 years. Lots of good values as the wines were overshadowed by the 2005's.
2007 – Produced many good whites and reds for mid-term drinking, the whites may be longer lived. The reds are fruit forward and delicious and will surprise people as they age and gain weight and complexity. An overlooked vintage at the time and also impacted because of the worldwide financial crisis.
2008 – A cool and dark and damp summer rescued by good weather and winds just before harvest. A difficult vintage, very touch-and-go for the growers. There are both good reds and whites which are starting to come into their own now.
2009 – A great and abundant vintage — the best since 2005.  Fine reds and whites in great quantity, a godsend for the growers. Some may argue that the reds are too fruit driven and that the wines are more ripe than true to the character of the individual Burgundian vineyards. Most consumers find the wines delicious; they are low in acidity and user-friendly.
2010 – A small vintage of concentrated high acid reds and whites — a small vintage that will age for many years to come.
2011 – Wonderful early maturing whites and lots of very good reds. This is a misunderstood and underrated vintage for reds in particular that should just get better and better and better with age.
2012 – Very good for reds and whites, good ripeness for the reds, great balance.
In a nutshell: if you can invest in wine that's 5-7 years old, you'll likely be in in optimum drinking window. Anything younger should only be drunk if it's meant to be drunk young — such as a village-level wine, or Bourgogne. But again, this is just a generalization. Sometimes you don't know until you open the bottle whether a wine is ready or not.
Once you've started drinking more Burgundy, you'll find that there are times when you feel you paid too much for a wine, or the bottle isn't showing well. To this, Truax says: "Find me an American Pinot Noir from anywhere that drinks like a $20-$30 Bourgogne Pinot Noir. It's hard to do." Whether or not you agree, it's true that drinking Burgundy is a bit of a gamble. If you're not willing to ante up, then don't get into Burgundy — save it for the crazy ones who can't get enough. 
---
This post has been brought to you by our friends at the France Tourism Development Agency: