Would You Pay $260 For A Fancy-Ass Chocolate Bar From Ecuador?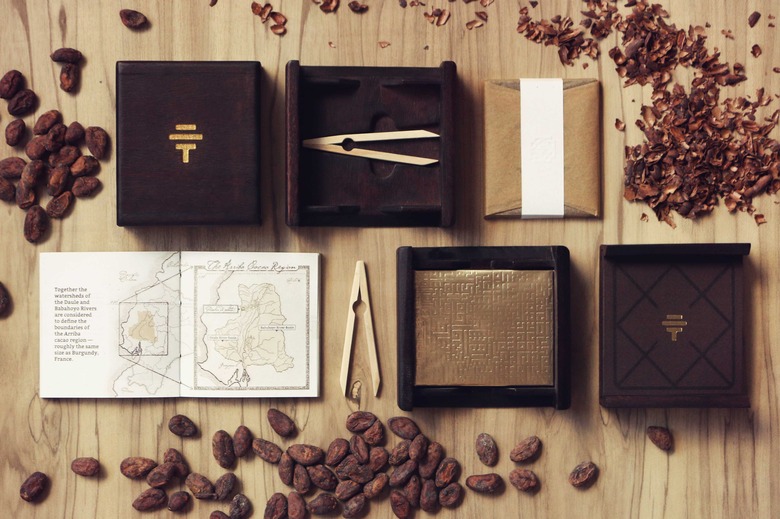 Suddenly, shelling out $10 for a Mast Brothers chocolate bar seems rather pedestrian. After all, you can get 26 of those daintily wrapped, handcrafted-in-Brooklyn dealies for the same price as a significantly less-filling, 1.5-ounce serving of the limited-edition To'ak variety, whose astronomical pricetag ($260 a pop) has been making headlines lately, particularly in the financial press. (See Fortune, Forbes.)
How does it taste, you ask? Well, Los Angeles Times restaurant critic S. Irene Virbila, who was lucky enough to sample a sliver, describes it as "very intense, with notes of cherries, earth, flowers. As it melts, you find sandalwood, caramel, hazelnuts, orange blossom — and more." Hopefully, there are notes of actual chocolate flavor in there, too.
Each bar comes in a sharp-looking wooden box with a set of sharp-looking wooden tweezers ("so the oils on your fingertips don't interfere with the taste," as Forbes points out) and also a 116-page booklet on proper tasting techniques. Oh, and for maximum effect, the recommended drink pairing is a dose of equally esteemed Pappy Van Winkle bourbon. OK, now they're just trolling.
Sure, it all sounds awfully ostentatious — especially on the cusp of a reported chocolate shortage. But, there's a reason why the stuff is so pricey, as Modern Farmer helpfully explains. You see, the current batch of 574 chocolate bars, which reportedly took some two years to manufacture in the painstaking old-school Ecuadoran tradition, is made from cacao beans grown in a remote, untouched grove of Fino y de Aroma trees, which were almost wiped out by disease nearly a century ago. And, the investment banker turned chocolatier who is now making the premium chocolates doesn't think those ancient trees are going to last forever. In other words: it's really rare stuff. Hence, the extreme markup. That's the storyline, anyway.
Reaction on social media has ranged from wry and sardonic to racially tinged. Here, are some of our favorites:
People pay a lot for a good story "@ModFarm: This chocolate bar costs $260 http://t.co/oUPxihRdw3"

— Jacob Friis Saxberg (@webjay) December 2, 2014
This chocolate bar costs $260 and you probably want to set things on fire now. http://t.co/ejH43Twofq pic.twitter.com/HEcP61shHF

— Modern Farmer (@ModFarm) December 2, 2014
@ModFarm "Toth, a former Wall Street investment banker..." No further explanation required.

— charlotte druckman (@cettedrucks) December 2, 2014
$260 choc bar + $130 for a bourbon "because their nuances somehow manage to stand on the same ground"? Really? http://t.co/ZEbnqU5SG2

— Mark Rowe (@CORNER5TONE) November 26, 2014
Cuz white ppl =the worstRT @ModFarm Why does this bar of chocolate cost $260? #burnitdown http://t.co/MeolLP8ieV

— Will (@2UGT) December 2, 2014
Read more about chocolate on Food Republic: