5 Places To Eat Excellent Boudin In And Around Lake Charles, Louisiana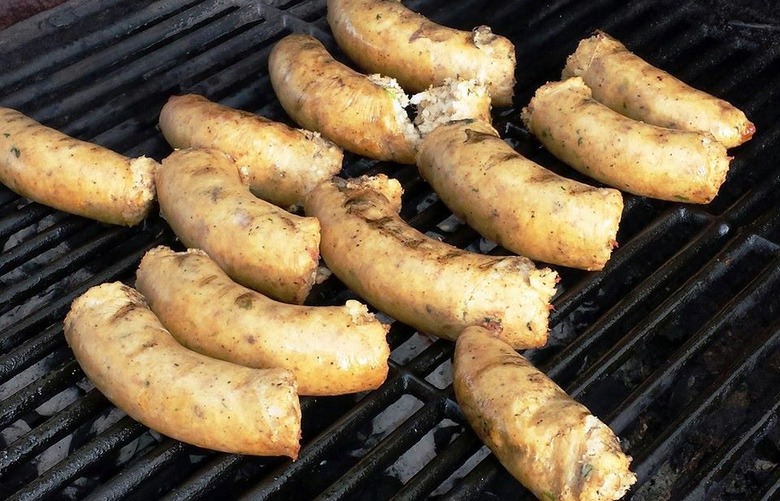 Think of boudin as the down-home Cajun style of sausage. The rice-and-pork tubesteak is native to Lake Charles, Louisiana and the surrounding area. And, it's pronounced "boo-DAN," thank you very much. This pale frank started as a typical product of a boucherie, the day Cajun-French families would butcher a whole pig. Like most of its meaty brethren, boudin provided an excuse to use up every last pig part. And, since this is rice country, some of that was thrown in to stretch the pork.
Though once looked down upon as a poor man's food, boudin's stock has risen in recent years. These days, there's a thriving network of mom-and-pop joints in Lake Charles and beyond specializing in this homegrown product, each with a slightly different recipe. Smoked and spicy varieties are common. Fried boudin balls are popular, too. Creative spins might include boudin stuffed with alligator or crawfish. And, there's at least one boudin burger. Here are five essential pit stops for getting your boudin fix in Cajun country.
1. B&O Kitchen & Grocery
Ten miles from Lakes Charles, in the small town of Sulphur, you'll find this 31-year-old establishment with a billowing American flag and, most likely, a few pickup trucks out front. Jeff Benoit is the third-generation owner, and if you're nice to him, he might let you come out back to the smokehouse, where some of the sausages are hung to dry. You might also spot the special oil-filled cauldrons rendering his award-winning cracklins (cubes of fatty pork meat and skin, another area specialty). The takeout joint goes through upwards of 200 pounds of boudin a day. It also offers cheese-stuffed boudin balls (popular for tailgating, says Benoit). And, there's even a burger made from a smashed boudin ball, dubbed the gaudidaun (meaning "look at that" in the regional French). Thursday lunch plates like brisket or gumbo have proven so popular that Benoit is planning to add sit-down seating sometime in the next year. 3011 E. Burton St., Sulphur, LA; 337-625-4637; facebook.com/pages/BO-Kitchen-and-Grocery
2. Hollier's Cajun Kitchen
Another one located in Sulphur, Hollier's is most popular for its lunchtime and dinnertime all-you-can-eat buffets (as the girth of its clientele attests). Still, if you order off the menu, there's some tasty boudin — and you can really taste the pig liver, a traditional ingredient many places now eschew. The deep-fried boudin balls are very nicely spiced, and there are alligator balls, too, in case you're feeling adventurous. 1709 Ruth St., Sulphur, LA; 337-527-0061; hollierscajunkitchen.com
3. Famous Foods
Amid the gas stations and used-car lots of Highway 14, you'll find Famous Foods, where three generations of the Guillory family turn out award-winning boudin and cracklins that folks have been known to drive all the way from Mississippi to eat. "It was my daddy's recipe," explains the charismatic Darby Sr. about the boudin his own father used to sell at another now-closed family restaurant. "He taught me to use every part of the pig." Famous Foods, which sits on the site where Darby Sr. originally ran a snow cone stand, has plenty of seating. In addition to smoked and regular boudin and three kinds of not-to-be-missed cracklins (regular, smoked and spicy), you'll find a freezer stuffed with specialties like Darby's famous cornbread boudin. The must-have accompaniment to all that meat? Fresh biscuits drizzled with Steen's, a molasses-like sugarcane syrup. 1475 Gerstner Memorial Dr., Lake Charles, LA; 337-439-7000; famousfoodsllc.com
4. The Sausage Link
In Sulphur, located next-door to the popular LeBleu's Landing Cajun restaurant, sits the Sausage Link, a butcher shop turning out 1,000 pounds of boudin each week. Boudin master Matt Fruge, who started his work while still in high school, reveals that his secret recipe contains rice, pork, pork broth, green onion, yellow onion and parsley, among other ingredients. You can watch it being made through glass windows that look onto the butchering area. The shop sells deep-fried boudin balls and cracklins, as well, along with unusual frozen offerings like crawfish etouffee and gator boudin. Or, for those special occasions, turducken. 2400 E. Napoleon St., Sulphur, LA; 337-625-2030; facebook.com/pages/The-Sausage-Link
5. Sonnier's
If a boudin craving strikes while you're exploring historic downtown Lake Charles, pop over to Sonnier's, conveniently located near the town's main attractions. The six-year-old outpost looks like it's been around longer, and sells boudin in the now-familiar smoked, spicy and regular varieties. This is mostly a takeout joint, but there's one plastic table and a couple of chairs out front if an immediate need to nosh should strike. 1217 Mill St., Lake Charles, LA; 337-656-2876; facebook.com/pages/Sonniers-sausage-and-boudin
Visit Lake Charles publishes an online and print map of the Southwest Louisiana Boudin Trail. Check it out here.
Read more about Louisiana on Food Republic: