Want To Cook In LeBron James' Miami Kitchen? Just Buy His Old House.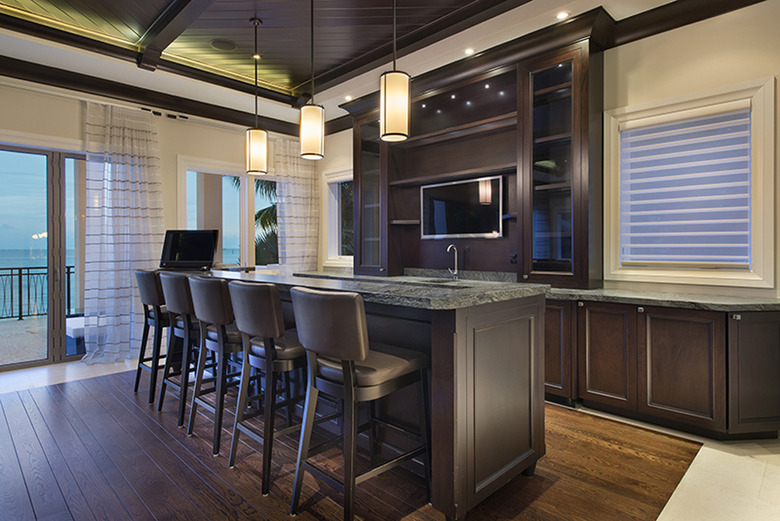 Is your kitchen countertop too crowded? Did your fridge settle into its perch sometime late in the last century? Maybe it's time you get a new kitchen — or better yet, a new home. And as long as you're going to make a real estate splash, why not buy a celebrity's former digs, like noted Cleveland resident's LeBron James' now-vacant waterfront Miami manse, where all 12,178 square feet — and a designer kitchen — can be yours for $17 million.
Real estate site Zillow sent out an email this morning tied to Thanksgiving, showcasing the drool-worthy kitchens of celebrity homes that are currently on the market. Titled "Guess the Cook," the missive teases out photos of Jennifer Lawrence's new Beverly Hills home, where the Kerry Joyce–designed kitchen playfully balances stainless steel appliances, white cabinetry, and wood and marble surfaces. The Academy Award-winner bought the 5,500 square foot home from Jessica Simpson, who had it listed at $7.9 million, according to Zillow.
As a reader of Food Republic, you already know that model Chrissy Teigen is obsessive about food, so it's no surprise that the kitchen in the mid-century modern home she owns with husband John Legend is made for entertaining. (Legend even recorded some of his latest album in the home, reportedly.) It's an open kitchen with teak cabinetry and tastefully exposed vents, and it's a throw-in with the on-the-market Hollywood Hills home, which is on the market for $1.995 million.
Want to imagine what cooking in a kitchen like this would be like? Check out the video of Legend and Tiegen's home.