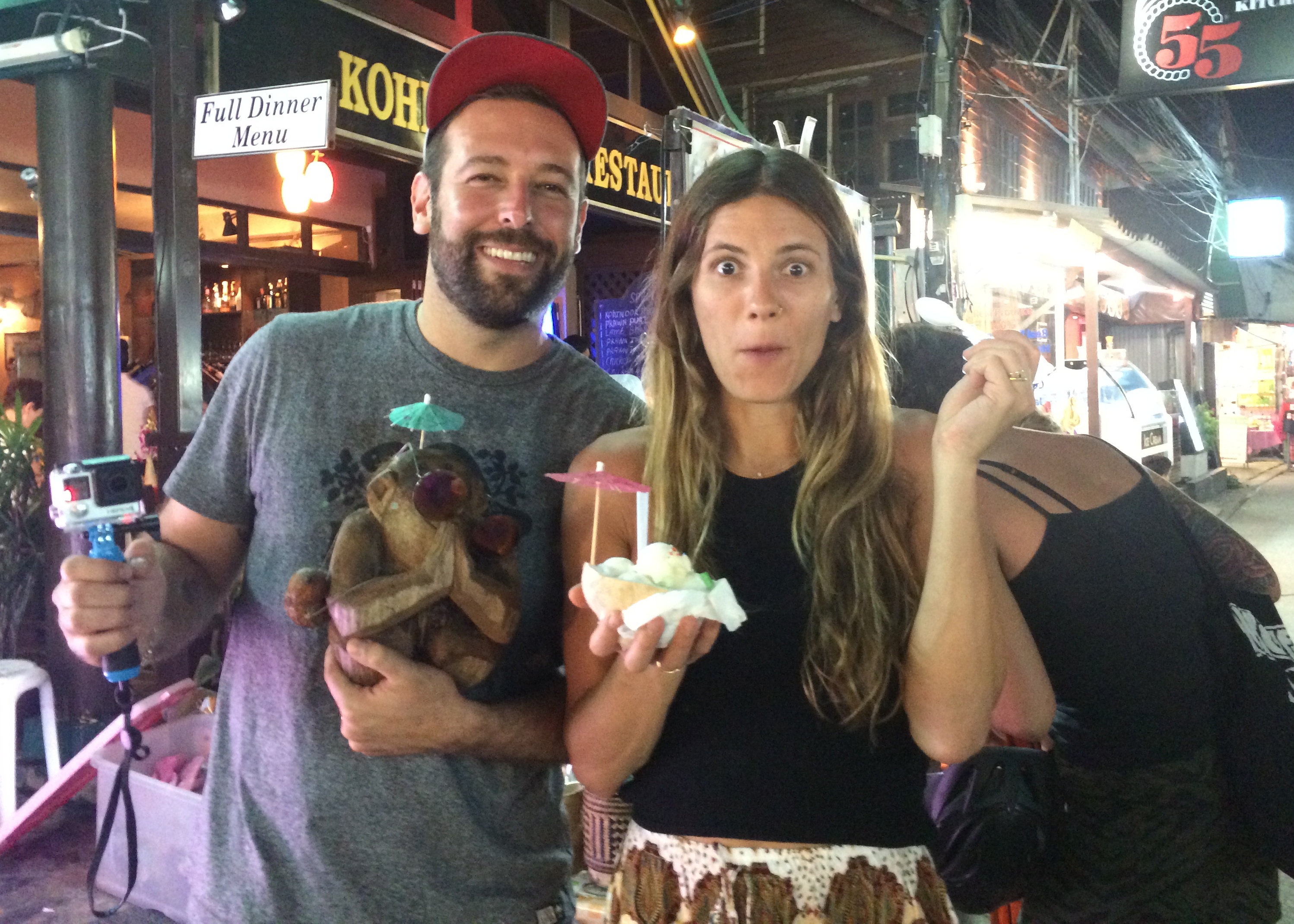 Eden Grinshpan is the host of the popular Cooking Channel show Eden Eats. A recent Forbes 30 Under 30 award recipient, she studied at Le Cordon Bleu in London and also stars on Log On & Eat with Eden, a weekly travel program in which she connects with food bloggers, YouTubers and tweeters around the globe. Fresh off her second trip to Thailand with her husband, the television host wrote in to Food Republic to discuss her favorite stops and eats along the way.
This was my second time in Thailand, but my first time on the islands. The first time I came to the country, I flew into Bangkok and traveled up to Chiang Mai in the North. This trip was a last-minute vacation that I booked with my husband, who had never traveled to Asia. I have spent a lot of time there and was dying to take him on a new adventure, knowing that he was going to love it! I absolutely love introducing people to new foods and experiences — it is a total high for me.
Thailand has such a beautiful culture, climate and delicious food. The street food all over Thailand is dynamite! Where to begin? The herbs, spices, seafood, BBQ, different interpretations of the dishes (which vary from region to region), discovery of new foods, use of kaffir lime leaves, chilies, Thai basil, coconut, fish sauce, lemongrass. Wow. Then there's the people watching and friend-making. There really is nothing that is not fun or exciting about traveling in Thailand.
The first time I went to Thailand, I took a cooking class in Chiang Mai and learned how to make pad thai. I have dabbled in some Thai cooking in my own home, having made green curry and papaya salad. I love mango sticky rice so much and so I had to learn how to make that this time around (I found a place to buy glutinous rice and it was a game changer). Traveling in the country is really easy. Since my husband and I spent most of our time on the islands, we traveled by boat between them. The fast "fancy" boat was around 15 bucks per person and the trips were very short. The longest boat ride, which was from Ko Samui to Ko Tao, was around two hours. 
Bangkok
The street food in Bangkok in my opinion is the best in Thailand. There is so much to choose from and so much influence from neighboring countries. All we did was eat street food: we roamed the streets and grabbed whatever looked amazing…all day, every day. It helps that the portions are small-ish, which aided our "grazing." Some standout dishes were deep-fried whole snapper with chili, tamarind and garlic (known as the "deep-fried three flavors fish"), red curry whole prawns, delicate shumai in Chinatown, tons of mango sticky rice, pad thai, papaya salads, steamed rice cakes, grilled bananas, sticky rice in banana leaves stuffed with coconut, grilled condensed milk toast, hot soy milk drink with sugar, barley and coconut, chili fried sea clams with Thai basil, tom yam, Thai coffee, lots of Chang, Tiger and Singha beers and much, much more. We would always eat where the stalls seemed the busiest and where the locals were eating, which we felt got us the freshest and most authentic food. It also helps that the street food is the cheapest food, whereas the touristy restaurants are double — if not triple — the price! We would get the same dish, which was more authentic and a quarter of the price, just two blocks down on the quieter streets. Most of the dishes we ate on the street cost us around two to five bucks each!
Ko Samui
Tons and tons of seafood! The islands of the Thailand are obviously a warmer tropical climate, so the seafood is out! Beautiful green-lipped mussels, red snapper and massive prawns were some highlights. There were fewer street vendors near where we stayed during the day, but you can be sure we jumped on it whenever we stumbled across any. One of my favorite green curry dishes of the trip was in Ko Samui. A delicate, perfectly spiced and deeply flavorful green curry with chicken, Thai eggplant was served on top of rice noodle with a heaping pile of fresh Thai basil and other Thai herbs, green beans, the crunchiest, sweetest cucumber, bean sprouts and crispy winged bean. There is an epic night market in Ko Samui with tons of drink stands — the Chang is flowing, the music is going and the street is packed! There were definitely fewer options for street food in Ko Samui than in Bangkok, but the options were delicious. Some of our favorites were BBQ spare ribs that seemed almost jerky-like, deep-fried pork skewers with sticky rice and chili fish sauce, fresh coconut ice cream served in a coconut, BBQ oysters with chili and garlic and papaya salads served with fresh blue crabs.
Ko Tao
Ko Tao was the busiest island yet! It is smaller than the other islands, but the streets are packed with people and food vendors — servings lots of pancakes — that really cater to them. We rented an ATV so that we had the freedom to travel and explore the island and discovered one of the best BBQ street stalls, which happened to be across the street from one of the most popular touristy restaurants. (I just wanted to go in there and bring everyone over to the other side!) The BBQ chicken skewers were so tender and flavorful that we ate eight of them. We also ordered a curry-flavored grilled pork sausage, which was loaded with herbs and spices inside, and mind-blowing. 
I also tried Massaman curry for the first time: it's sweet and spicy, an Indian-influenced Thai curry rich in spice. And yes, I got a side of Penang curry with that Massaman — why would we try just one? We were in kaffir lime leaf heaven. Finally, we had a meal of lemongrass-steamed snapper with ginger and lime. Yum!
Ko Phan Ngan
Ko Phan Gan is where the full moon party happens, so you can only imagine how packed the island gets! Luckily for us we went after, so the island seemed pretty calm. There was a line of food stands near where the boat dropped us off, so naturally I had to grab something before our drive to our hotel. I went to the busiest food stand and pointed at what looked delicious to me, which turned out to be the hottest food I have had in Thailand yet: Thai red pork curry served on rice noodles. The woman who sold me the dish kept asking me if I was sure I wanted it, and after eating it I knew why she had asked! The hotel we stayed at had a small town nearby with the cutest little local restaurants. We ate fried soft shell crabs with fresh pepper and garlic, ground chicken laarb, even more Massaman curry, deep-fried green banana with a fresh coconut batter, bananas stewed in hot coconut milk and khao tom goong — Thai breakfast rice soup with shrimp, fresh ginger, fish sauce, fried garlic and scallions.
I have to say that Bangkok still stands out as my favorite food spot in Thailand. The islands have their own street food and local spots, but the street food in Bangkok is so diverse that almost every stand is different from the next. You can't be intimidated by any of the food stands, especially if it is a busy one! You can see how clean they are, how fresh the produce is and if it's busy, the cooks is always buying new ingredients. I can't really pick a favorite dish, since they were all incredible, but some standouts have to be the green curry with rice noodles in Ko Samui, the mango sticky rice (everywhere and anywhere in Thailand), the BBQ chicken skewers and pork sausage in Ko Tao and the fried whole snapper with tamarind, garlic and chili in Bangkok. I absolutely love the way Thai cuisine uses fish sauce. I know it can be a little intimidating to most, but once you get over the smell and start incorporating it into your dishes, you will realize the depth and umami richness it brings to your food. I also have a thing for Thai basil, tamarind sauce and kaffir lime leaf, so I am sure I will use much more of that in my cooking. I am always inspired by my travels and I definitely will be creating more Thai-inspired dishes at home.
Read more about Thailand on Food Republic: