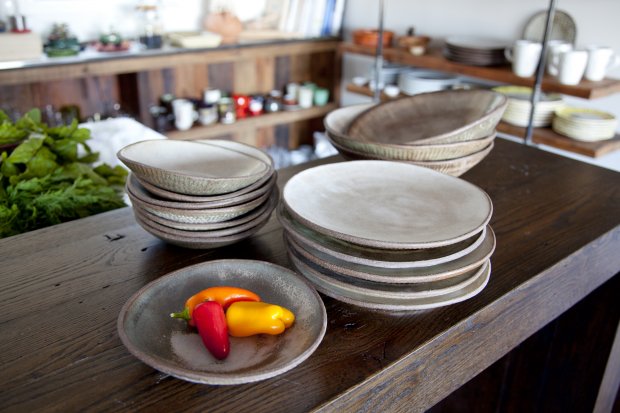 Stuart Brioza and Nicole Krasinski, the duo behind the perennially packed, James Beard Award-winning San Francisco restaurant State Bird Provisions, haven't divulged too much about their much-anticipated venture next-door, The Progress, opening sometime before the end of the year. Here's what we do know: its name comes from its former occupant, the Progress Theater, and the design will be much more spacious, about 90 seats. Although the menu items are hush hush, we got a preview of what everything's being served on.
Mary Mar Keenan, the San Francisco-based ceramacist behind MMclay (her own one-woman studio) was enlisted by Brioza more than two years ago to begin the process of creating nearly 1,000 unique pieces of tableware for the forthcoming restaurant. Keenan, whose training in ceramics and pottery includes stints in Virginia, North Carolina, Colorado and Italy, makes all of her pieces by hand, turning out stunning, one-of-a-kind wares that can be found in nearby hotspots including A16 Restaurant, SPQR, as well as State Bird Provisions.
And, while you can't eat at The Progress yet, you can now actually buy its artful, earth-toned plates, bowls and platters. Appropriately named "The Progress Collection," you'll find them all on MMclay's website. Read on for the inspiration and process behind this two-year collaboration, plus a sneak peak at what you'll soon see adorning the tables.
All your pieces are handmade, correct? How does everything come out so uniformly?
Keenan: I love the rigidity of a wheel-thrown cup contrasted with a hand-built plate. Typically, in my work, I do both. The tableware that I recently developed for The Progress was designed using clay slabs that I roll out and then lay over hump molds I created. When needed, I add a coil to the bottom to create a foot, and then stamp the texture into the back using a small wooden tool. For the dinner plates and share plates, I got some help from an expert mold-maker in Red Bluff. He made molds from my masters, and then ram-pressed and bisque-fired a quantity of each to my specifications. This way, the plates stack beautifully and have a more uniform look. All of my glazes are brushed on and, because of the variety of my glazing, each piece has a very distinct look, and is truly one of a kind.
Wow, that's quite a process. How large is your studio space? How many kilns do you have?
It's roughly 400 square feet and I have two kilns. One kiln is a small electric kiln, where I do most of the bisque firing. The other is a large Bailey gas shuttle kiln, which can be fired in either a reduced or oxidized atmosphere and has about 18 cubic feet of space. I can fit up to 80 plates in it in one firing.
How did you get involved making plates and tablewares for restaurants?
I worked the "front of house" in San Francisco restaurants for over 15 years. As the owners came to know about my pottery, they'd come to me with specific needs and I enjoyed customizing wares specific to the design of the food and the aesthetic of the restaurant. Typically, the orders are small and manageable such as 10 sake sets, or 40 latte bowls.
This latest project with Stuart Brioza for The Progress is a completely different sort of undertaking. He wanted almost 1,000 pieces, and was able to give me the necessary time to make it possible. Being familiar with how tableware is treated in fast-paced popular restaurants, I went about changing everything [in] the way I made pots in order to increase durability. I changed my clay, my glazes and my firing temperature.
When you begin a project with a new restaurant, what is the creative process typically like? How collaborative is it?
I typically come up with a prototype designed around the restaurant, have it approved by the owner and chef and continue to produce. The Progress Collection was similar, but because I had to change most everything about the way I was working, it took me longer. Stuart began by telling me the concept of the restaurant, his vision. He had certain ideas about the shapes and sizes of what he wanted his food to be presented on, and he was particular about the glazes, in that he wanted colors that are found in nature. The process of redefining my work was challenging and inspiring. Thinking about his food and how it would look on my plates rather than just the plate itself was a new direction for me.
And what was the concept and inspiration behind the ceramics?
Stuart's initial concept for The Progress was actually to use the work of many different potters. He originally presented the idea of showcasing the work of many artists on the walls, much like a gallery, and using a variety of pieces on the tables. He then wanted to make the work available to the people who ate there, so that they could walk out the door with a plate by the same artist that made the one they ate from that evening. The idea was fantastic and we both loved it, but having previously owned a ceramic gallery, I knew how difficult it would be. After a bit of brainstorming, we agreed that having one artist make all of the work would be more effective and attractive.
How long did the process take, from start to finish?
We began talking about this project about two years ago and took our time exploring many different designs and production methods together.
What do you like about working with restaurants? What are some of the challenges?
I love thinking about what my pots are going to be used for, what food will be used to complete them and how many hands will touch them throughout one evening. The challenge is creating work that can withstand the wear and tear of a busy restaurant, and still feel comfortable to hold and carry. I think about the chef, the line cooks, the servers, the diners and the dishwashers. Their experience with each piece is considered in the design of each of them. The quiet conversation between maker and user is one that pushes me as an artist and drives me.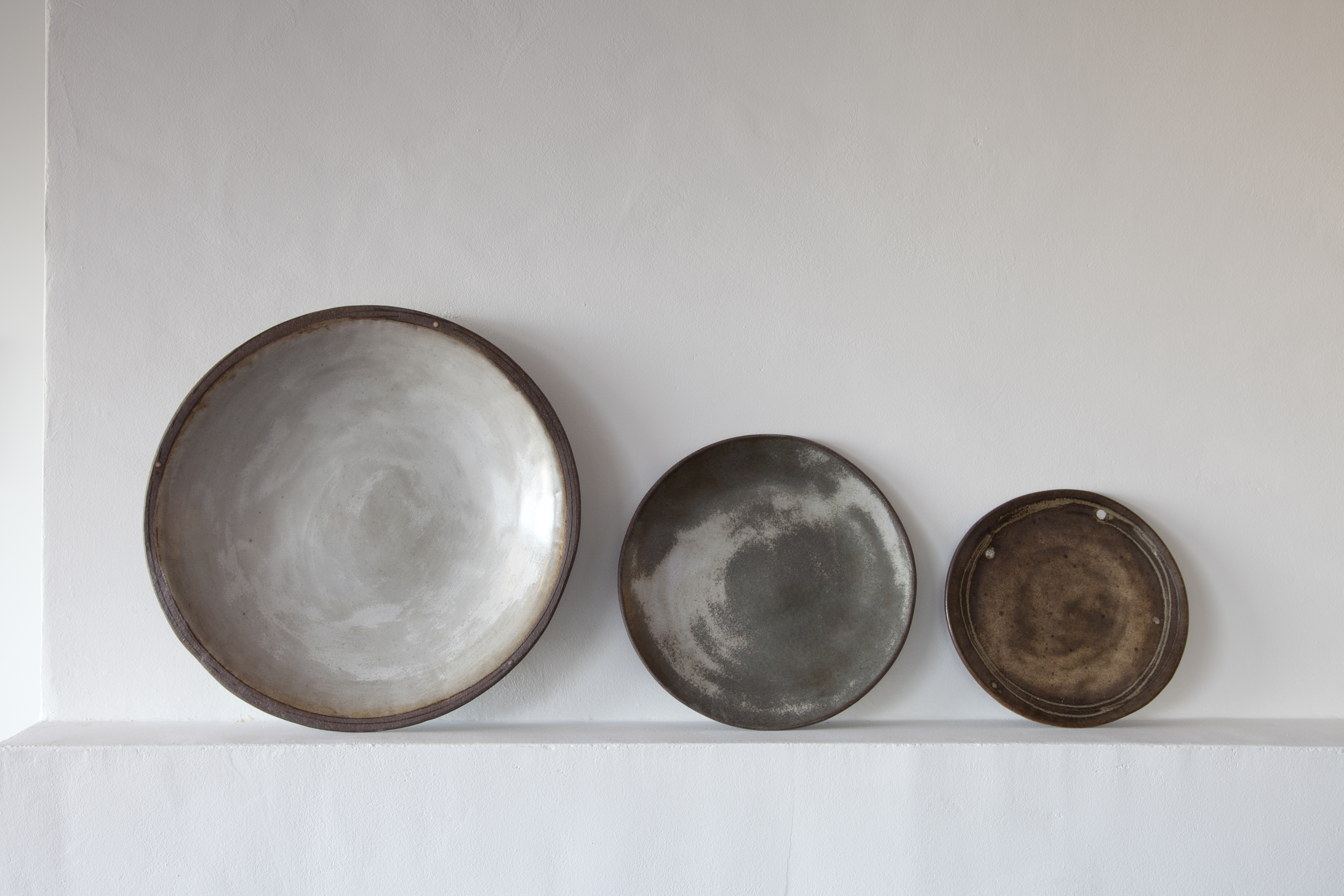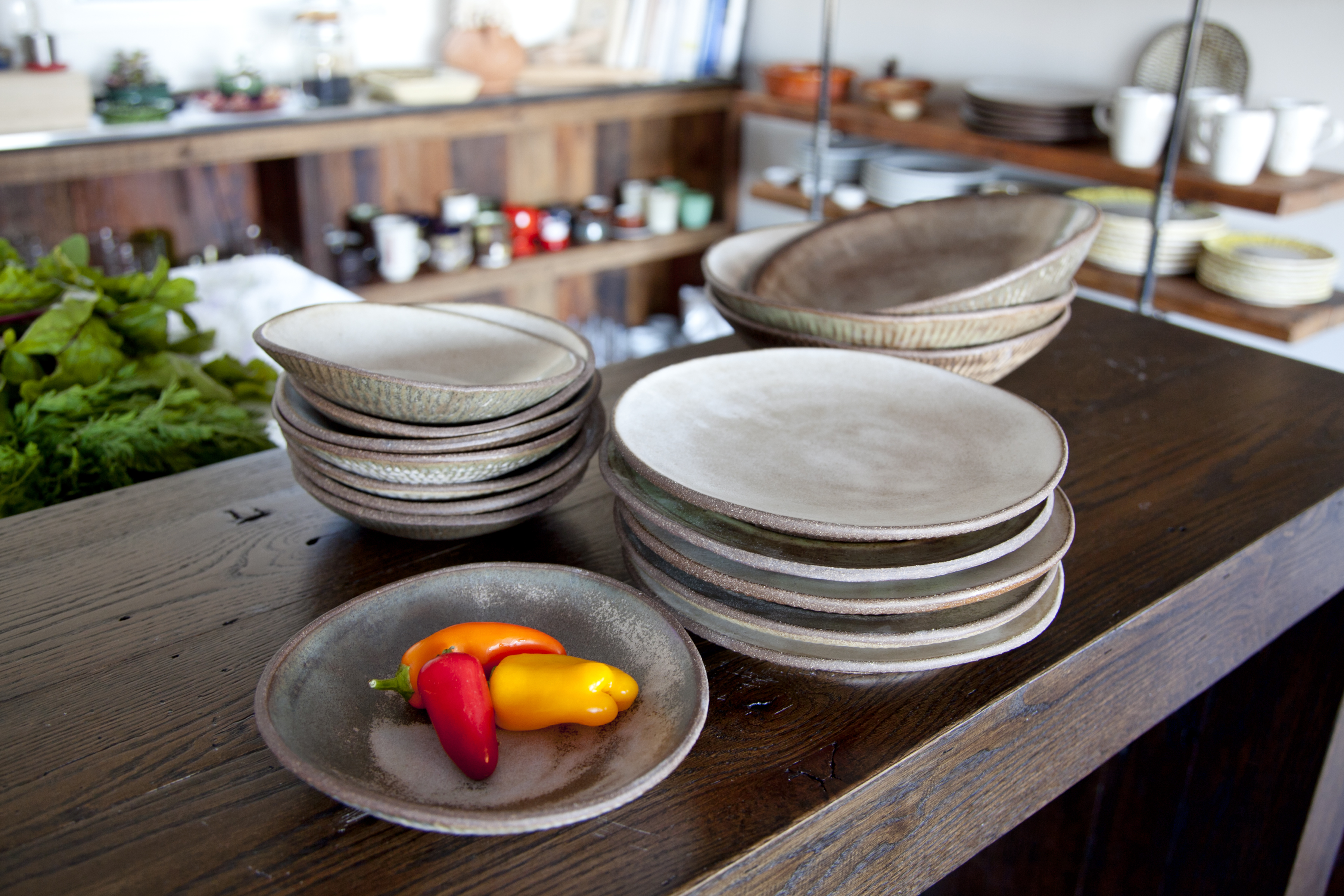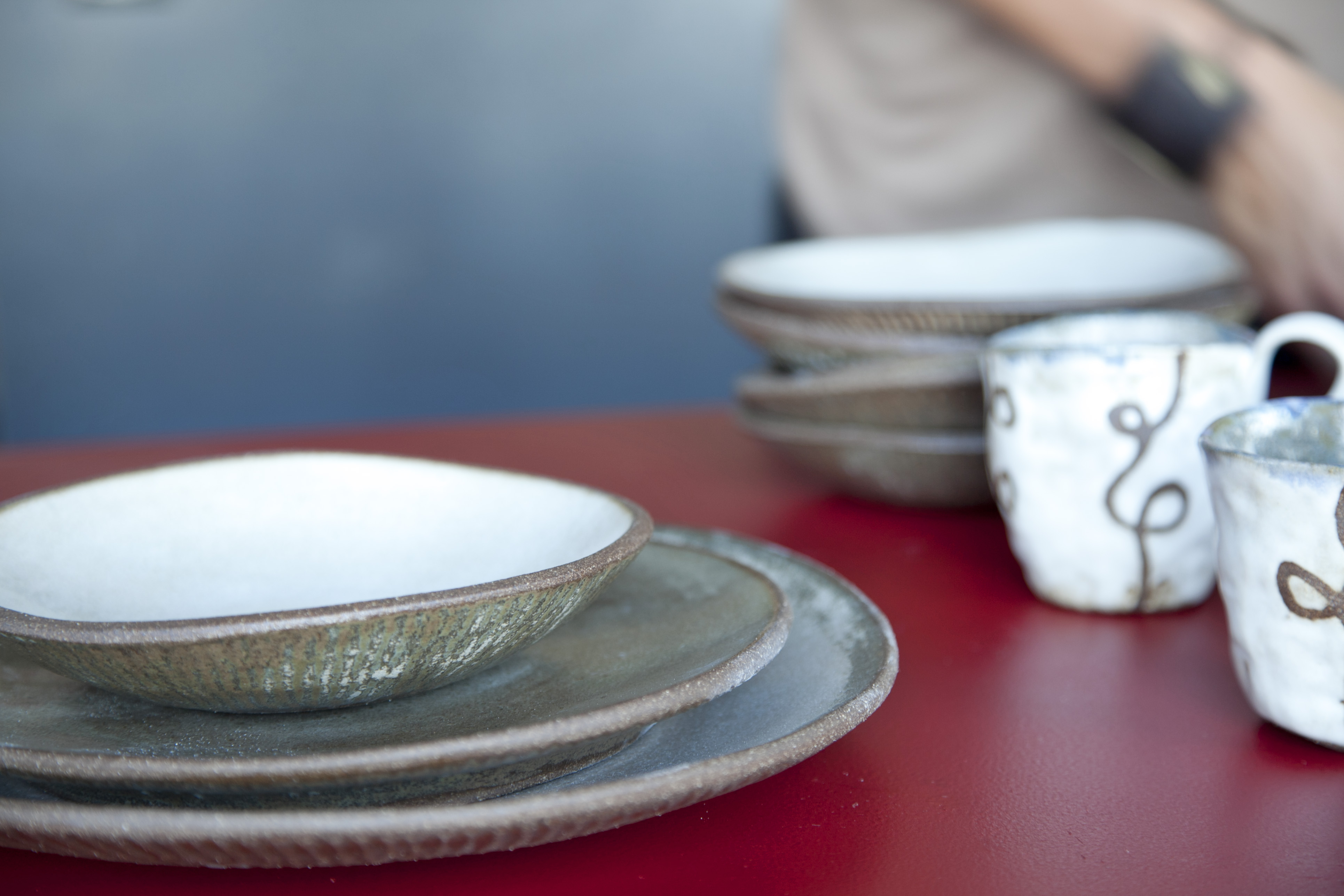 Read more design stories on Food Republic: